WrestleMania 2021 Card: A Full List Of Matches Booked So Far Including Bianca Belair, Roman Reigns, And Bad Bunny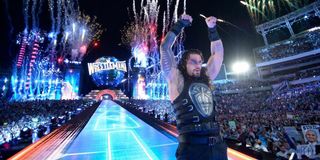 We have made it through the Royal Rumble, jumped in the Fastlane, and are on the final stretch of the Road to WrestleMania. On April 10 and 11, all eyes will be on Tampa, Florida, the home of the two-night Showcase of the Immortals, as WWE superstars big and small will wrestle in front of a live crowd for the first time in over a year, and millions more watching on WWE Network on Peacock. With not too much longer to go, some may be wondering who is booked in all the WrestleMania 2021 matches and which night they'll be taking to the squared circle.
Below is a breakdown of all the matches booked for both nights of WrestleMania 37 as well as the bouts that have yet to be assigned to a specific date. And since not all matches have been announced at time of publication, there will surely be more matches (and surprises) added in the coming weeks…
WrestleMania 37 Night One
Just like last year's big show (no, not THAT Big Show), WrestleMania 37 will be a two-night event, but unlike in 2020 (which was held in the WWE Performance Center with no audience), this year's Grandaddy of them All will have fans in attendance with limited tickets and safety measures in place. But enough of that, let's break down the Night One card.
SmackDown Women's Champion Sasha Banks Vs. Bianca Belair
One of the most highly anticipated matches of WrestleMania 37 is the showdown between SmackDown Women's Champion Sasha Banks and Women's Royal Rumble winner Bianca Belair for the "Blue Brand's" championship belt. This match has been a long time in the making and should be an outstanding bout considering both superstars are oozing charisma and in-ring talent. And with the shared history of Banks (who you may remember appeared on The Mandalorian Season 2) and Belair (they were one-time tag team partners), expect to see fireworks throughout this entire bout.
WWE Champion Bobby Lashley Vs. Drew McIntyre
Sometimes you just want to watch two muscle-bound men knock the living crap out of one another for 15 minutes, and that's what we're going to get when WWE Champion Bobby Lashley defends his title against Drew McIntyre, who held the belt until recently. Both men had phenomenal runs last year with McIntyre being a dominant champion following WrestleMania 36 and Lashley having a renaissance with The Hurt Business stable and a U.S. Championship win of his own, all leading to this moment. And while Lashley's manager MVP will be in his corner throughout the bout, the champion's stablemates, Cedric Alexander and Shelton Benjamin, are both banned from ringside.
Bad Bunny Vs. The Miz
There's a long history of professional athletes, actors, and musicians taking part in WrestleMania, and this year is no different with the booking of a match between The Miz and Grammy Award-winning rapper Bad Bunny. Ever since he started popping up earlier this year, Bad Bunny (who will soon appear in a Brad Pitt movie) has continued to be one of the most charismatic wrestlers in the company, which is why you can see it being a problem for The Miz, a wrestler whose whole schtick is being a celebrity. And even though the "A-Lister" became WWE Champion for a short time this year, it's been a given since the Royal Rumble that he would be crossing paths with the Puerto Rican sensation in Tampa this year.
Cesaro Vs. Seth Rollins
Cesaro and Seth Rollins have crossed paths numerous times going back to the indie circuit, but the Swiss Cyborg and the Monday Night Messiah (not puking this time) have never squared off against one another on the Grandest Stage of Them All. That will change at WrestleMania 37 when they duke it out in a match with only their pride on the line. This one could go either way with both superstars having some pretty major feats at previous events, with Rollins capturing the WWE Championship in spectacular fashion at WrestleMania 31 and Cesaro becoming the inaugural Andre the Giant Memorial Battle Royal winner the previous year.
Raw Tag Team Champions The New Day Vs. AJ Styles And Osmos
The New Day (Kofi Kingston and Xavier Woods) are used to doing things as a three-man group, but with Big E going on a singles run, the pair will have to find some rather unique ways to take on the powerhouse team of AJ Styles and his enforcer Osmos (this dude is a straight up giant) when they defend their Raw Tag Team titles at WrestleMania 37. This match is exciting for multiple reasons, with the biggest being the in-ring debut of the seven-foot Osmos, who until this point has only been part of matches unofficially.
Braun Strowman Vs. Shane McMahon
The WrestleMania 37 steel cage match match between Braun Strowman and Shane McMahon isn't going to take home any "Match of the Year" awards, but it will no doubt be a spectacle. While neither have the best of in-ring abilities, Strowman is a freaking giant and no one takes a big bump quite like Shane McMahon. I mean, we're talking about the same guy who was thrown off the Hell in a Cell at WrestleMania 32, suplexed off the stage three years later, and has been slammed through glass in the past. Combine that with the sheer size and force of Strowman and you have yourself a great way to kill 10 minutes.
Tag Team Turmoil Match
Each year, WrestleMania features some sort of multi-person match to get as many superstars on the WrestleMania card as possible. This year that will be a tag team turmoil match with the winner earning a championship opportunity against current Women's Tag Team Champions Nia Jax and Shayna Baszler the following night. Competing will be the team of Lana and Naomi against Dana Brooke and Mandy Rose, Liv Morgan and Ruby Riott of The Riott Squad, and Natalya and Tamina, the daughters of the late Jim "The Anvil" Neidhart and Jimmy Snuka, respectively.
WrestleMania 37 Night Two
Not long after the dust settles from the events of the first night of WrestleMania 37, it will be time to jump back into the action with even more outstanding matches at WWE's biggest show of the year. And while it's hard to get over WrestleMania taking place over a weekend instead of a single night, hopefully we avoid another Mania where the main event doesn't go on until the Monday morning.
Universal Champion Roman Reigns Vs. Edge Vs. Daniel Bryant's an
After becoming one of the few wrestlers to win the Royal Rumble from the Number One position, Edge will square off with Universal Champion Roman Reigns in a match that has potential to be the best of the night. Since Edge first retired in 2011, Reigns has debuted, won several championships, and become one of the biggest yet most polarizing superstars in the company. And while this initially seemed like a battle of the spear (both wrestlers' finishing move), Daniel Bryan became a late addition to the contest, making it triple-threat match. This especially exciting considering the last time Bryan competed in this type of match he walked out double champion after defeating Randy Orton and Batista at WrestleMania 30. I'm not saying that'll be the case here, but never count Bryan out.
Raw Women's Champion Asuka Vs. Rhea Ripley
Ever since her debut in 2016, Asuka has been one of the most figures in WWE, winning several championships along the way. The current Raw Women's Champion will face one of her toughest opponents, however, at WrestleMania 37 when she defends her title against Rhea Ripley, who just recently made her Raw debut in March 2021. The matchup of the Asuka's skill and Ripley's brute force could be a recipe for a memorable WrestleMania moment.
Intercontinental Champion Big E Vs. Apollo Crews
Intercontinental Champion Big E and Apollo Crews (no relation to Terry Crews) have both been on the rise as of late, with the former New Day member reaching new career heights and capturing the prestigious title and his challenger finding a new level of success after honoring his African roots with the direction of his character. That being said, this match could go one of two ways: both men could knock the crap out of one another for a short and (not so) sweet match or add some drama with the Big E's strength and amateur wrestling skills and Crews' impressive feats of physicality. Either way, this could be a lot of fun.
The Fiend Vs. Randy Orton
The shared history of Bray Wyatt and Randy Orton goes back several years, and the two previously squared off against one another in a forgettable match with all sorts of gimmicks at WrestleMania 33 in 2017, but that was well before the former leader of the Wyatt family was transformed into The Fiend, his monster alter ego that is more like a monster in a horror movie than a professional wrestler. The feud that will seemingly never die will have its biggest moment at the April 11 event when the two competitors square off in a singles match. It probably won't be as crazy as Wyatt's match with John Cena last year though.
Kevin Owens Vs. Sami Zayn (w/ Logan Paul)
If there was one match on the WrestleMania 37 card that could steal the second night, the event, or hell, even the whole year, it would be the matchup of Kevin Owens and Sami Zayn. Seriously, these two have a shared history that is up there with some of the biggest feuds in the history of the sport. Going back more than a decade, Owens and Zayn have thrown each other off ladders, through tables, and everything at various promotions around the globe. These two have an unmatched chemistry and ability to pull greatness out of nowhere, and we're finally seeing them go head-to-head at WrestleMania! Let's just hope Logan Paul doesn't make a mess of things.
United States Champion Riddle Vs. Sheamus
United States Champion Riddle will be defending his title in a one-on-out bout against two-time champ Sheamus. The two had a history before the Road to WrestleMania 37 but things reached a new level in March 2021 when the Celtic Warrior attacked the Original Bro as he rode by on his scooter. Sheamus, who played Rocksteady in Teenage Mutant Ninja Turtles 2, should know from experience that despite his Jeff Spicoli-like demeanor, Riddle packs quite a punch and brings with him experience from the UFC. Expect to see a lot of elbows and Brogue Kicks being thrown around in this hard-hitting championship contest.
Women's Tag Team Champions Nia Jax And Shayna Baszler vs. Tag Team Turmoil Winners
The winner of the previous night's tag team turmoil match will go head-to-head with the dominating pairing of Nia Jax and Shayna Baszler for the Women's Tag Team Championship. The hard-hitting team has been on quite a run as of late since taking the belts from Asuka and Charlotte Flair at Royal Rumble 2021.
These are just the confirmed matches for WrestleMania 37. We still don't know what WWE has in store for the dozens of other wrestlers who have made their mark at previous events. Whatever happens, WrestleMania will once again be one of the hottest tickets on the 2021 TV schedule.