Issa Rae: 9 Things To Know About The Insecure Star And Co-Creator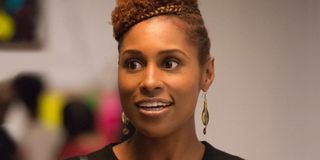 Over the course of the past five years, Issa Rae has gone from internet sensation to a rising A-list star, both in film and television. This transition didn't happen overnight. The actress-writer-producer has proven her talents in a number of projects, including The Misadventures of Awkward Black Girl and HBO's Insecure, and we should expect a lot of great things to come in the near future. Signing a $40 million contract with HBO, which will result in her latest TV project, Rap Shit, the influential multi-hyphenate is (very) quickly making a name for herself. If you're a fan of the burgeoning superstar, particularly with Insecure Season 5 (the final season of the acclaimed HBO dramedy) set to premiere later this year, here are some inspirational facts that you should know.
Issa Rae Credits A Moesha Script She Won As Her Ticket Into The Industry
Every celebrity has their own ticket into Hollywood. Whether it's talent or connections, everyone gets their start somewhere. When it comes to Issa Rae, her writing career began in earnest when she visited the set of UPN's Moesha in 1996. During this set visit, where she was part of the live studio audience, Rae won one of the show's scripts. That script became fortuitous and deeply beneficial. It became the writer's "blueprint," as she noted in an interview. Through this "template," Rae followed the structure and style of this sitcom teleplay and used it to write her own material in the years to follow.
This isn't the first time that Issa Rae has credited Moesha for being a foundational building block of her writing career; the actress-writer said it was the show that influenced her the most. She even recently paid homage to the popular '90s sitcom.
She Started Writing And Directing Plays During Her Freshman Year At Stanford
From an early age, Issa Rae was interested in developing her own projects — even (or especially) when opportunities weren't afforded to her. During her freshman year at Stanford University, the playwright discovered that a number of projects around the school weren't developed with Black artists in mind. Therefore, Rae started writing and directing her own plays, making sure that her distinct voice was heard on campus. The confidence that the writer gained in the process allowed her to create more projects.
Before Awkward Black Girl, Issa Rae Made Another Web Series, Dorm Diaries
During her senior year of college, Issa Rae created her first series. More specifically, the creator launched the first episode of Dorm Diaries, a micro-budget, soap opera-esque mockumentary series about life for Black students on Stanford's campus, as The New York Times reports. Much like The Real World, the college-based web show would alternate between sit-down confessionals and slice-of-life documentary-like footage.
Posted on Facebook, Dorm Diaries didn't attract the same audience as Issa Rae's later shows, but the web series became enough of a hit for the actress-writer to feel inspired. She considers this show to be her "epiphany moment," the point in her life where the lightbulb went off and she realized what she wanted to do with her career. Rae was planning to pitch the web program as a series for MTV or BET, but thieves broke into her house in Washington Heights one night and stole thousands of dollars of equipment, including her laptop. The incident left her depressed and in debt, but not discouraged.
Produced by Pharrell Williams, The Misadventures of Awkward Black Girl Propelled Issa Rae's Career
While Insecure is the HBO show that would turn Issa Rae into a household name, the actress-writer found her first brushes with fame thanks to the short-lived web series, The Misadventures of Awkward Black Girl, a short-form comedy show that premiered on YouTube in 2011 and concluded in 2013, a few years before Insecure's premiere.
Praised for its sharp, personal, and pointed commentary from its lead character, the web series became an early hit, and it gained a greater following when producer Pharrell Williams premiered the second season on his YouTube channel. From this original series, it's easy to see Issa Rae's clever wit on display, and the actress-writer would only continue to fine-tune her voice through her work on the current HBO favorite.
The Actress-Writer Briefly Considered Business School And Law School Before Awkward Black Girl Took Off
There's a world in which Issa Rae isn't the rising star she is today. During her mid-20s, before she started work on The Misadventures of Awkward Black Girl, the actress was struggling to make ends meet and facing a low point in her life. She was wondering if her creative ambitions should be pursued. At that point, under her father's guidance, she considered business school and law school. Rae even took the GMAT and the LSATs, as she told The Huffington Post. But, this detour was short-lived, as Awkward Black Girl would exceed Rae's expectations and quickly propel her filmmaking career.
Before Insecure, Issa Rae Wrote A Best-Selling Book, Also Titled The Misadventures Of Awkward Black Girl
Following The Misadventures of Awkward Black Girl but prior to HBO's Insecure, Issa Rae added another credit to her resume: best-selling author. In 2015, the show creator published a collection of self-effacing personal essays and musings, which was also titled The Misadventures of Awkward Black Girl. The book became yet another success for the developing star and it was another way for Rae to express herself as an artist. Considering how busy she is nowadays, it's hard to know if Rae will have time to author another book in the near future, but her talents extend to the page as well as the screen.
Issa Rae Owns Her Own Coffee Shop And Record Label
In addition to wearing multiple hats as an actress, author, and producer, Issa Rae is a business owner. Specifically, Rae is behind Hilltop Coffee and Kitchen, an Inglewood-based coffee shop and eatery that she co-owns with Yonnie Hagos and Ajay Relan. With this shop, as New One reports, the prolific writer wants to create both jobs and "a safe space for the community that cultivates innovation, creativity, and collaboration."
It should be noted that Hilltop Coffee and Kitchen is only the latest way that Issa Rae provides a thriving work environment for marginalized communities. Additionally, the actress is the owner of her own record label, Raedio, which is an imprint of Atlantic Records, as Vogue reported. It's a testament to Rae's ever-busy work ethic that she continues to find new, inventive ways to expand herself as an artist and entrepreneur.
She Is A Voice Option On Google Assistant
If you love Issa Rae's voice, you can get even more of it — thanks to Google Assistant. As Google announced via Instagram, the actress-writer lent her soothing voice to their catalog of audio options, which users can access simply by saying "Hey Google, talk like Issa." It's that easy! Let Rae assist you in all your various day-to-day adventures.
In 2014, Issa Rae Co-Founded ColorCreative, An Organization For Underrepresented TV And Film Writers
Issa Rae is an artist who wants to give back. Throughout her developing and always expanding career, the actress-writer-producer has paved her own way and made room for Black artists to shine, making sure that she provides opportunities for herself and other Black artists to thrive — especially when positions aren't often readily given to Black men and women. That desire to promote Black artists was seen in her work with ColorCreative, an organization co-founded in 2014 to highlight underrepresented film and TV writers in the industry. This is only one of several ways that Rae has used her celebrity, power, and creative influence to help Black artists in Hollywood and abroad.
You can stream Insecure on HBO Max here (opens in new tab).
Your Daily Blend of Entertainment News
Will is an entertainment writer based in Pittsburgh, PA. His writing can also be found in The Playlist, Cut Print Film, We Got This Covered, The Young Folks, Slate and other outlets. He also co-hosts the weekly film/TV podcast Cinemaholics with Jon Negroni and he likes to think he's a professional Garfield enthusiast.
Your Daily Blend of Entertainment News
Thank you for signing up to CinemaBlend. You will receive a verification email shortly.
There was a problem. Please refresh the page and try again.