Why This Is Us Is Ending Season 5 Earlier Than Expected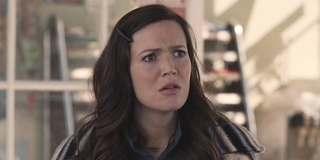 (Image credit: nbc press)
As the COVID-19 pandemic rages on across the globe, so do the countless production delays that have affected many television shows here in the U.S. and abroad. NBC's This Is Us can now be added to one of many series that has announced a shortened episode count for its current season, meaning Season 5 will be wrapping up sooner than viewers expected.
The heart-wrenching drama was planning to deliver 18 episodes for Season 5, much like the previous and future seasons. However, This Is Us will now boast 16 episodes for its fifth season instead of the usual 18, leaving two full installments on the cutting room floor, according to EW. It's unclear how largely that will affect the flow overall, but it seems significant enough.
That's not even all of the bad news. Not only will the Pearsons be saying goodbye sooner than expected, but fans are now confirmed to be in the midst of another extended hiatus before new episodes return. As shown in the promo that aired after this week's episode, This Is Us will be returning on May 11, with only three episodes left to air this season.
The reasoning for the shortened season has to do with the pandemic, as This Is Us has faced multiple interruptions this season. Just like plenty of shows, COVID-19 initially delayed the production start for Season 5, which made the show debut later in the year than usual, resulting in only four episodes airing during the fall. In order to preserve its remaining episodes, This Is Us implemented the ongoing four-week hiatus to allow its final three episodes to air during May, which is traditionally the time when TV finales flood primetime.
This Is Us will presumably go uninterrupted for the three-week stretch when it returns to NBC on Tuesday, May 11, with the finale airing on May 25. That said, the finale will air at 10 p.m. ET rather than 9 p.m., since The Voice will apparently return to a two-night structure that week.
It's possible the episodes cut from Season 5 could be added onto Season 6, with many shows shifting narratives for unfinished episodes and added them to the beginning of their 2020-2021 seasons. In 2019, NBC did renew This Is Us for three more seasons at 18 episodes apiece. Whether or not this will change for Season 6 is still up in the air.
Spoiler time! In the most recent episode of This Is Us, after asking Randall to be his Best Man, Kevin made a trip to Philadelphia to try to patch things up with his brother, with a conversation that touched upon race relations and their personal relationship. By and large, it made for one of the most raw and emotional moments of the show this season, and possibly the entire series.
It's interesting to point out that while This Is Us Season 5 is ending earlier than expected, at least with its episode count, it did sort of premiere sooner than expected, as well. After first announcing its delayed debut, the series came back a full two weeks earlier for a 2-hour season premiere. Despite its rickety and ever-changing schedule, however, this season has not eased up on the emotions and drama. This Is Us has also been one of many shows to include the pandemic into the storyline, as well as racial issues and protests. However the season ends, it will surely be impactful, but now we get to speculate what would have happened had those two episodes not been cut.
Your Daily Blend of Entertainment News
Passionate writer. Obsessed with anything and everything entertainment, specifically movies and television. Can get easily attached to fictional characters.
Your Daily Blend of Entertainment News
Thank you for signing up to CinemaBlend. You will receive a verification email shortly.
There was a problem. Please refresh the page and try again.