How This Is Us Will Handle Mandy Moore's Pregnancy In Season 5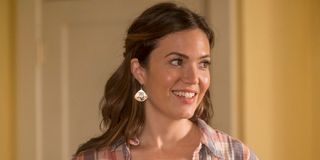 Mandy Moore announced that she was expecting her first child with husband Taylor Goldsmith in September. It was right around the time This is Us Season 5 was starting production and, while Moore spends a lot of time being pregnant on the show as Rebecca, it's much different when it's in real life. How will the NBC drama handle Moore's pregnancy in Season 5? Well, This is Us creator Dan Fogelman seems to have it all figured out.
When it comes to handling pregnancies on TV shows, a creative camera angle goes a long way. Often, actresses will noticeably be standing or sitting behind desks a lot to hide their obvious baby bumps. Other times, a series will write the actress' real life pregnancy into the show's storyline. That's what Superstore did for America Ferrera. As for This is Us' Mandy Moore, Dan Fogelman says that the plan for Season 5 isn't going to be all that different. Here's what he told ET and other media outlets:
It sounds like Dan Fogelman is just so thrilled that Mandy Moore is having a baby that he's not too worried about how it will impact This is Us. Based on his response, I doubt the series will be affected all that much because he and the writers have already planned ahead anyway.
In the same interview, Mandy Moore reveals that she was very nervous about telling Dan Fogelman the news of her pregnancy. She says she told him before some of her family members because she wanted him to know what to expect in advance of the season's production. Luckily, she had nothing to worry about when telling Fogelman, and Moore confirms they had the "loveliest exchange and conversation."
This is Us Season 5 will carry on the show's tradition of jumping back and forth in time. Last season, it was revealed that the older Rebecca was in the early stages of Alzheimer's disease. It was sad to learn about the character's future, though clues about her diagnosis had been dropped as early as Season 3. What Rebecca's storyline holds for Season 5 remains to be seen, but I'm sure it'll be emotional no matter what it is.
This is Us will return for its two-hour Season 5 premiere on Tuesday, October 27 at 9:00 p.m. ET on NBC. For more on what to watch in the meantime, be sure to check out our handy 2020 fall TV premiere schedule.
Your Daily Blend of Entertainment News
Your Daily Blend of Entertainment News
Thank you for signing up to CinemaBlend. You will receive a verification email shortly.
There was a problem. Please refresh the page and try again.