Disney+'s Big Shot Cast: Where You've Seen The Stars Before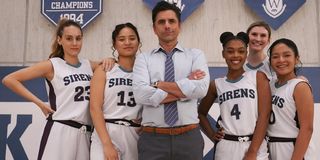 After what seems like an eternity, Big Shot, the long-awaited sports dramedy series starring John Stamos as a temperamental college basketball coach looking for redemption (and a new job) has finally landed on Disney+. With the arrival of the show's premiere episode on the popular streaming service, you may be wondering who are all those people on the stacked Big Shot cast alongside the longtime TV star.
With so many familiar faces (as well as up-and-coming talent) taking up on space on the screen, it's easy to lose track of all the stars and stars in the making who shoot hoops and pull the strings at the prestigious Westbrook School for Girls at the center of Big Shot. No need to lose yourself to a cast list rabbit-hole as we've put together a handy guide breaking down the cast of the latest Disney+ sports series…
John Stamos - Marvyn Korn
Leading Big Shot is John Stamos' Marvyn Korn, a one-time successful NCAA basketball coach who finds himself out of a job and in need of redemption after one of his on-court temper tantrums gets him attention for all the wrong reasons. Prior to taking on the role of coach taking on a new challenge at a prestigious girls school, Stamos had been around television for just as long as about anyone still acting on the small screen with his most famous series being Full House and its Netflix revival Fuller House. Outside of playing Jesse Katsopolis of Jesse and the Rippers, Stamos has appeared on everything from soap operas like General Hospital to medical dramas like ER with dozens of other performances scattered throughout his nearly 40-year career.
Jessalyn Gilsig - Holly Barrett
There to balance out Marvyn Kork's rough-around-the-edges personality is Westbrook assistant coach Holly Barrett, who is played by Jessalyn Gilsig on the Disney+ streaming series. A longtime collaborator of Big Shot developer David E. Kelley, Gilsig has appeared on several of the television producer's previous series including Boston Public and The Practice. Outside of the Kelley-verse, Gilsig has played Terri Schuester on Glee, Gina Russo on Nip/Tuck, and Siggy on the first three seasons of Vikings. Gilsig is also remembered for replacing Joelle Carter on Scandal Season 6.
Yvette Nicole Brown - Sherilyn Thomas
Portraying Westbrook School for Girls dean Sherilyn Thomas, the no nonsense administrator who reluctantly gives Marvyn Korn a job in Big Shot, is Community alum Yvette Nicole Brown. In addition to playing Shirley Bennett on the NBC cult comedy series, Brown has had notable roles on shows like Drake & Josh and The Odd Couple reboot. Brown also has a substantial list of performances on the big screen as well, including Avengers: Endgame, in which she played Phyllis Jenkins, the S.H.I.E.L.D.employee who had a bad feeling about Tony Stark and Steve Rogers' demeanors when the pair went back to 1970 to obtain the Space Stone and more Pym particles.
Richard Robichaux - George Pappas
Taking on the role of Westbrook school counselor George Pappas on Big Shot is Richard Robichaux. Prior to landing his role on the Disney+ sports dramedy, Robichaux showed up on a number of television shows and only needs to appear on Law and Order: Special Victims Unit to complete the Law and Order hat-trick. In addition to his television appearances, which also include an 80-episode run on All My Children, Robichaux has also shown in movies like Ocean's Eight and multiple Richard Linklater films including Bernie, Boyhood, Last Flag Flying, and Where'd You Go, Bernadette.
Sophia Mitri Schloss - Emma Korn
Sophia Mitri Schloss plays Emma Korn, the teenage daughter of John Stamos's character on Big Shot. Prior to landing one of the big supporting roles on the new Disney+ series, Schloss had a major role on the Amazon original series The Kicks where she played Emma Gelbaum. Since then, Schloss has appeared on an episode of Portlandia and the 2018 drama Sadie, to name just a few of her performances. Before all of that, Schloss had a small role in a 2015 episode of The Librarians and even appeared in the pilot episode of Grimm back in 2011.
Nell Verlaque - Louise Gruzinsky
Despite the way she handles herself as Westbrook star player Louise Gruzinsky on Big Shot, actress Nell Verlaque has only been acting professionally for a few years now with only a handful of film and television appearances to her name. Prior to landing her biggest role to date, Verlaque portrayed Becky Harlow in the 2020 drama The Marijuana Conspiracy, Sarah Porter in the 2019 made-for-TV movie Secrets in a Small Town, and a character by the name of Emily Connor in a 2017 episode of the CBS courtroom drama Bull.
Tiana Le - Destiny Winters
Appearing on Big Shot as Westbrook basketball player Destiny Winters is Tiana Le. In the years leading up to her performance as one of the key players on the basketball team of the elite all girls school in the Disney+ original drama series, Le appeared in quite a few television shows in a very short amount of time. It all started off in 2016 with a multi-episode run Issa Rae's HBO comedy Insecure, which she then followed up with the series Just Add Magic. Follow that up with a short stint on General Hospital in the 2017-2018 season and throw in 11 episodes on No Good Nick, and you're all caught up with Tiana Le.
Monique Green - Olive Cooper
Monique Green plays Olive Cooper, the Westbrook basketball player who's not all that impressed with John Stamos' character on Big Shot. This, however, isn't the first time Green and Stamos have appeared on the same television show as the young actress had a small role on an episode of Fuller House back in 2017. If you don't recognize her from the Netflix family comedy series, there's a chance you could have spotted Green on This Is Us, black-ish, or Fresh off the Boat. And if you want to go way back, Green also appeared in episodes of The Closer and Criminal Minds in the early days of her career.
Tisha Custodio - Carolyn "Mouse" Smith
Taking on the role of Carolyn "Mouse" Smith in Big Shot is Tisha Custodio. This is the first big break for Custodio, who serves as one of the few members of the Westbrook basketball team to give Marvyn Korn an honest chance in the beginning of the coach's tenure at the elite private school. Going back to 2016, Custodio has appeared in three short films, the most recent of which, About Last Summer was written and directed by the young star in the making.
Cricket Wampler - Samantha "Giggles" Finkman
Cricket Wampler is seen in Big Shot as a member of the Westbrook basketball team named Samantha Finkman but goes by the nickname Giggles. This is the first major role for Wampler who previously appeared in smaller, one-off situations in a few shows dating back to 2013. Wampler's career got going in 2013 when she showed up in an episode of the Disney Channel series Crash & Bernstein, which she then followed up with About a Boy in 2014 and Mr. Robinson in 2015, appearing in two episodes of the former and the pilot of the latter.
Keala Settle - Christina Winters
Keala Settle shows up in a recurring capacity as Christina Winters, the mother of Westbrook basketball player Destiny Winters. One of the most recognizable faces on the Big Shot cast, Settle is best known for her stunning performance and her inspiring song, "This Is Me" as Lettie Lutz, aka the "Bearded Woman" in 2017's The Greatest Showman, but her career doesn't start there. Prior to making a huge impression on audiences in the Hugh Jackman-led musical, Settle made a name for herself in the world of theatre, appearing in touring productions of Hairspray and South Pacific before making her Broadway debut in the 2011-2012 run of Priscilla, Queen of the Desert. She has gone on the show up in Les Misérables, Waitress, and Jesus Christ Superstar since then.
Emery Kelly - Dylan
Rounding out the Big Shot cast is Emery Kelly, who appears as a recurring character known as Dylan. Prior to landing the role in the new Disney+ series, Kelly appeared in 39 episodes of the Netflix original series Alexa and Katie, playing Lucas Mendoza. During the middle of his tenure on the children's comedy series, Kelly shows up in Max Winslow and the House of Secrets in 2019. Kelly's other credits including television series like Dog with a Blog, Best Friends Whenever, and Lab Rats: Bionic Island.
The Big Shot cast is one that consists of both established stars like series lead John Stamos and a team of young and talented actors looking for their big break. You can see them all in action when Big Shot airs every Friday on Disney+. If you want to know what else is coming to your favorite television channel and streaming service, check out CinemaBlend's Spring 2021 TV schedule.
Your Daily Blend of Entertainment News
Philip grew up in Louisiana (not New Orleans) before moving to St. Louis after graduating from Louisiana State University-Shreveport. When he's not writing about movies or television, Philip can be found being chased by his three kids, telling his dogs to stop yelling at the mailman, or yelling about professional wrestling to his wife. If the stars properly align, he will talk about For Love Of The Game being the best baseball movie of all time.
Your Daily Blend of Entertainment News
Thank you for signing up to CinemaBlend. You will receive a verification email shortly.
There was a problem. Please refresh the page and try again.