The 10 Best Full House Episodes, Ranked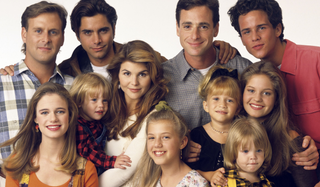 (Image credit: Warner Bros. Television)
What are the best episodes of Full House? If I am honest, I would have to say all of them, with the possible exception of the one where Michelle gets a donkey (Season 8, Episode 6 "You Pet It, You Bought It"). Otherwise, I love them all equally. Of course, that is not why you are here. You want the ten best episodes of Full House, ranked.
I can do that. Of course, if there is one fact those closest to me know well, it is that I am a lifelong Full House fan, as you can see on my author's profile. I was a little late to the Full House premiere party. The show got launched in 1987, and I was born two years later. Time to start binge-watching?
"You got it, dude."
Thanks to the magic of syndication (yes, there was something before streaming), I corrected course and became a massive fan. It is safe to say that some favorites did not make the list, so stay tuned for the honorable mentions. Without further lead-up, here are the ten best Full House episodes, ranked!
10. Season 2, Episode 22 "Luck Be A Lady: Part 2"
Did you know that Jesse and Becky got engaged early in Full House's run? Despite that, this episode is not all laughter and sunshine. Jesse and Becky grew up a lot in this episode, which makes it one of my favorites. Plus, it has an unexpected ending that I did not see coming.
Full House usually leaves all its problems resolved by the end of its run. The second half of "Luck Be a Lady" does not. At least, not on the Becky/Jesse front. I love how Full House switched things up with this one. It made all of its subsequent episodes a bit harder to read.
9. Season 3, Episode 7 "And They Call It Puppy Love"
Before there was Cosmo on Fuller House, there was Comet. Episode 7 of Season 3 introduced one of the most important members of the Full House family. At first, viewers are introduced to Comet's mom Minnie. She shows up and instantly shakes things up, eventually paving the way for Comet.
I always wanted a dog and only recently got one, so growing up, this Full House episode allowed me to dream that it could become a reality. Comet coming into the family is one of the most special feel-good installments of the series. Like Becky before him, Comet brought a much-needed dimension to the series.
8. Season 7, Episode 17 "The Last Dance"
This is one of the only Full House episodes to make those who watched it universally cry by the end. When Uncle Jesse's grandfather and the girls' great-grandfather, Papouli, visits, he lights up the house. This episode of Full House accordingly left a lump in my throat as a kid, and it still does as an adult, who has now-since experienced similar things first-hand.
Despite its sad overtones, it is still one of the series' best episodes. Full House's ability to make viewers cry demonstrates how powerful it was at making us care about its characters. On another note, this is also a real coming-of-age episode for Michelle, who truly starts to grow up.
7. Season 7, Episode 18 "Kissing Cousins"
Full House knew that viewers needed a pick-me-up after the episode with Papouli, and so it gave us Jesse's devious cousin, Stavros. John Stamos, in the dual role of Jesse and Stavros, is only part of the treat in this level-best installment.
The other part is how the whole family slowly learns what an epic jerk Stavros is. The family comically struggling to tell Jesse about Stavros, and how they handle the reveal, is what brings the other half of the episode's humor. In related news, John Stamos earned the series' trademark couch with this installment.
6. Season 5, Episode 7 "The Volunteer"
This Full House episode has a lot of laughs as Jesse and Becky are at it again. The parents-to-be debate wallpaper and imbibe in a hilarious bet to decide. That said, the main reason this is my favorite episode has to do with DJ's storyline. In it, DJ volunteers at a nursing home and becomes fast friends with Eddie (Whitman Mayo).
DJ eventually brings Eddie home for the day to see Stephanie and Michelle's dog competition. She ultimately learns why that was not the right move from Eddie's nurse. Full House was the first show I heard talk about the critical issue of Alzheimer's, and I am glad it did.
5. Season 5, Episode 10 "Happy Birthday, Babies: Part 2"
The episode where Becky and Jesse welcome their twins is a wild one even by Full House standards. Becky goes into labor during Michelle's Flintstone-themed birthday party. Unfortunately, Jesse has to have an emergency appendectomy. A twist that leads to a regrettable circumstance for Jesse during the birth of his and Becky's twins.
The situation with Jesse makes for great comedy, and there is nothing more heartwarming than the entire family (including the birthday girl, Michelle), awaiting the arrival of the twins. This installment goes to show how great the family is at pulling together in tough times, even when they are in Flintstone costumes.
4. Season 4, Episode 1 "Greek Week"
Speaking of tough times, Jesse and Becky go through some when Jesse's grandparents (an alive Papouli) arrive with his former love interest, Elena. She still has eyes on a flirtatious Jesse, and Becky has thoughts about that. The chemistry between John Stamos and Lori Loughlin is outrageously good in every episode, but especially in this one.
(No wonder people wondered why they never got together.) Whenever John Stamos and Lori Loughlin played Jesse or Becky's jealousy or anger towards one another, their connection shined even more. Another reason to love this episode is how it ends between Jesse and Becky. Full House knew its romance well.
3. Season 4, Episode 18, and Episode 19 ("The Wedding: Part 1 and Part 2")
Becky and Jesse were my first relationship "ship" for a reason, and it was thanks in large part to great milestone episodes like their wedding. Side Note: This installment was one of Lori Loughlin's favorites when it came to Jesse and Becky as well.
One of the many reasons to adore this episode is how Full House delivered on what was a much-anticipated event with flying colors. The mischief, hilarity, and glee were palatable. Plus, Becky's family got a larger role than usual. To have Becky and Jesse finally married was also a huge personal relief after the first episode on this list.
2. Season 5, Episode 21 "Yours, Mine and Ours"
Danny takes the family to a fantastic pirate-themed restaurant (I loved that set) while Becky and Jesse tend to their twins. The latter Full House plot would lead to Becky and Jesse vividly imagining how their different parenting styles would impact each twin if they were each left to raise one separately.
There is one key reason this episode registers as one of my favorites, and that is how it flexes its storytelling muscle. Most shows dwindle in quality after a baby arrives (see: Mad About You), and Full House only got better. The sitcom knew the story did not end with babies coming -- it had only just begun.
1. Season 4, Episode 11 "Secret Admirer"
In my mind, this is without a doubt the best Full House episode – ever. In it, Danny has his girlfriend Cindy and her trouble-maker son, Rusty, over for a barbecue. Rusty takes the characteristic opportunity to write a fake love letter supposedly from the paperboy to DJ.
In the end, the whole family winds up reading it, mistakenly believing it is from a problematic author and meant for them. Whenever I see it, I still laugh out loud over this Full House episode and how the various family members construe the letter. Jesse and Joey's varying takes on the situation are especially amusing, as is Becky's.
To think of how depressed I was that DJ and Steve did not entirely get back together when Full House originally ended, although they did kiss in the finale. Thank goodness for the sequel spinoff fully righting the wrong that was their breakup. I still love the original! Full House remains one of my most beloved series. However, I could not fit every great episode on this list.
Honorable mentions include Season 8, Episode 10 "Under the Influence," the Season 6 two-parter (Episode 23 and Episode 24), "The House Meets the Mouse," and the pilot (Season 1, Episode 1 "Our Very First Show"). Also, just missing the mark is Season 4's moving Episode 4 "Slumber Party," which deals with Stephanie missing her mom and the Becky-centric (Season 8, Episode 21 "Leap of Faith").
Every episode of Full House is utterly worth watching, and they still air on Nickelodeon. Unfortunately, it is not streaming on Netflix along with its spinoff Fuller House. The remainder of which was one of Netflix' 2020 premieres. While you wait for Full House veteran Candace Cameron Bure to return with more Hallmark movies, check out this fall's schedule.
Like a contented Hallmark movie character, Britt happily lives in the same city she grew up in. Along with movies and television, she is passionate about competitive figure skating. She has been writing about entertainment for 5 years, and as you may suspect, still finds it as entertaining to do as when she began.
Your Daily Blend of Entertainment News
Thank you for signing up to CinemaBlend. You will receive a verification email shortly.
There was a problem. Please refresh the page and try again.