Lucifer's Tom Ellis Gets Cops Involved After Receiving Strange Package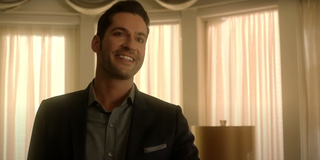 Getting a package in the mail usually means your latest Amazon impulse purchase has arrived. But for Tom Ellis, star of the hit Netflix series Lucifer, a certain unexpected gift was cause for alarm. In fact, the cops were called.
Recently, the Welsh actor and his wife, screenwriter Meaghan Oppenheimer, received an unwelcome surprise at their Los Angeles residence. Someone - local law enforcement has yet to pin down a suspect - sent the couple a glitter package last month. Apparently, a glitter package is exactly what it sounds like: a box full of glitter, per TMZ.
This might not sound dangerous, but it was addressed to Meaghan Oppenheimer, not Tom Ellis, whose large Lucifer fanbase might at least somewhat explain such an odd gift. Add in the fact that the sender was anonymous, and the couple was understandably a bit on edge.
They have since called the police and the package is now under investigation, with the LAPD Threat Management division spearheading the charge. Police have said they are closing in on a suspect, but are waiting for more information before they reveal any other details. With any luck, the package will be revealed as nothing more than a harmless prank.
The package was sent to Los Angeles, the city where Lucifer is primarily filmed and where Tom Ellis and Meaghan Oppenheimer have a residence. Production on Season 5 was finally completed in early 2020 after a series of delays due to COVID-19. The season was split into two parts, with the first dropped on Netflix last August.
Fans will have plenty to look forward to in the second half of Season 5, which premieres on May 28 on Netflix. Tom Ellis is reportedly stoked for an upcoming musical episode, and Lucifer's nefarious brother Michael (also played by Tom Ellis) is still up to no good. In addition, the show was renewed for a sixth season. The news came as a pleasant surprise for fans, since the fifth season had been expected to be the last.
Tom Ellis has taken to social media to promote the show as well as offer support for his co-stars outside of his glittery personal life drama. He recently congratulated DB Woodside, who plays Lucifer's other celestial sibling, Amenadiel, for stepping behind the camera for an episode in Season 6. Woodside won't be the first star to try his hand at directing. Kevin Alejandro, who plays Detective Dan Espinoza, has directed multiple episodes in the past.
Here's hoping that all is well for Tom Ellis and Meaghan Oppenheimer, and that May 28 gets here as soon as possible. I mean, you can't just give us Dennis Haysbert as God and then leave us hanging. That would be positively devilish.
Your Daily Blend of Entertainment News
Actor, singer, and occasional dancer. Likes: fashion, books, old buildings. Dislikes: cilantro, the NJ Turnpike, sneaker wedges.