Lucifer Season 6 Will Apparently Be Way Shorter Than We Thought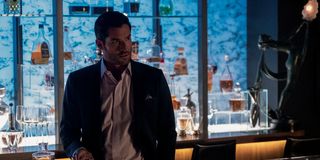 Lucifer's run on Netflix has been an eventful one. It was confirmed last year that the devilish series would end with a fifth and final season. However, Lucifer was uncancelled earlier this year and will now return for a sixth season. It's great news for fans of the show, who may not have been ready to say goodbye just yet. But, unlike Season 5's 16-episode count, Lucifer Season 6 will apparently be way shorter than we initially thought it would be.
Lucifer Season 5 originally had an order of ten episodes before it was expanded to 16 episodes, the first half of which have already premiered on Netflix. According to TVLine, however, Season 6 will reportedly have only eight episodes, though no one at Netflix has confirmed the episode count just yet.
There was some hope that an additional season would help Lucifer get to the milestone of 100 episodes (a major achievement for any series). Unfortunately, the reported eight episode count will leave the Netflix series nine episodes shy of 100. It's a bit disappointing considering how very close Lucifer is to hitting that goal, but I'm just happy that the show is even getting another season at all. If that means not getting an expanded final (final) season, then I'm okay with that so long as the storyline is wrapped up in a satisfying way.
Lucifer is all set to begin filming the remainder of Season 5 at the end of September. There was only one episode of the season left to film, with the cast and crew starting production on Season 6 thereafter. My guess is that Netflix will release the second half of Season 5 nearer to the end of the year, with Lucifer's sixth season premiering at some point in 2021.
All that said, I'd wager that if Lucifer Season 6 does get a much shorter season, all eight episodes will be released in one go rather than be split in half like Season 5. There's no need to postpone the inevitable series finale if it's a shorter season, right? I suppose only time will tell.
Of course, the addition of Season 6 will change the ending of Lucifer's fifth season. It won't be in any big way, but series star Kevin Alejandro confirmed that there were "some tweaks" made to the Season 5 finale, which will no longer serve as the series ender.
The first half of Lucifer Season 5 is currently available to watch on Netflix. The second half of the season does not yet have a scheduled premiere date, but stay tuned to CinemaBlend for updates. In the meantime, be sure to check out our 2020 fall TV premiere schedule for more options.
Your Daily Blend of Entertainment News