Lucifer's Tom Ellis Explains Why He's 'So Excited' For The Show's Upcoming Musical Episode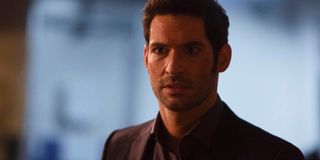 Lucifer Season 5 really got creative with its episodes this year. The first half of the season gave viewers a fantastic noir episode that offered the backstory for Lucifer's ring, while the second half of Lucifer's fifth season will be tackling a musical format. Lucifer himself, Tom Ellis, recently explained why he's "so excited" for the series' upcoming musical episode and what fans should expect to see.
Tom Ellis is no stranger to singing on Lucifer, but the musical episode (which will be the tenth episode of Season 5) likely won't involve the actor singing from behind a piano like he has in past seasons. Speaking with Collider, Ellis revealed the reason for why he was so enthusiastic about doing a musical episode and cited it as a highlight of the show. Here's what he said:
You can almost hear Tom Ellis' excitement in his response, right? I love that Lucifer's showrunners "found the perfect reason" to do a musical episode on the show. I think it's one of the most creative things they've come up with besides the noir episode in Season 5, and the fact that they found a "reason" for the characters to sing is even better. It also sounds like the musical won't be a standalone episode and will play heavily into the overarching plot of the season.
One of the big moments from the first half of Season 5 was God's arrival. Dennis Haysbert was cast in the role some time ago, but it was still a genuine surprise when he showed up to break up a fight between Lucifer, his twin brother Michael, and Amenadiel. Aside from the singing and dancing, Tom Ellis also teased how God factors into the musical episode. In his words:
Considering that the musical episode will involve some much-needed time with Lucifer and God, I'd like to think that God will sing at some point in the episode, but only time will tell if that's the case. Nonetheless, Tom Ellis' enthusiasm about Lucifer's musical episode is contagious, and I'm ready to see what the show has in store.
The first eight episodes of Lucifer Season 5 are currently streaming on Netflix. The second half of the season doesn't yet have a premiere date, but stay tuned to CinemaBlend for updates. In the meantime, be sure to check out our 2020 fall TV schedule for options.
Your Daily Blend of Entertainment News
Your Daily Blend of Entertainment News
Thank you for signing up to CinemaBlend. You will receive a verification email shortly.
There was a problem. Please refresh the page and try again.