6 Marvel Characters I Want To See In Disney+'s Secret Invasion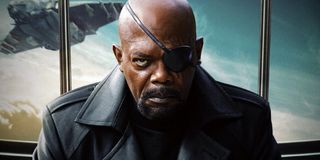 CinemaBlend participates in affiliate programs with various companies. We may earn a commission when you click on or make purchases via links.
Marvel's Secret Invasion TV show on Disney+ is poised to bring one of Marvel Comics' most exciting stories to life. A loose adaptation of the crossover event of the same name, Secret Invasion will see the return of Samuel L. Jackson's Nick Fury and Ben Mendelsohn's Talos and will involve a sect of Skrulls who have infiltrated different aspects of life on Earth. In other words, audiences are in for an extraterrestrial-centric adventure! One of the great things about the comic book storyline is that it involves a plethora of characters, and the show has an opportunity to bring in some major characters from the Marvel Cinematic Universe.
The Secret Invasion story of the comics included multiple superhero teams, various villains and Skrulls galore. Unfortunately, Marvel Studios president Kevin Feige has confirmed that the MCU's interpretation of the story won't contain quite as many characters. However, the smaller number doesn't mean some key players can't show up, and there are a few who would be perfect for this story. So, let's take a look at some of the familiar faces I want to see brought into Secret Invasion:
Carol Danvers/Captain Marvel
Captain Marvel 2 is one of the many upcoming Marvel movies audiences have to look forward to. It's currently unclear as to whether Secret Invasion will release before or after the movie, but it would be nice to see Brie Larson's hero drop in either way. Her history with the Skrulls and her friendships with Nick Fury and Talos make her a prime fit for the show. I'd also like to see her take on a somewhat sinister role. The original Secret Invasion saw some of Marvel's greatest heroes replaced by the shapeshifting Skrulls, and it would be interesting to see this happen to one of the MCU's most powerful figures. It's very possible she could have been switched out for a Skrull. After all, anything could have happened during that five years before the Blip.
Monica Rambeau
Of course, when Carol Danvers returns for her sequel, she'll be joined by another familiar face -- Monica Rambeau. After WandaVision, the once curious young girl is now a woman with superpowers and, by the end of the show, she was approached by a Skrull sent by an "old friend" of her mother's -- who wants to meet with her in space. The "he" being referred to was likely Fury, and he may be looking for Monica's help in battling this new Skrull threat. Adding Monica Rambeau to Secret Invasion would add a nice bit of connective tissue, but it would also provide another opportunity for her to grow as a person and a hero.
Maria Hill
There are few people that Nick Fury trusts more than Maria Hill, and the two are rarely seen without each other, which means she could very well show up in Secret Invasion. Since Talos' wife, Soren, was posing as Hill during the events of Spider-Man: Far From Home, we don't know where the real agent is, but chances are she's on that command ship with Fury. The character played a key role in the comics storyline, in which she took charge of a Hellicarier and ultimately defeated a number of Skrull infiltrators, all while narrowly escaping death. Seeing Maria Hill get some equally exciting moments on the show would be fun for fans.
Thaddeus "Thunderbolt" Ross
With the Skrulls infiltrating different levels of society, it would make sense to have some of the MCU's high-profile politicians show up, and Secretary of State Thaddeus Ross is a perfect candidate. What's most exciting about the idea of potentially adding him to the show is that he could end up being a Skrull himself. Thunderbolt has certainly evolved over the years, shifting from a rumpled army man to a smooth politician. Making Ross a Skrull would be a true shock and could have massive effects on the MCU as a whole. With any luck, the smug former general will show his face once again in the Disney+ show.
Erik Selvig
It's been quite a while since we last saw Thor's friend and Jane Foster's mentor, Erik Selvig. The college professor and Avengers consultant may not seem like an obvious choice for Secret Invasion, but he'd actually fit quite well. Selvig was last seen working at the Avengers facility in upstate New York and, with their prior history, Fury could have recruited him to work aboard that giant flagship post-Blip. Like Danvers and Ross, Selvig has Skrull potential. While the other two are members of the superhero and political levels of society, Selvig is a high-profile academic, and swapping him gives the Skrulls a major presence in the world of education. Erik Selvig could very well be a key asset for the shapeshifting invaders.
Valentina Allegra de Fontaine
Val...excuse me, Contessa Valentina Allegra de Fontaine, was just introduced to the MCU and, though we've only seen her briefly, it's already clear that big things lie ahead for her. While those plans are unclear at this point, Secret Invasion could be a prime destination for her. In the comics, a Skrull agent impersonates Valentina to spy on Nick Fury and, once Fury discovers this, he's alerted to the impending invasion. If she were to appear on the show, Valentina's role would probably differ from that of her comic book counterpart, but the writers could still find a meaningful way to bring her in. Any appearance from the character would be more than welcome, if only to see her share some screen time with the equally secretive Fury.
When it comes to Marvel's Phase Four slate, Secret Invasion certainly sits at the top of the list as one of the most anticipated. The show has the opportunity to present some engaging storytelling and send shockwaves throughout the Marvel Cinematic Universe in the process. The possibilities are certainly endless when it comes to the characters who could appear, but I'm hopeful that at least a few of these big names will come into play at some point.
Keep checking CinemaBlend for more updates on Marvel Studios' and Disney+'s Secret Invasion as they arrive. Also, be sure to keep track of the other upcoming Marvel TV shows that are on the way!
Covering superheroes, sci-fi, comedy, and almost anything else in film and TV. I eat more pizza than the Teenage Mutant Ninja Turtles.
Your Daily Blend of Entertainment News
Thank you for signing up to CinemaBlend. You will receive a verification email shortly.
There was a problem. Please refresh the page and try again.