Whoa, Netflix's Who Killed Sara? Hit A Major Hallmark For The Streaming Service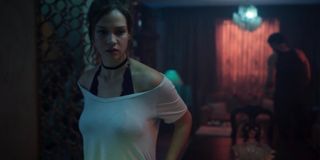 Netflix's Mexican crime thriller series Who Killed Sara? dropped on the streaming service just last month, and it's already generated some impressive numbers. And recently, the show hit a major milestone for Netflix, within the first month of its release!
Who Killed Sara? follows Álex Guzmán, who is hellbent on finding out who killed his sister Sara after spending 18 years in prison for a crime he didn't commit and on getting revenge on the Lazcano family. However, there were unexpected circumstances and dark secrets he wasn't even aware of. Per Deadline, the murder mystery has become Netflix's most popular foreign language title ever with an estimated 55 million subscribers tuning in since the release.
Throughout the first season of Who Killed Sara? Álex had been using his sister's diary as a guiding light and motivation, but it wasn't until the season finale that he discovered a second, hidden diary in his childhood home. Although he found a map that led him to a shallow grave containing a skeleton with a bullet lodged in its skull and he learned more about his late sister's mental state, the identity of both the skeleton and Sara's killer have not yet been resolved. Things will be more complicated for Álex heading into Season 2, but it will only make the season that much more exciting.
The second season of Who Killed Sara? is set to release on May 19, and Netflix has been teasing that more about Sara's past will be revealed, most likely thanks to the hidden diary that Álex found. The diary will make him question if he really knew who his sister was, or even what more is there surrounding her death.
Obviously the whole point of the series is to find out who killed Sara, so whether or not her killer, or something bigger, will be revealed in the upcoming season might depend on how far Netflix wants to take the series. Given that it's become an instant and international hit, the twists and turns could keep the series alive, even if the killer is revealed soon. If you haven't already, stream the first season (opens in new tab) of Who Killed Sara? now on Netflix. Season 2 drops on May 19!
Meanwhile, Firefly Lane, which stars Katherine Heigl and Sarah Chalke and packed same major differences from the book, was watched by 49 million people in its first 28 days since its February 3 launch. On the Netflix film front, the streaming service revealed that Rosamund Pike's I Care A Lot was watched by 56 million, the Jennifer Garner-led Yes Day by 62 million, Anthony Mackie and Damon Idris' Outside The Wire by 66 million, and the final installment of the To All the Boys I've Loved Before trilogy was watched by 51 million viewers.
Your Daily Blend of Entertainment News
Passionate writer. Obsessed with anything and everything entertainment, specifically movies and television. Can get easily attached to fictional characters.
Your Daily Blend of Entertainment News
Thank you for signing up to CinemaBlend. You will receive a verification email shortly.
There was a problem. Please refresh the page and try again.