How Yellowstone's Bombshell Reveal Could Impact The Duttons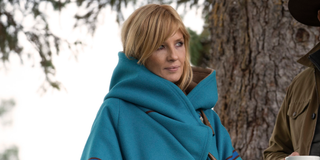 Yellowstone spoilers for Season 3, Episode 6, "All for Nothing" are discussed below.
Well, that just happened! John Dutton finally learned the secret behind his children's long-boiling tension, and the explosive aftermath could impact the Duttons for a long time to come. First, let's look at what happened before diving into how it could affect the Duttons in the long run. In "All for Nothing," Beth was asked the million-dollar question by her father. What did Jamie do to her? In a scene that took place off-screen, Beth told him.
John was not the only one to learn a vital piece of the Yellowstone puzzle. It turns out that Jamie did not tell Beth that she would be sterilized as part of that abortion she sought when she was fifteen. That is why Beth hates Jamie and rightfully so. He did not tell her that she would never be able to have children someday.
Nor did Jamie give her a choice in deciding if sterility is what she wanted. Plus, at 15, Beth was not even equipped to determine such a life-altering matter. Jamie is just a few years older than her and around 18 when he made that call for her, all those years ago. Yellowstone dropped that bombshell subtly during a tortured conversation between the siblings in the present-day.
No wonder Kelly Reilly doubted they could ever get along. In confronting Jamie on the latest Yellowstone, John lamented that Lee refused to marry due to his having zero interest in having kids. He said that he did not think Jamie wanted to have kids, and Beth cannot have any because of Jamie. John still has his grandson Tate (with whom he is close) by Kayce.
Yet John was grieving what he seemed to think was a lacking legacy, vocally imagining Tate all alone someday. He apparently believed that Beth and Rip would eventually have a child, adding another branch to the Dutton family tree. What John does not know is that in a cruel twist of fate, Jamie is actually going to be a father.
It is a plot point that remains untouched in Yellowstone Season 3 so far. It's no surprise that Jamie has been keeping that so hush-hush. If Beth finds out that he is having a kid when she cannot, she will go through the roof. Hence, his reaction when Beth issued one of her most brutal threats last season on Yellowstone.
I still have no idea why Jamie ever thought this was a good idea. Or how he felt that Beth would ever forgive him when she found out. Jamie is a pretty smart guy, so why did he make such a terrible choice? The bad decision-making of youth? Whatever his thinking, this all leads us into the big question. How could this reveal impact the Duttons going forward in Season 3? Let's go, Dutton by Dutton.
John
I could see John's anger getting the better of him. He alluded to making a promise to his wife that he wished he could break. Was that to not harm one of his kids? It seems more severe than that. John has punched Jamie in the past on Yellowstone, long before learning of Jamie's betrayal. So, he would have already broken that vow if that was the case.
My theory is that John promised never to kill one of his kids, which is an odd thing for a father to have to promise if that is the case. If Jamie pushes John past the brink in Season 3, I could see Yellowstone going for the jugular. I have theorized about Jamie getting killed off this season, and the way this reveal went makes me think it could happen.
Jamie
John's oldest living son did not take being confronted by John well. He screamed that he hates his father (after Beth planted the seeds that John hates him) and cried out that all he did was "give." Ironic, since all he did was take away Beth's ability to have kids. Jamie feels pretty bad for himself, and that is not good for the Duttons.
As Yellowstone's history has shown, Jamie lashes out when he feels he is the victim. He was just made Attorney General, and he knows that the offer on the Duttons' land currently stands at $500 million. Yes, half a billion dollars. Could Jamie somehow sell a part of the ground underneath John as retribution? It seems feasible, although I do not know if he has the power to do that or not.
Beth
Now that Beth has told John the truth, there will probably always be a splinter between her father and her brother. For whatever mysterious reason, John has never liked Jamie, though. Yellowstone has yet to share why. Or be as straightforward in addressing that there is an underlying issue as it has with Jamie and Beth. Beth could have just signed Jamie's death warrant.
How will that impact her? I do not think that Beth wants Jamie to be harmed. Based on Kelly Reilly's comments to CinemaBlend, it sounds like Beth might have kept the secret as long as she did to protect Jamie. Of course, it has been burning her up inside. If Jamie betrays the family by making a backdoor deal for the land, she could lose it with him.
Kayce
Poor Kayce! He looked as bewildered as Yellowstone's audience has for the past two seasons over what was happening between Jamie and his dad. It happened just as everyone was pulling together too. For his part, Kayce tried his best to comfort Jamie, which was sweet. He and Rip are now the only ones in the Duttons' immediate circle who have no idea about Jamie's betrayal.
If and when Kayce learns the truth, he will probably be more torn than ever. Kayce's relationship with Jamie is one of the facets of Yellowstone that has not been explored too profoundly. Viewers know more about Kayce and Rip's dynamic than his with Jamie's. Will Season 3 change that? Could Kayce join Beth in despising their brother? Stay tuned. Kayce is not a hateful person, so I doubt it.
Rip
This is the person that Jamie should fear most on Yellowstone. Rip is not going to be thrilled over Beth lying to him about the abortion ever since they were teenagers. However, I expect that bombshell to be overshadowed by learning that Jamie robbed Beth of ever having children in the future. It will be a betrayal on multiple fronts. Remember, Rip and Jamie have been pretty close through the years.
Learning what Jamie did to Beth could lead to some fisticuffs, perhaps even of the deadly variety. I hope that Yellowstone shows Rip learning what happened from Beth, and that is why the show keeps holding back from Kelly Reilly getting to play the reveal. However he finds out about it, Rip will probably be heartbroken and enraged. Jamie needs to watch his back.
Here is to Yellowstone keeping Jamie around despite whatever he does after this bombshell! He brings too much to the show for me to want him killed off. I expect this revelation to have a domino effect. There is a reason that Jamie just got appointed Attorney General as the push to seize the Duttons' land intensifies. I think John's anger may be what pushes Jamie over the edge and into his darkest incarnation yet.
Find out how the fallout of the Jamie/Beth bombshell continues in Season 3. New episodes of Yellowstone air Sundays at 9 p.m. ET on Paramount Network until this fall's premieres arrive. You can refresh your memory on the lead-up to all of the current drama unfolding by binge-watching the first two seasons on NBCUniversal's new streamer, Peacock.
Your Daily Blend of Entertainment News
Like a contented Hallmark movie character, Britt happily lives in the same city she grew up in. Along with movies and television, she is passionate about competitive figure skating. She has been writing about entertainment for 5 years, and as you may suspect, still finds it as entertaining to do as when she began.