Miranda Cosgrove Revealed iCarly Revival's New Apartment Set, And I'd Like To Live There Please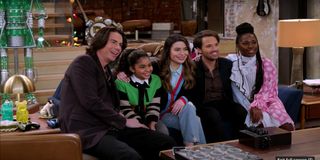 Any revival of a television show is bound to make changes from the original. Some may be from behind-the-scenes necessity – I'm still wondering what Sex and the City is going to do without Kim Cattrall – while some alterations may be to better serve the updated vision of the show. In the case of Paramount+'s upcoming iCarly reboot, Miranda Cosgrove's Carly and Jerry Trainor's Spencer are getting a story-driven (and pretty sweet) makeover for their iconic Seattle loft.
In a recent Instagram video, the aforementioned iCarly stars Miranda Cosgrove and Jerry Trainor took the Internet on a tour of Spencer's new digs, and who wouldn't love to spend some time in an updated pad like this?
The general layout of the iCarly loft is the same, with that unexplained freight elevator front and center. However, the original set was more, shall we say, funky. Spencer was a starving artist, constantly constructing statues out of refuse (like the plastic bottle man the crew recreated for the reboot), and his apartment reflected that. The wacky colors and mismatched furniture served to reinforce Spencer's chaotic personality.
In the reboot, however, things are a bit different. According to Miranda Cosgrove, Spencer is loaded now - presumably his art career finally took off. It makes sense that Spencer's apartment would change to reflect his new life.
And change, it does. The place is completely refurbished and somehow manages to look simultaneously retro and modern, with its mix of futuristic metal cabinets and antique touches. The kitchen (where hopefully spaghetti tacos will be making an appearance) is outfitted in shiny chrome and includes a refrigerator with a window. This is Spencer we're talking about, though, so of course all the metal is paired with scarlet acrylic chairs.
Two especially cool highlights of the new-and-improved apartment tour include a diner-style jukebox and a wet bar constructed from the back fender of a vintage car. They're exactly the sort of things a well-to-do yet zany artist would find at an upscale antiques store. This just goes to show how essential design is when it comes to story-telling. Whether it's through set or costumes, design lets the audience know who a character is before they ever speak a line. Just from watching this Instagram video, I already have a pretty good idea of the iCarly reboot's vibe.
And those are just the objects we can clearly make out. We can also see a bunch of electric guitars in the background, prompting me to imagine the unbridled chaos of a musical iCarly episode (make it happen, Paramount+). Although we only got a look at the main living space, we won't have to wait long to see the rest, including the studio where the iCarly web series is produced.
The iCarly reboot is set to premiere on June 17 on Paramount+. Returning cast members include Miranda Cosgrove as Carly, Jerry Trainor as Spencer, and Nathan Kress as Freddie. Jeanette McCurdy will not be reprising her role as Sam, but the show will welcome two new cast members: actor and podcaster Laci Mosley as Carly's new friend Harper, and Jaidyn Triplett as Spencer's step-daughter Millicent.
You can watch the first two seasons of the OG iCarly on Netflix.
Your Daily Blend of Entertainment News
Actor, singer, and occasional dancer. Likes: fashion, books, old buildings. Dislikes: cilantro, the NJ Turnpike, sneaker wedges.