Watch iCarly's Cast Celebrate Miranda Cosgrove's Birthday With Revival's Premiere Date Reveal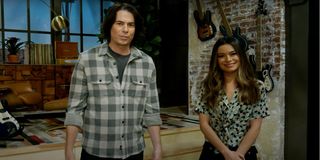 The original series finale of iCarly in 2012 marked the end of an era. Most of the shows that had come to characterize the Nickelodeon network, such as Drake and Josh, Zoey 101, and Victorious (and, of course, iCarly) had ended, and most of those shows' viewers were beginning to age out of the network's target demographic. Executive producer Dan Schneider, once a Nick powerhouse, began to produce fewer shows until he left the network in 2018. However, almost a decade after its original finale, iCarly is coming back to life.
While celebrating lead actor Miranda Cosgrove's birthday, Paramount+ revealed the premiere date for the new show in an unexpected way. Take a look below:
Hey, as long as I got to eat the cake afterwards, I wouldn't be mad even if I didn't care about iCarly! The revival of the hit Nickelodeon series, which originally starred Miranda Cosgrove, Jeanette McCurdy, Nathan Kress, and Jerry Trainor, was announced in December of 2020 and will premiere on Paramount+ on June 17. Fans everywhere expressed their enthusiasm after Miranda Cosgrove posted a behind-the-scenes photo with Nathan Kress and Jerry Trainor back in January.
Wondering what we can expect from the updated iCarly? Let's start with what - or rather, who - we won't see: Carly's best friend, Sam (Jeanette McCurdy), or the gang's friend/prank guinea pig, Gibby (Noah Munck). It's unclear why Noah Munck won't be coming back, but Jeanette McCurdy's absence is probably no surprise to those who've been keeping up with the Sam & Cat actress. Jeanette McCurdy has said in the past that she felt "unfulfilled" by her work on iCarly, not to mention "embarrassed." After spinoff Sam & Cat ended, Jeanette McCurdy distanced herself from acting, so it makes sense that we won't see her on the iCarly revival.
With the bad news out of the way, let's get to the good news. Internet star Carly (Miranda Cosgrove), her nerdy best friend Freddie (Nathan Kress), and her eccentric older brother, Spencer (Jerry Trainor) are confirmed to be starring. To bulk up the cast, Paramount+ added Laci Mosley as Carly's new roommate Harper and Jaidyn Triplett as Spencer's stepdaughter Millicent.
Obviously some time has passed if occasional pyromaniac Spencer has gotten married, so it will be interesting to see how iCarly handles the time jump. Will they address the absence of Sam and Gibby? And what have Carly and Freddie been up to? Maybe the pair will decide to reboot their web series, providing an impetus for future episodes. The original show predated the rise of 'YouTubers,' but now influencers are commonplace. How will the new iCarly stand out from the pack? We'll just have to wait and see.
While you're waiting for the reboot coming to Paramount+, you can watch the first two seasons of the original iCarly on Netflix.
Your Daily Blend of Entertainment News
Actor, singer, and occasional dancer. Likes: fashion, books, old buildings. Dislikes: cilantro, the NJ Turnpike, sneaker wedges.