Peacock's Dr. Death: What We Know About The Limited Series Starring Joshua Jackson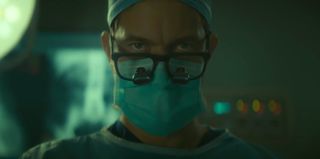 The doctor will see you now.
Based on the hit Wondery podcast, Peacock's Dr. Death is a promising new limited series that's inspired by the disturbing rise and fall of Dr. Christopher Duntsch, a once-promising rising surgeon with a body count and some potentially dangerous intentions. It might give a whole new meaning to the term "sawbones." Starring Joshua Jackson as our devious doctor, along with Alec Baldwin, Christian Slater, and AnnaSophia Robb in prominent supporting turns, Dr. Death is one of the latest attempts to bridge the gap between popular podcasts and prestigious television. If it works, it could be the major hit series that the streaming service is looking for, especially in a competitive market.
Here's what we know about this streaming series, which will premiere relatively soon.
Dr. Death Is Based On The Hit Wondery Podcast Of The Same Name
Hosted and reported by Laura Beil, Wondery's Dr. Death is an investigative deep dive in auditory form into egregious cases of medical malpractice. The first season centered around Dr. Christopher Duntsch, a Texas surgeon who was convicted after thirty-one of his patients were seriously injured after he operated on them, along with two patients who died under his care. The 11-episode first season is the focus of Peacock's drama series; the podcast's second season centered around Dr. Farid Fata, a hematologist and oncologist who was convicted of prescribing chemotherapy to patients who either didn't have cancer or who didn't warrant chemotherapy based on their condition. Maybe that can be the focus of another limited series — or it could be the second season here.
The Limited Series Is Expected To Premiere This Summer On Peacock
Bluntly speaking, Peacock is still coming into its own as a streaming service. Offering a wide selection of original and archived movies and TV shows (available either for free or under a subscription fee), it's clear that NBCUniversal wants Peacock to earn the same notoriety as prominent platforms like Netflix, Amazon Prime, and Hulu, to name only a few. While it's not quite there yet, Dr. Death will definitely be among the most prestigious and high-profile dramas they've made for this newfound streaming service.
There's no official release date announced for this upcoming limited series, but we know that it'll premiere sometime this summer. We should expect to learn a whole lot more about this streaming show in the weeks to follow, particularly as Peacock is really hoping that this is one of their first major successes. Only time will tell on that front.
Dr. Death Stars Joshua Jackson As Dr. Christopher Duntsch, A.K.A. Dr. Death
Filling in for Jamie Dornan, who dropped out of the mini-series shortly before it began, Joshua Jackson plays Dr. Christopher Duntsch, i.e. our titular Dr. Death, in Peacock's new show of the same name. Following this brilliant and charismatic rising star in the Dallas medical community, we watch as the flourishing neurosurgery practice that Duntsch built is suddenly changed when patients who entered for complex or routine spinal surgeries are either permanently maimed or don't wake up from the operating table. As Duntsch's body count continues to rise, fellow medical advisers wonder if he has nefarious intent. Once it becomes clear that something truly terrible is happening, they'll do whatever they can to stop Dr. Death from slaying even more innocent patients.
Best known for starring in The WB's Dawson's Creek and Fox's Fringe, Joshua Jackson is also recognizable for his performances in The Affair, When They See Us, Shutter, Cruel Intentions, Unbreakable Kimmy Schmidt, and the Mighty Ducks movies. Most recently, the television actor appeared in Hulu's limited series, Little Fires Everywhere.
Dr. Death's Supporting Cast Includes Alec Baldwin, Christian Slater, Grace Gummer, And AnnaSophia Robb
In addition to Joshua Jackson earning his Ph.D. to play the title character, Dr. Death will feature the supporting talents of Alec Baldwin, Christian Slater, Grace Gummer, and AnnaSophia Robb. More specifically, Baldwin plays neurosurgeon Robert Henderson, Slater takes on the role of vascular surgeon Randall Kirby, and Robb will be seen as Dallas prosecutor Michelle Shughart, who joins forces with these medical experts in order to stop Dr. Christopher Duntsch's seemingly criminal behavior. Additionally, Carrie Preston, Dominic Burgess, and Fredric Lehne will fill out the ensemble.
The Series Will Explore 'The Twisted Mind Of Dr. Duntsch And The Failures Of The System Designed To Protect The Most Defenseless'
Much like the podcast that inspired it, Peacock's Dr. Death will attempt to get inside the "twisted mind" of Dr. Christopher Duntsch. Likewise, it'll dramatize his fall from grace in order to expose "the failures of the system designed to protect the most defenseless among us," as it was described in the show's press release. Considering the longevity of Duntsch's malpractice and the copious difficulties that ensued whenever fellow doctors and physicians tried to stop his sinister actions, this material has the potential to be dense in its exploration of our fallible medical and legal system and how one's own sense of self-appointed decency can deceive so many under the guise of protection.
Dr. Death's Trailer Gives Us An Eerie Look At The Diabolical Doctor
Earlier in May, we got our first glimpse at this intriguing new streaming series thanks to an unsettling first trailer. Giving us an eerie-but-enticing look at the professional downfall of its central character, and the high-pressure efforts of these surrounding medical and legal professionals to take him down for good, this unnerving first teaser provides an intriguing first impression, while also giving us an idea of how so many people could be deceived by this doctor's charismatic persuasions. It also demonstrates a brooding, almost relentlessly inhumane sense of darkness whenever we see Dr. Death's ill-fated surgeries. If you're curious to watch the trailer for yourself, you can check it out below:
The Series Will Have An All-Women Directing Team, Including Jennifer Morrison
One of the most intriguing aspects of this upcoming streaming series is that it'll feature an all-women directing team, as it was reported by Women And Hollywood. Previously, Oscar-nominated director Stephen Frears (Dangerous Liaisons) was attached to direct the first two episodes. When the show geared up towards production, however, he was replaced by Maggie Kiley, who has called the shots on episodes of Riverdale, American Horror Story, and The Chilling Adventures of Sabrina, to name only a few past projects.
Additionally, the following episodes are directed by So Yong Kim and Jennifer Morrison. Previously, Kim was at the helm of celebrated indies like Lovesong, In Between Days, Treeless Mountain, and For Ellen. She also directed episodes of Transparent, Halt and Catch Fire, The Good Fight, and Room 104, to name a select few. The latter, meanwhile, is better known as an actress. Most notably, Morrison starred in Once Upon a Time and played prominent roles in House and How I Met Your Mother. Over the years, Morrison expanded her profile by directing Netflix's Sun Dogs and a recent episode of Euphoria.
Dr. Death Comes From The Girl From Plainville Showrunner Patrick Macmanus
Previously serving as a writer and producer for shows like Netflix's Marco Polo, Syfy's Happy!, and Amazon Prime's Homecoming, Patrick Macmanus is now the showrunner behind two upcoming series, Peacock's Dr. Death and Hulu's The Girl From Plainville.
The Girl from Plainville is currently in pre-production, though it also comes with some serious heavyweight talent. Starring Elle Fanning (The Great), the forthcoming streaming series will be written by Liz Hannah (The Post) and directed by Lisa Cholodenko (The Kids Are All Right) — at least, for the first two episodes. It will follow another true story, this one based on Jesse Barron's Esquire article of the same name. More specifically, it centers on a young woman in a small Massachusetts town who stands trial for her boyfriend's homicide, as prosecutors believe her calls and texts fueled his suicide when they were teens, as Deadline reports. The limited series is expected to start filming later this year.
Be sure to follow CinemaBlend for the latest updates on Peacock's Dr. Death and stay up to date on all of the announced Summer TV premiere dates.
Your Daily Blend of Entertainment News
Will is an entertainment writer based in Pittsburgh, PA. His writing can also be found in The Playlist, Cut Print Film, We Got This Covered, The Young Folks, Slate and other outlets. He also co-hosts the weekly film/TV podcast Cinemaholics with Jon Negroni and he likes to think he's a professional Garfield enthusiast.