Master Of None Season 3 Ending: Is This Real Life Or Is This Just Fantasy?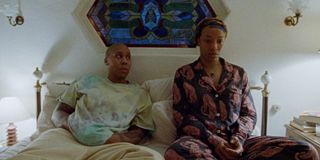 SPOILER ALERT: This article contains spoilers from Master of None Presents: Moments in Love and its ending.
After five episodes filled with just as much joy as heartbreak, Master of None Presents: Moments in Love has come to an end, bringing to a close (and, possibly, a new beginning) the story of Denise (Lena Waithe) and Alicia (Naomi Ackie), the couple at the center of the intimate third season of one of the best Netflix shows. Over the course of a few hours, the audience stuck with the pair as they went from a married couple madly in love living in the coziest of cozy cottages in Upstate New York, to a divorced couple going their separate ways and following their own dreams, and then to something a little more ambiguous.
One on hand the Master of None Season 3 ending is one that is hopeful for a new tomorrow, one that sees the central characters come to terms with their differences, as well as their new lives and relationships. But, on the other, the ending can be seen as a tragic end built upon wishful thinking and the dreams of one of the characters who wishes they would have taken a different course of action when they had the opportunity.
How Denise And Alicia's Story Unfolded In Master Of None Season 3
Denise and Alicia have already been together for a decent amount of time when we are welcomed into their idyllic home in Chapter 1 on Master of None Season 3, and seem to have everything a couple could desire: Denise is a best-selling novelist, Alicia is pursuing her dream of opening an antique store, and they genuinely get along (as seen in the laundry dance scene). But when Dev (Aziz Ansari) and his new girlfriend come over, they bring a wave of animosity and bitterness that brings a chill to the house and has a noticeable effect on the story's central characters, starting the journey that leads to their demise.
This small crack in the couple's armor quickly becomes a gaping hole when a miscarriage smashes their hopes of having a child, a step Denise half-heartedly took to support Alicia who wants nothing more than to be a mother. As it can sometimes happen, the loss of the their unborn child forms an emotional barrier between the couple, leaving them to find support elsewhere in the arms of different lovers.
Too much for the couple to bear, Denise and Alicia split up, sell the house, and go an unspecified amount of time where they are no longer part of each other's lives. Chapter 3 follows Denise as she goes through the process of selling the home while also attempting to write her second book, two processes that are deeply impacted by the failure of her marriage. Alicia, on the other hand, decides to have a child on her own in Chapter 4 and goes through the physically and emotionally taxing process of In Vitro Fertilization (which is successful), in perhaps the best Master of None episode since the award-winning "Thanksgiving."
What Happened At The End Of Master Of None Season 3
In the Master of Season 3 finale, we pick up a couple of years later and watch as Denise and Alicia go off for a weekend getaway at their old farmhouse. It's never made abundantly clear how long they've been talking or how they reconciled following their bitter divorce, but the former couple seem happy as can be, even though they are lying to their respective spouses and children. Denise and Alicia sit around their old house and make note of all the changes, both with the home and their lives. Keeping the conversation light and superficial, the former married couple attempt to avoid lingering on the events that brought them here. Still, it is easy to tell by the expressions on their faces and their body language (as seen multiple times in the show's trailer) that they want and need to have this conversation so that they can let go of the guilt plaguing them all this time.
In the penultimate scene, Denise and Alicia are in their old bedroom and talk about the nature of their relationship and how the retreat has been a relaxing escape. The joy and optimism is short-lived as they begin to talk about what's next and what happens if they get caught in the act, ruining two families in the process. This becomes even clearer when Alicia says "And everything is wonderful" before Denise responds with an unenthusiastic "Yeah, everything is wonderful," as the screen cuts to the empty bed (sheets made) and then again to Denise standing outside looking longingly into the distance.
Was The Couple's Reconciliation Reality?
There are arguments to be made for the Master of None Season 3 finale taking place in reality, just as much as there are some for the final moments of the Denise and Alicia's story all being some daydream. It's easy to believe that that the couple would have reconciled at some point, especially when you consider how much time has passed between the time we last saw them together signing divorce papers at their kitchen table and pick back up with them in Chapter 5 (remember, they're both married and have kids who are at least 2 years old).
With any failed relationship, there is a part of the former couple that wants to move past the emotional trauma of a split (more so in some cases than others) and at least be on good terms. So, in that regard, the reconciliation is very much real, even if the future of the relationship is anything but guaranteed.
Or Was The Final Episode All In Denise's Head?
On the other hand, there's a case to be made about the Master of None Season 3 finale all being in the head of Denise who wants to make right for her infidelity as well as inability to be supportive during Alicia's pregnancy, both before and after the miscarriage.
The episode opens with Denise sitting in an office staring at a computer screen before the screen fades to black. The next scene (Denise driving to meet up with Alicia) is almost dreamlike (and one of the only scenes in the entire season to not be shot like a still-life painting). You could argue that this is when Denise is in a dreamworld, where she sets off to make up for her past behavior and create a story where everyone ends up happy.
Over the course of their weekend getaway, the former couple tiptoe around their past while still addressing it ever-so-lightly, as if the memories were too much for Denise, causing her to jump to the next subject. The facade is fully eroded in the final moments of the season, first when Denise and Alicia are cuddled up talking about their future and then again when Denise is standing alone next to a tree, her face void of expression and emotion before the credits start rolling.
How Naomi Ackie Feels About The Master Of None Season 3 Ending
The argument between reality and fantasy in the Master of None Season 3 ending is one that has come up time and time again since the finale aired on Netflix in May 2021. This topic even came up during a conversation between Naomi Ackie, who plays Alicia, and EW, where the actress was asked about the open-ended nature of the show's ending:
So, it appears this was the intention and that the Master of None Season 3 ending is open up to interpretation. I mean, this isn't the first time Aziz Ansari has ended things with a major cliffhanger.
What do you think about the ending of Master of None Presents: Moments in Love? Do you think it is reality or is it just fantasy? Let us know in the poll below, but before you go, check out CinemaBlend's 2021 Summer TV schedule as well as the list of all the upcoming 2021 movie premiere dates.
This poll is no longer available.
Philip grew up in Louisiana (not New Orleans) before moving to St. Louis after graduating from Louisiana State University-Shreveport. When he's not writing about movies or television, Philip can be found being chased by his three kids, telling his dogs to stop yelling at the mailman, or yelling about professional wrestling to his wife. If the stars properly align, he will talk about For Love Of The Game being the best baseball movie of all time.
Your Daily Blend of Entertainment News
Thank you for signing up to CinemaBlend. You will receive a verification email shortly.
There was a problem. Please refresh the page and try again.