Master Of None Season 3: Premiere Date, Cast And Other Quick Things We Know About Aziz Ansari's Netflix Show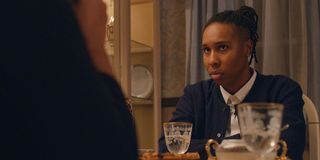 After a four-year break, Aziz Ansari and Alan Yang's popular dramedy series Master of None is finally set to return to Netflix, though the show's latest chapter doesn't look like it will be picking up where things left off for Ansari's Dev Shah at the end of the show's second season. With a new name — Master of None Presents: Moments in Love — and a new focus, the award-winning series looks to continue with its engaging storytelling and exploration of the human condition sooner rather than later.
So, ahead of the return of Master of None Season 3, we've put together a quick rundown of seven quick things we know about well-regarded Netflix series including its premiere date, cast, and other key details to keep in mind before things pick back up later this spring.
Master Of None Presents: Moments In Love Premieres May 23
When Netflix initially released its May 2021 schedule, the streaming giant had Master of None Season 3 listed in the "TBD" category, surprising just about everyone with the surprise and long-awaited return of Aziz Ansari's drama series. The surprises kept coming for fans of the show as Netflix released a trailer just days later giving fans their first glimpse of Master of None Presents: Moments in Love before revealing the May 23 release date.
Lena Waithe And Naomi Ackie Lead The Master Of None Season 3 Cast
Previous seasons of Master of None have primarily been focused on Dev Shah (Aziz Ansari) as he explores love and life in places like New York City, Nashville, and Italy as seen in Season 2, but this time around, the show will instead follow Dev's friend, Denise (Lena Waithe) and her partner, Alicia (Naomi Ackie).
Prior to landing a role on Master of None Presents: Moments of Love, Ackie made a name for herself in various stage productions in London before giving a BAFTA Award-winning performance in The End of the F*ing World in 2019, a series that was carried by Netflix outside of the U.K. Lena Waithe, who voiced the first LGBTQ+ character in a Pixar movie with her brief performance in Onward, previously won an Emmy Award for the Master of None Season 2 episode "Thanksgiving," which she co-wrote with Aziz Ansari.
Master Of None Season 3 Illustrates The Highs And Lows Of Relationships In Intimate Detail
Over the course of the Master of None Presents: Moments of Love, the relationship shared by Denise and Alicia will be explored in great and intimate details. This modern love story illustrates the ups and downs of marriage, struggles faced when trying to have children, and the ways in which a couple grows when they're together as well as when they're apart. Through existential questions about the meaning of love and life in general, Denise and Alicia's bond will be tested as they face the highest highs and lowest lows.
Although He's Not The Main Focus, Aziz Ansari's Dev Shah Will Appear In Some Capacity
Even though Aziz Ansari's Dve Shah is not the main focus of Master of None Season 3, the character will appear in some capacity, as seen in the show's teaser trailer released in April 2021. How large of role Dev will play, however, remains to be seen. And while Moments of Love breaks new ground in terms of storytelling, the new season is tied to the characters and events that transpired earlier in the series.
Aziz Ansari Co-Wrote Master Of None Season 3 With Lena Waithe And Also Serves As The Director
Previous seasons of Master of None have largely been written by Aziz Ansari and the show's co-creator Alan Yang, with other writers stepping in on occasion like in the case of the aforementioned Emmy winner "Thanksgiving" in Season 2. This time around, however, Aziz Ansari and Lena Waithe are listed as co-writers, which makes sense considering Master of None Presents: Moments in Love looks like it will primarily focus on her character, Denise.
Aziz Ansari also directed the entirety of Master of None Season 3, which is a change from previous seasons which have seen the show's co-creator trade off directing duties with Eric Wareheim and Queen and Slim director Melina Matsoukas among others.
Master Of None Season 3 Will Consist Of Five Episodes
The first two seasons of Master of None consisted of 10 episodes each, but the story in Master of None Presents: Moments in Love will be told over the course of the five episodes. This makes sense when you consider that Season 3 will focus on the story of Denise and Alicia's relationship, while previous seasons have each touched on the multiple arcs not tied to Dev's relationship with Rachel Silva (Noël Wells) in Season 1 or Francesca (Alessandra Mastronardi) in Season 2.
If either of those two characters, or the numerous others that have appeared over the years including Arnold Baumheiser (Eric Wareheim) or Brian Chang (Kelvin Yu), will appear in Master of None Presents: Moments in Love remains to be seen. But come on, who doesn't want more Big Bud, Lil Bud shenanigans like we've seen in the past?
Master Of None Season 3 Was Shot In The U.K. During The Pandemic
There was a stretch there where Master of None Season 3 wasn't guaranteed, especially back in 2017 when Aziz Ansari alluded to taking a "looonng" break after finishing the show's second season. At the time, Ansari told Vulture he didn't really having anything left to say about being a young single guy in New York and would need to take the show in a different direction. And that's exactly what happened when Ansari and Lena Waithe came up with the idea for Moments in Love.
According to Chortle, principal photography was initially slated to get underway in London back in early 2020 but when the COVID-19 pandemic brought everything a screeching halt, so did production on Master of None Season 3. Cameras did eventually start rolling in early 2021, with Variety confirming the season was shot on location during the ongoing pandemic.
Master of None Presents: Moments in Love is just one of the popular Netflix TV shows returning to the streaming giant later this year. If you want to know about upcoming shows not on Netflix, check out CinemaBlend's 2021 Summer TV schedule.
Your Daily Blend of Entertainment News
Philip grew up in Louisiana (not New Orleans) before moving to St. Louis after graduating from Louisiana State University-Shreveport. When he's not writing about movies or television, Philip can be found being chased by his three kids, telling his dogs to stop barking at the mailman, or yelling about professional wrestling to his wife. If the stars properly align, he will talk about For Love Of The Game being the best baseball movie of all time.