Who Killed Sara And 8 Other Great International Shows To Watch Streaming On Netflix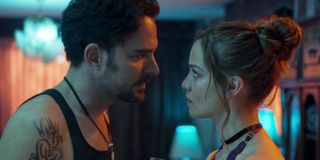 CinemaBlend participates in affiliate programs with various companies. We may earn a commission when you click on or make purchases via links.
Netflix honestly has some of the best TV shows right now. There are cultural phenomena like Stranger Things and Bridgerton, ones that have really stood the test of time and united strangers over the strangest storylines. However, what a lot of people don't realize is that there are plenty of shows on the outside of the United States that are freaking awesome – and are available to stream right now on Netflix.
From the drama Who Killed Sara? to the Norse god retelling of Ragnarok, there are so many shows that you should check out right now on the popular streaming platform. Most don't even have that many seasons right now, and they're certainly worth the time to watch. These are some of the best international TV shows on Netflix that you should give a chance.
Who Killed Sara? (Mexico, 2021- Present)
Starting off with a murder mystery, you'll become a detective after watching Who Killed Sara? From what you can guess in the title, this popular drama tells the story of Alex Guzman, the brother of the aforementioned Sara, who spent 18 years in prison for a crime he did not commit. Now, it's up to him to figure out who really killed Sara.
Who Killed Sara? blew up on Netflix when it first came out, appearing in the Top 10 almost instantly, and has two seasons to binge right now. I've always been a huge murder mystery fan, and Who Killed Sara? definitely keeps you guessing the whole time.
Stream Who Killed Sara? on Netflix (opens in new tab).
Elite (Spain, 2018- Present)
Set in Las Encinas, a fictional secondary school, Elite tells the story of what it's like to be a working-class classmate attending a school full of wealthy students.
Look, if you like the crazy drama of high school shows like Riverdale, then this is definitely your show. The ensemble cast works extremely well together and performs their roles to a T. Who doesn't love some good old-fashioned petty high school drama? Plus, in a series like this, there are so many twists and turns that you would never expect – but that's exactly what happens at a place like Las Encinas. Who knew rich people would have so many secrets?
Stream Elite on Netflix (opens in new tab).
Cable Girls (Spain, 2017-2020)
One of my favorites on this list, Cable Girls is a period drama that will entertain you. In this drama, we see a modern telecommunications company open up in Madrid in 1928, giving four women the chance to start working for this company, offering them decent pay and some independence from their daily lives.
During this time of the world, there weren't as many opportunities for women in the workforce as there are now, so while Cable Girls is a fictional story, it's based on true events that happened during that time. Not only that, but the set designs are great, as well as the costuming. Just one episode and you'll be transported back to 1920's Spain.
Stream Cable Girls on Netflix (opens in new tab).
Dark (Germany, 2017-2020)
There's always that one series that makes you go, "huh?" But Dark does that in a great way. This science-fiction/psychological series follows the story of what happens after a child vanishes in the fictional town of Winden in Germany. The show follows connections between four family members, unraveling a crazy time-traveling conspiracy that has spread through generations.
Dark is maddening. That's the best word to describe it. It's interesting, intriguing, engaging, and confusing all at once. But it's one of those shows that no matter how many times you re-watch it, you'll always find something new. While it can be a bit of a head-scratcher at first, I can guarantee you'll be pressing "Next Episode" no matter what on this series.
Stream Dark on Netflix (opens in new tab).
Kingdom (South Korea, 2019- Present)
Kingdom is a period piece – mixed in with zombies. In the Joseon period of 15th-century South Korea, a minister wishes to take over the throne, ailing the king alive with some sort of mysterious medicine that also turns him into an undead monster that must feed on human flesh.
I mean, sign me up already. Beautiful cinematography in the stunning country of South Korea? Check. An appealing storyline mixed in with some awesome acting? Check. Zombie-like monsters that are slain by katanas? Oh, heck yeah. Just writing this section has me all pumped up. Kingdom might not be for everyone, but it will certainly please you if you like TV shows like The Walking Dead.
Stream Kingdom on Netflix (opens in new tab).
Queen Sono (South Africa, 2020- Present)
I wouldn't leave out the fans of the spy genre. Queen Sono is a South-African spy drama that follows the titular character, Queen Sono. She is a top-trained spy in a South African agency, whose purpose in life is to bring a better world to African citizens.
If you're interested in spy movies or TV shows, it has everything you would expect and more, from some amazing stunts to some kick-ass scenes. However, what really makes Queen Sono stand among the rest is the fact that we get to see some stunning South African beauty. I feel that we never really get to see South Africa that often in the media, and Queen Sono fulfills that request wonderfully. With only one season (unfortunately), you'll be wishing for more.
Stream Queen Sono on Netflix. (opens in new tab)
3% (Brazil, 2016-2020)
Think The Hunger Games but way less blood. In 3%, at the age of 20, several participants are entered into the Process, where they must compete against each other at a battle of wits and strange situations to make it to the Offshore, the 3% of the population that lives in utter harmony.
I know that we've all seen our fair share of YA dystopian worlds. I'm pretty sure the market capitalized on that enough when we had movies like The Hunger Games, Divergent, and Maze Runner come out within a couple of years of each other. But 3% really turns that genre on its head and does it in a certain way that honestly makes a lot more sense than several other versions of this same genre. It's a refreshing twist on the classic story.
Stream 3% on Netflix (opens in new tab).
Money Heist (Spain, 2017- Present)
With Season 5 coming out soon, Money Heist (AKA El Casa de Papel) has been popular amongst fans for some time. This drama tells the story of a man known as "The Professor," who recruits a group of eight people, choosing cities as their code-names, to carry out a plan to enter the Royal Mint of Spain, escaping with several billions.
What really makes Money Heist one of the best heist shows out there is that they don't hold back for a long time before getting into the actual meat of the show. They rob this bank very quickly and show the repercussions of what happens after. There are so many flashbacks, time-jumps, and unreliable narrators that, while you'll be interested in watching it, you won't even know who to trust.
Stream Money Heist on Netflix (opens in new tab).
Ragnarok (Norwegian, 2020- Present)
I feel like everyone at some point in their lives had an interest in Norse mythology. Ragnarok answers that interest and more. In this Norwegian series, we see the tale of a town that has been damaged by pollution and melting glaciers. Because of this, the End Times are coming soon. It will take a legend to battle an old evil, and save the world.
Look, I know many of us have developed an interest stories of Norse gods as depicted in other areas of popular culture, and if you're among them, then Ragnarok is the way to go. The story is entertaining and suspenseful, and also very educational to someone who wants to learn more about ancient Norse mythology. With two seasons, you'll binge through this show and be wishing for more seasons super quickly.
Stream Ragnarok on Netflix (opens in new tab).
Which one of these shows do you think sounds the best? Personally, 3% is my cup of tea, but maybe I'm feeling more Kingdom today. Who knows? But what I do understand is that there are so many shows on Netflix that we should give a shot, regardless if it's from another country or not. Try watching an international show. You won't regret it.
Big nerd and lover of Game of Thrones/A Song of Ice and Fire. Will forever hate season eight. Superhero and horror geek. And please don't debate me on The Last of Us 2, it was amazing!
Your Daily Blend of Entertainment News
Thank you for signing up to CinemaBlend. You will receive a verification email shortly.
There was a problem. Please refresh the page and try again.