How To Watch Billie Eilish, H.E.R. And Kid Cudi's Prime Day Show Streaming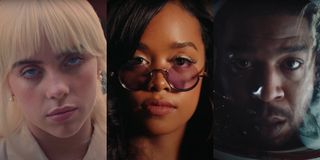 CinemaBlend participates in affiliate programs with various companies. We may earn a commission when you click on or make purchases via links.
To help bring in one of the biggest shopping events of the year, Amazon is hosting The Prime Day Show, a three-part immersive experience featuring three of today's most successful artists. Starting Thursday, June 17, 2021, the online retailer-turned-media giant will give its users access to performances from Billie Eilish, H.E.R., and Kid Cudi, each of which combining a concert experience with detailed storytelling and visuals inspired by Paris, The Dunbar Hotel, and even outer space.
But with the big event right around the corner, you might want to know where, when, and how you can watch The Prime Day Show streaming. As a last-minute catch-me-up, we've provided a quick yet comprehensive breakdown of each performance and how you can watch the special musical experience both with and without an Amazon Prime account.
How To Watch The Prime Day Show Streaming
Starting Thursday, June 17, 2021, you will be able to watch Billie Eilish bring a Parisian neighborhood to life in a musical tribute inspired by the Grammy Award-winning artist's admiration of a long gone era of the City of Lights, H.E.R. pay tribute to the Los Angeles Black culture of the 1930s and 1940s in a recreation of the famed Dunbar Hotel, and watch as Kid Cudi connects with the International Space Orchestra to create an experience that defies sight, sound, and space.
There are a few ways to watch each of these experiences, which range anywhere from 25 to 27 minutes in length. The easiest way to go about doing this is to watch The Prime Day Show on the Prime Video app, the Amazon website, Twitch, and IMDb TV. The concert experience will be available to all Amazon customers for 30 days upon its release.
Stream The Prime Day Show on Amazon.
Do You Need An Amazon Prime Account To Watch The Prime Day Show?
An Amazon Prime membership is not required to watch The Prime Day Show 2021, but you will be required to have an Amazon account in order to take in the immersive experience. Doing so is fairly simple and is completely free. All you will need to do is go to the Amazon website, click on the "Start Here" link in the "Account" section, and create an account to start taking advantage of special concert and everything else the online retailer has to offer.
When Do The 2021 Prime Day Deals Start
While The Prime Day Show kicks off Thursday, June 17, Amazon's annual Prime Day event (which is now two days, by the way and set up for Prime members) will get underway Monday, June 21 and will run through the June 22, giving the online retailer's Prime members unparalleled access to epic savings on more than two million deals site-wide.
A Prime account gives you access to thousands of the best movies on Amazon, music streaming, and all other sorts of perks that make it a subscription worth keeping, even after the thrills and deals of Prime Day wear off.
Your Daily Blend of Entertainment News
Philip grew up in Louisiana (not New Orleans) before moving to St. Louis after graduating from Louisiana State University-Shreveport. When he's not writing about movies or television, Philip can be found being chased by his three kids, telling his dogs to stop barking at the mailman, or yelling about professional wrestling to his wife. If the stars properly align, he will talk about For Love Of The Game being the best baseball movie of all time.