Ahead Of Conservatorship Court Date, Britney Spears Ain't Stopping, Will Keep On Dancing Till The World Ends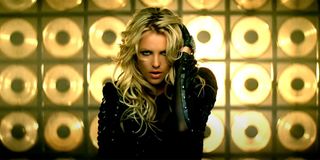 Britney Spears has always been a dancing diva. From her very first iconic music video for "...Baby One More Time" to her more recent show-stopping Las Vegas residency, the eldest Spears sister has proven that she's got rhythm. Over the last year+ in quarantine, the pop star had been showing off her dance moves on Instagram (to the befuddlement of some fans, and to the delight of others). With her conservatorship court date swiftly approaching, the dancing is still going strong.
You may have seen at least one of Britney Spears' viral dance videos, some of which concerned fans so much that they thought the pop star might be sending secret messages (blink twice for yes, once for no, etc.). They weren't incredibly frequent, and they were interchanged with family photos and throwback pics. But in the days leading up to Britney Spears' conservatorship court date, we've gotten plenty of dance content. You can check out the most recent Instagram dance video recent below:
As opposed to Britney Spears' usual Insta uniform of sports bra and shorts, she's wearing a glittery jumpsuit and stiletto heels. And she certainly looks like she's having fun, although some commenters don't agree. Many fans are still expressing concern over the content, with comments like "genuinely concerned" and "what is happening here?" Maybe the videos aren't Britney Spears' best choreography ever, but they're really not bad – especially compared to some of the early quarantine posts. The videos may simply serve as a fun distraction, considering Britney Spears is getting ready for a huge court appearance.
Whether you support the #FreeBritney movement or not, you have to admit that Britney Spears has been through it. She's been living under her conservatorship for over a decade, and has made multiple attempts to dissolve it. Throughout these attempts, she hasn't spoken for herself much, letting the professionals handle it. So when it was announced in April that she would be getting on the stand herself, the Internet went crazy. The court date was set for June 23, a date that once seemed quite far away and has now arrived.
A renewed public interest in Britney Spears occurred earlier this year, when Hulu released the documentary Framing Britney Spears as part of its The New York Times Presents series. The episode gave viewers the rundown on Spears' mental health lapse and subsequent personal issues. It also led audiences to suspect that Jamie Spears, Britney's father and director of the conservatorship, was using his power to negatively affect her life. His lawyer has denied this, but the fans aren't so sure. What they can be sure of, however, is that no one can stop Spears from dancing it out.
Whatever the case may be, we won't really know anything for sure until Britney Spears takes the stand on June 23 to speak for herself. Until then, we can only keep on dancing.
Your Daily Blend of Entertainment News
Actor, singer, and occasional dancer. Likes: fashion, books, old buildings. Dislikes: cilantro, the NJ Turnpike, sneaker wedges.