10 Netflix Shows That Were Cancelled Way Too Soon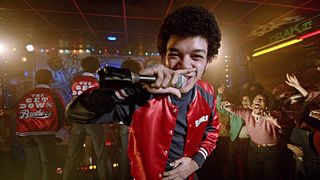 Ah, Netflix. The streaming service has been responsible for some awesome shows since they began doing original series not that long ago. I'm talking about shows like Stranger Things, Orange Is the New Black, House of Cards and so many more. They've been nominated for Emmys, Golden Globes, and several other awards alike. They've truly become a powerhouse in producing some awesome TV.
However, there have also been several shows that Netflix had cancelled, in my eyes, way too soon. While there are plenty of shows in 2021 premiering on Netflix, whether for the first time or with new seasons, there are so many that deserve to be on that list as well. Shows that unfortunately got the boot too early. These are the ten Netflix shows from the past that I think deserved way more than the seasons they were given.
The Get Down (2016-2017)
This one has to be what angers me the most. The Get Down was an awesome TV show that told several stories all at once, one of a young boy discovering his love of hip hop and another girl stepping up into the eyes of stardom in the 1970s of the Bronx.
Let's get one thing straight – the fact that this show was cancelled after one season is an atrocity. The music in The Get Down was absolutely awesome, the stories were so much fun to follow along, and the actors really carried the show and made it entertaining to watch. While it's really unknown as to why it was cancelled so quickly, many have speculated that it was because of production delays and budget cuts. However, the story of these teenagers in the Bronx could have been so much more – at least more than one season, dang it. I will never forgive Netflix for cutting it from their lineup just like that.
The Society (2019)
The premise of this show is enough to settle itself above the best series out there that have to do with apocalypse-type threats. The Society is about a group of teenagers who suddenly come under the responsibility of learning to run their own community after the rest of the population suddenly disappears.
From a distance, this premise sounds like so much fun. It reminds me of shows like Under the Dome and The Walking Dead where people must adapt to new circumstances in order to survive. But even after that, the show was still cancelled because of COVID-19 related issues. The Society had been renewed for a Season 2 but was later cancelled before the start of production, so it seems we're never going to get that continuation we so desperately wanted. It truly is a shame – The Society could have really been one of the greats, in my opinion.
On My Block (2018-2021)
Netflix loves itself a good coming-of-age story, and that's exactly what On My Block was. This TV show was all about a group of high schoolers as they navigated their personal and social lives in the gritty streets of South Central Los Angeles.
The diversity was great, the stories were interesting, and the romances were so much fun to watch develop. Not only that, but On My Block tackled some serious social issues that few teen shows tend to explore, such as race relations and institutional racism. While there have been three seasons – with a fourth on the way after some speculation there wouldn't be one – there will be no more after, as Season 4 will be the last. There are no words as to why it was cancelled, but fans aren't super happy about it. In a sea of Netflix shows that tend to pop up out of nowhere, On My Block was a good diamond among the rest. It's a shame it's ending.
Sense8 (2015-2018)
I have a feeling that this series was a case of "good premise, wrong time," because the idea of Sense8 is so interesting but it'd be hard for someone who doesn't quite understand it to enjoy it. Sense8 is about eight strangers who are randomly thrust into each other's lives, secrets, and dangers. They try to discover why their connection is so unique, while another organization wants to hunt them down.
I know, it sounds so out there and strange that it's hard to figure out exactly what's going on with this, but Sense8 was super intriguing. It takes time to understand the exact connection that these people have but once you do, there are several themes that this story explores, including the differences among others and the diversity that comes with friendships and relationships. The series did get a movie that seemed to "wrap it up," but fans wanted more after only two seasons. Netflix cited that the cancellation was due to low viewership, but plenty of people still loved the show.
The Chilling Adventures Of Sabrina (2018-2020)
I was one of the many fans that was peeved that the new version of The Chilling Adventures of Sabrina was cancelled. This version of Sabrina took a darker turn, as we watched her learn to control her masterful powers while also trying to be a normal teenager at the same time, with enemies like the Devil himself hunting her down.
It was a different take, a bold one for a property like Sabrina, the Teenage Witch to do, but it was received well all the same. The story was exciting, the characters diverse and relatable, and the comedy (when there was some) was great. With only two seasons (split up into two parts each), there was so much more story that could have been told about Sabrina, and let's not talk about how the series actually ended. I'm always going to be upset that the creators of The Chilling Adventures of Sabrina didn't end Riverdale instead, which they also produced.
The OA (2016-2019)
Another two-season show – I'm starting to see a bit of a pattern here. The OA tells the story of Prairie Johnson, a young woman who had been missing for seven years and suddenly resurfaces, calling herself the OA, standing for "Original Angel," has scars on her back and can now see, despite being blind when she went missing.
The premise itself is super interesting and honestly, it draws you in quickly. It sounds like an excellent mystery and would have continued to be so if it had gone into a third season, however they were never able to finish the story. According to what Jason Isaacs told Collider, the show was meant to be a five-season arc. Unfortunately, the series was cancelled only after two. Cost of production may have been a factor, or perhaps viewership just wasn't up to Netflix's hopes for the original series. Even so, there won't be a continuation of the show, despite being well-received.
The Dark Crystal: Age Of Resistance (2019)
Admittedly, when I first saw they were making this show, I was a little less than excited because it just seemed weird, but after spending some time to really properly view it, it's one of those shows I think could have lasted longer. The Dark Crystal: Age of Resistance is a prequel to The Dark Crystal, and follows the story of three Gelflings, going on a quest to unite the clans to rise up against the Skeksis and somehow save their planet.
Based on characters by Jim Henson, the story itself was so much fun, the special effects fantastic, and was an epic fantasy adventure that anyone could enjoy. The series received critical acclaim and plenty of fans. But at the end of the day, it was cancelled after one season. Everything in this show was built from scrap, from the puppets to the sets – which might have meant high production costs, but who knows? We'll never truly understand why this visionary tale was taken from us so soon.
Santa Clarita Diet (2017-2019)
This was one of my favorite shows when it came out because I absolutely loved how quirky it was. Santa Clarita Diet follows the lives of a married couple and their daughter. When Sheila (Drew Barrymore), the wife of Joel Hammond (Timothy Olyphant), "dies" due to eating something mysterious, she awakens with a sudden craving for human flesh.
The idea itself is so interesting. It's not like she ever really becomes a full-fledged zombie, but that's how it kind of progresses, and it's all about trying to find a cure for her. The dark humor in Santa Clarita Diet is on point and could rival so many TV shows that have the same sort of humor. Drew Barrymore shines in this comedy, alongside her costar, Timothy Olyphant, and they really could have expanded the lore with who she was now so much more than they did, along with the cliffhanger that was the last season.
Answers were never really given as to why – as is Netflix's way of addressing that – so all fans can really do is theorize. Even so, it's a shame we'll never get to see zombie Joel and Sheila together – as much as fans have wanted it.
GLOW (2017-2019)
Out of all the comedies on this list, I think the cancelation of GLOW is the worst because it was so much fun. GLOW follows the story of fictionalized characters who were part of the gimmicks in the 1980s that included syndicated women's professional wrestling, otherwise known as Gorgeous Ladies of Wrestling (GLOW).
With three seasons, GLOW developed a fanbase based on the wonderful values that this show talked about all the time, from the acceptance of others to being comfortable in your own skin. While the show was a comedy most of the time, the dramatic moments seemed to hit just as hard and stick with you. The cast list was full of great talent, with the lead Alison Brie capturing the hearts of viewers. However, a Netflix spokesperson recently came out and said that they were canceling the show due to COVID-related reasons. While it is a reasonable excuse as to why it was cancelled, it's still a gut punch to the fans of the show.
One Day At A Time (2017-2020)
This show's cancelation, to me, is right up there with The Get Down due to how relatable and socially conscious it was. One Day at a Time, a reboot of the original show from back in the 1970s, follows the everyday life of a typical Cuban-American family, and the struggles that they face in modern-day America.
One Day at a Time was fantastic. I almost thought of it as a more socially conscious Modern Family, because it tackled so many issues that we talk about on a daily basis in a fun yet serious way. Race issues, bigotry, gender inequality, sexual assault and harassment – all of this tackled so beautifully within the couple of seasons that the show had. The show, technically, was cancelled after three seasons on Netflix but was picked up by Pop TV for a Season 4 before getting cancelled again, once more due to COVID-19 related issues.
Again, with a show that was so socially conscious with great characters and awesome backstories to go off of, it's such a shame we see another hit from Netflix go down so quickly. I would have loved to see their stories fleshed out more, with even more issues talked about down the line.
I'm sure that in the next couple of years, however, we will likely see more series get cancelled just like these. Hopefully, however, they can have a bit more closure than some of these did.
Your Daily Blend of Entertainment News
Big nerd and lover of Game of Thrones/A Song of Ice and Fire. Will forever hate season eight. Superhero and horror geek. And please don't debate me on The Last of Us 2, it was amazing!