9 Supernatural Stars Who Should Return For Jensen Ackles' Winchesters Spinoff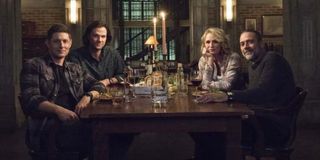 Supernatural came to a fairly definitive and and divisive end back in November 2020 after 15 seasons, but that long-running TV universe may already be returning to The CW in the form of a spinoff. Supernatural star Jensen Ackles is developing a prequel that would center on John and Mary Winchester in the decades before Sam and Dean picked up the family business of saving people and hunting things. Fittingly called The Winchesters, the timeline presumably means that most Supernatural stars wouldn't be able to reprise their characters, but there are definitely some who could and should make an appearance in some form or other.
The Winchesters is still in the development stage and has only received a script commitment, so the project is still a ways off from potentially getting a series order. So far, the only confirmed member of the cast is Jensen Ackles himself, who would contribute as narrator of the story of Dean's parents' relationship before he was born. It's not clear when Dean would be telling the story, or who he would be telling it to, but it's probably safe to say that Jeffrey Dean Morgan and Samantha Smith won't be reprising their roles as the original versions of John and Mary.
As for stars who could reprise their roles and would fit well into a Supernatural prequel series, keep on scrolling! We'll start with some human characters.
Matt Cohen (John Winchester)
Matt Cohen is an obvious candidate to appear in The Winchesters, as the actor who has already played the younger version of John Winchester in multiple episodes and remained connected to the series by directing an episode of the final season. Currently 38-years-old, Cohen might not be too old to reprise his role as John, depending on when in the timeline the action would go down. That said, Cohen has already cleared the air on Instagram and said that he's "not involved" in the spinoff at this point, but he also said that he's "excited" to watch the Winchester story continue and used #SPNFAMILY while posting several images of him as young John. So we shouldn't rule him out, in the event of The Winchesters scoring a series order!
Amy Gumenick (Mary Winchester)
Another obvious candidate to turn up in The Winchesters is 35-year-old Amy Gumenick, who appeared alongside Matt Cohen to play young Mary in several episodes. Mary was the hunter back in the early years, and later Supernatural reveals about John and Mary's challenging relationship may mean that Gumenick would play very different layers of the character if she returned to the role. Shortly after the news broke of Jensen Ackles' new Supernatural project, she too hit Instagram with a throwback to her Supernatural days to post an image of the Winchester family during one of Sam and Dean's journey's to the past, although she included the hashtag of #justathrowback. Don't count on Gumenick at this point even if Ackles gets good news about the spinoff, but don't count her out!
Mitch Pileggi (Samuel Campbell)
Former The X-Files actor Mitch Pileggi made his Supernatural debut in Season 4 as Samuel Campbell, the father of Mary, grandfather of Sam and Dean, and Sam's namesake. In true family style, Samuel was killed more than once during his time on the series, although the last time was permanent. The first death happened when Azazel attacked the Campbell family, and Samuel wasn't resurrected until later, so there may be a narrow window in The Winchesters that Samuel could appear. If the spinoff intends to tell John and Mary's story before they were married, Pileggi's character could definitely have a part to play. Plus, Pileggi stuck around The CW and has a role on Jared Padalecki's Walker, so he's just a couple degrees of separation away from Jensen Ackles' project already.
Now, let's dive into some stars playing celestial characters who could return!
Misha Collins (Castiel)
Misha Collins' Castiel was actually responsible for Dean's first blast to the past, and Cas' time travel abilities mean that he could turn up without contradicting his canon ending in Season 15. After all, fans didn't see Cas every single second of his existence after his introduction, so The Winchesters could definitely have Castiel pop up from time to time from before the death that stuck. Collins admittedly doesn't look exactly as he did back when he filmed his first few seasons, but fans have suspended their disbelief for much crazier things when it comes to Supernatural! Plus, if Dean is narrating from the afterlife, Cas could turn up (or voice cameo) in that way. Collins also pitched a scenario for an appearance on the show on Twitter, suggesting that it "would benefit from a time-traveling angel-in-a-trenchcoat character." No arguments here!
Julie McNiven (Anna)
Another angel who had parts to play in the past and the present was Anna, played by Julie McNiven. Anna was one of the earlier angels introduced on Supernatural, and the first of Dean's arguably two celestial love interests, but she died as a result of her efforts to kill John and Mary to prevent Sam and Dean from being born. While she met her end when the archangel Michael killed her, her time travel capabilities when she was alive mean she could appear on The Winchesters as long as her visits to the past happened before she died. McNiven commented on Misha Collins' tweet about Castiel turning up on the spinoff, saying "Agreed!" before jokingly asking if Collins was talking about Cas. She's not out of the running for an angelic appearance.
Matt Ward (Uriel)
The angel Uriel made an appearance during one of Dean's journeys to the past, although played by Matt Ward rather than Robert Wisdom, who originated the role on Supernatural. Uriel's vessel was younger when he was in the mix in 1978, and Uriel himself didn't die until years later when he proved himself a traitor and was stabbed by Anna as a result. Ward only appeared in one episode of Supernatural, and went on to score roles in shows like A Million Little Things and The Bold Type, but he's still a possibility to reprise his role for The Winchesters if it scores a series order, and if it includes angels. If not, however, there are other stars who could reprise their roles without bringing angels into the mix.
Ruth Connell (Rowena)
Ruth Connell played a character who debuted as a villain but ultimately turned out to be an ally for Sam and Dean: Rowena. Despite being killed and resurrected more than once, she did die for good and went to Hell in Season 15... only to become Queen of Hell. Rowena was centuries old by the time she made her first Supernatural appearance, so she could definitely appear during John and Mary's time without any issues with canon. Plus, Connell commented on the potential Winchesters spinoff via the Instagram post of Danneel Ackles, who is executive producing the potential spinoff with her husband. Connell said that she reckons "Rowena was active on the DISCO scene - just sayin." It would just be wrong if viewers don't get Disco Rowena now that Connell has put it out there, right?
Jensen Ackles (Dean Winchester)
Jensen Ackles is obviously already involved in the project, and he would serve as the narrator, so there's no question of whether or not he would be reprising his role as Dean. There is the question of whether or not he could appear in front of the camera. Supernatural ended with Dean dead and in Heaven, and established that both of his parents were in Heaven as well. If Dean is narrating from the afterlife, he could theoretically appear on screen from time to time instead of just as a voice narrating what happens. Ackles hasn't commented either way about appearing on screen, but said on Instagram that the project will "hit the waypoints that have been set and fill in the rest in a way you never expected." Maybe that includes Dean in the flesh!
Jared Padalecki (Sam Winchester)
Unlike Jensen Ackles, Jared Padalecki has not been involved in the development of The Winchesters at this point, and in fact took to Twitter to express that he was blindsided by the news that Ackles has been working on continuing the Supernatural story. While the two former on-screen brothers eventually exchanged much friendlier posts on Twitter, there is still no news about whether or not Padalecki will have a part to play. If Dean is narrating and the story focuses on John and Mary, then perhaps there's no reason for Sam to be involved. A lot likely depends on when Dean is narrating from. If he's speaking in the afterlife... well, Sam is dead and in Heaven too as of the end of the series, so it would be fitting if he could at least return for a voice cameo.
All of this said, the first order of business for now may simply be to wait and find out if The Winchesters is going to get a pilot order that would require casting beyond Jensen Ackles as narrator. Still, it's fun to imagine who The Winchesters could bring on board if it does become an actual series. Supernatural broke a lot of its own rules over its years on The CW, so I'm not willing to rule much out from happening if John and Mary get their own show.
For now, you can always check out the 15 seasons of the original series streaming on Netflix now. As for Jensen Ackles and Jared Padalecki, Ackles will have a part to play on The Boys when it returns to Amazon for Season 3, and Padalecki is still going strong on The CW as star of Walker.
Resident of One Chicago, Bachelor Nation, and Cleveland. Has opinions about crossovers, Star Wars, and superheroes. Will not time travel.
Your Daily Blend of Entertainment News
Thank you for signing up to CinemaBlend. You will receive a verification email shortly.
There was a problem. Please refresh the page and try again.