Supernatural Alum Jared Padalecki Has A Funny Take On Getting To Work With His Wife On Walker, Texas Ranger Reboot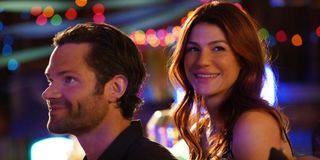 As the first season of The CW's Walker, Texas Ranger reboot pushes on, Jared Padalecki has smoothly settled into the titular role. Many fans were likely wondering how he'd make the transition to the new role after spending so many years as Supernatural's Sam Winchester, but things seem to be working out. While the show allows Padalecki the opportunity to play a different kind of role, it also gives him the chance to work alongside his wife, actress Genevieve Cortese. You can imagine that the experience is interesting for the two, and Padelecki recently gave a funny take on working with his spouse.
On Walker, Genevieve Cortese plays Emily Walker, the late wife of Jared Padalecki's Cordell Walker who appears in flashbacks. The circumstances surrounding their characters' relationship may be tragic but, during the couple's recent appearance on The Talk, Padalecki referred to working with his wife as "magical."
There are also a few perks that come with working with your spouse. While discussing his take on their working relationship, Jared Padalecki pointed out one of the best things that comes with working with Genevieve Cortese:
As the couple puts it, they're working situation allows them to have the occasional "date day." While not many of us can relate when it comes to starring on a TV show, plenty of people do understand needing a break from one's children, even if a little trickery is involved.
Jared Padalecki and Genevieve Cortese met when the latter joined Supernatural in a recurring role during the fourth season. The two eventually announced their engagement in January 2010 and were married the following month. Following her stint on the show, Cortese was separated from her husband for quite a while due to his filming commitments to the long-running CW series. In a previous interview, Cortese likened working with her husband on Walker to a "vacation," saying they're both at the top of their game when they're working together.
All in all, it would appear that Jared Padalecki and Genevieve Cortese are making the most of their time together on the set of Walker. Working 12-hour days on a set can be tough, especially in the age of COVID-19. Luckily, these two stars are in a situation where they can be there for each other.
Walker airs Thursdays at 8 p.m. ET on The CW.
Covering superheroes, sci-fi, comedy, and almost anything else in film and TV. I eat more pizza than the Teenage Mutant Ninja Turtles.
Your Daily Blend of Entertainment News
Thank you for signing up to CinemaBlend. You will receive a verification email shortly.
There was a problem. Please refresh the page and try again.