How Skims Responded After Kim Kardashian's Recent TikTok Video Controversy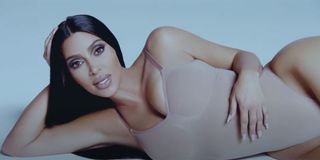 A short while back, Kim Kardashian was embroiled in a bit of a controversy after a TikTok user called her out for allegedly having been edited in a SKIMS ad that seemingly warped her body. The video went viral, but according to SKIMS itself, the apparent Photoshop-esque fail was not what it seemed.
TikTok user Alex Kelly seemingly pointed out what seemed to be a video editing mistake that slimmed Kim Kardashian's waist and seemingly warped other parts of the former Keeping up with the Kardashians star's body. As Kim Kardashian and her famous sisters have been known for a Photoshop edit or five, it wasn't super hard to believe that while making a SKIMS ad, there could conceivably have been an editing fail. You can take a look at the callout video, below.
Though it's not a great look, SKIMS says it isn't true. The outlet went so far as to craft an actual response after the TikTok video went viral (with 28.6 million views), saying what the video looks like is not actually what went down in the ad for the shapewear. Instead, according to SKIMS, it was a simple uploading error that caused what is being reported as a "glitch." The statement (via Page Six) reads:
No one likes a nightmare PR moment, as Kim's sister Khloe can probably attest too, given she had her own Photoshop snafu just a short while ago. In that case, a photo that hadn't been edited was posted to her social. She subsequently tried to have the image scrubbed from the internet, which seems to have made it go even more viral than it might have otherwise. In that case. Khloe got candid about her body and being referred to as the "fat sister" over the years. In this circumstance, it seems as if Kim K. herself was misrepresented, as according to the report, she had specifically requested she not be retouched up for the SKIMS ad, given the brand is supposed to all about body positivity.
It's pretty hard to be a public person and to be continually scrutinized by the internet, so it's easy to see why Kim Kardashian and co. want their best angles on display at any moment. However, that doesn't seem to be what happened with the SKIMS ad. In fact, the wonky one was pulled, so the one the TikToker caught was not even the widely disseminated one. Per SKIMS:
Despite the occasional controversy, SKIMS has mostly been crushing. The brand has been popular, and a Valentine's Day collection sold out in under a minute earlier this year. The brand also did a reported $145 million in sales last year and has plans to grow through 2021. So, even with the occasional bad press, Kim Kardashian is definitely getting the last laugh.
Your Daily Blend of Entertainment News
Reality TV fan with a pinch of Disney fairy dust thrown in. Theme park junkie. If you've created a rom-com I've probably watched it.