Kim Kardashian's Embroiled In Another TikTok SKIMS Controversy (And She Can Probably Thank An Editor)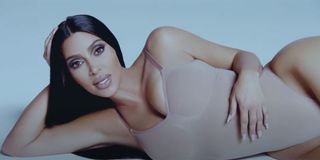 Kim Kardashian is no stranger to controversy, having dealt with blackface allegations and more on the Internet in the past. In fact, the middle Kardashian daughter recently got called out on TikTok for yet another editing fail, this time in a video for her popular shapewear line SKIMS. It's not the only time a TikToker has called her out for a SKIMS issue either, but this time Kardashian can likely blame her editor.
Recently, a brand new TikToker -- one who honestly seems to be a fan of Kim Kardashian -- took to the social media platform in order to point out a mistake in a SKIMS ad featuring Kim. You can tell there's editing because of the cringe-y bend and stretch of Kim's finger as she messes with the hem of the shapewear. The eagle eyed TikTok user noticed and pointed it out for all to see.
The TikTok call out comes just a few months after another social media user went viral for calling out Kim's SKIMS as being ill-fitting. If you happened to miss that particular brouhaha when it first went down, it was quite the roast, with the user noting SKIMS made her feel rather like "Winnie the Pooh" or the "Pillsbury Doughboy" among other unflattering comparisons. The video led to a lot of people comparing their experiences with SKIMS, many of whom found the sizing to be weird or the items to be unflattering.
This time, an editing error seems to be the problem rather than the shapewear itself, but it's worth pointing out this is not the first editing controversy for the Kardashian clan either. The Kardashians love to edit themselves and make sure the optics are perfect on images that roll out on the Internet, whether those be for ads or for personal social opportunities. Just a few months ago, Khloe Kardashian even tried to get an unedited photo scrubbed from the internet--which only made the unedited photo go more viral, but I digress. There are so many Kardashian Photoshop fails it doesn't really take much effort to find one at all.
Honestly, there are a so many eyes on the Kardashians and the Jenners at any moment, we're at the point where if a photo is even repeated people are going to notice, so I'm not particularly shocked the finger thing is rolling around TikTok. It won't be the first or the last time a fan spots an editing fail where a celebrity is concerned. Still, despite varying controversies, Kim Kardashian's SKIMS seems to be thriving and releasing new lines, some of which sell out. Kim K. also seems to continue to want to be super active with the brand, so I don't think videos with her trying out the product are going anywhere any time soon either. Which means there's likely more TikTok content on the way as well. We'll keep you posted.
Your Daily Blend of Entertainment News
Reality TV fan with a pinch of Disney fairy dust thrown in. Theme park junkie. If you've created a rom-com I've probably watched it.