Lucifer And 13 Other TV Shows That Were Cancelled, Then Saved By Another Network Or Streaming Service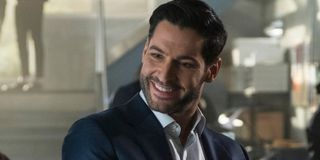 Cancellation isn't the death knell that it used to be. In our era of bountiful cable stations and a seemingly endless array of streaming services, it's easier than ever to bring your favorite series back through a new home. It's a luxury that's not afforded to every show, of course, but several current or recently-concluded series, including Lucifer, Supergirl, Last Man Standing, and Brooklyn Nine-Nine, have been renewed at another station or streamer to warm critical/commercial success. Here are just a few examples of TV shows that got a second chance — thanks to a second network or streaming service.
Lucifer (Aired On Fox, Saved By Netflix)
Quite fittingly, Lucifer has weathered a good bit of hell throughout its six-season run. Specifically, during its first season on Fox, the DC series saw mixed reviews but high viewership. Nevertheless, while the reviews got better, the ratings got worse. While the show left a loyal fanbase, the ratings were too low to justify its high budget. After three seasons, Lucifer was hellbound. Yet, thanks to its vocal fanbase, the once-doomed series became heaven-sent through Netflix. Under its new streaming home, Lucifer gained more freedom to divulge in its devilish delights, helping the show become a popular favorite for the world-famous service. It received a fourth and fifth season — the latter split in half due to COVID-19 — with a sixth and final season on the horizon.
Brooklyn Nine-Nine (Aired On Fox, Saved By NBC)
Following the rising success of Parks and Recreation, Michael Schur and Dan Goor set up shop at Fox with Brooklyn Nine-Nine, a comical, high-energy police procedural show starring Andy Samberg. The comedy series was a critical hit from the get-go, and it was heavily viewed during its first season. But while the show remained an award-winning program, the ratings casually dripped over time. After five seasons, B99 was cancelled.
But that wasn't the end. NBC (who initially sold the series over to Fox) heard the cries of its vocal fanbase and decided to bring it over to its familiar slate of comedy favorites. Brooklyn Nine-Nine spiked in viewership in its new home, though the creators decided to end the series with its upcoming eighth season. Brooklyn Nine-Nine Season 8 will premiere in August 2021.
Last Man Standing (Aired On ABC, Saved By Fox)
Amusingly enough, Last Man Standing didn't have firm standing during its nine-season run. Premiering on ABC in 2011, the Tim Allen-starring series lasted six seasons before the American Broadcast Company pulled the plug. Even though the comedy show was their second-highest rated sitcom during the 2016-2017 season, ABC discontinued the program. The reason for Last Man Standing's sudden cancellation — whether it was due to scheduling or its conservative bend — is contested, but Fox gave it a second home.
Since Last Man Standing was produced under 20th Century Fox Television, it made sense for the station to continue running the series on their channel, particularly as the outraged fans petitioned heavily for its renewal. In 2018, Last Man Standing returned to TV through Fox, where the sitcom stayed until its ninth and final season. Following a delayed production due to the COVID-19 pandemic, the series finale aired on May 20, 2021.
Nashville (Aired On ABC, Saved By CMT)
In 2012, Nashville was one of the hottest new shows on ABC. Earning wide acclaim and receiving millions of viewers, the country music soap opera series was an early hit for the broadcast station. Alas, while the TV show never went down in critics' estimation, Nashville dipped in viewership in the seasons to follow, causing the station to drop the music drama after four seasons. Nevertheless, while the writers had a happy-ever-after ending prepared in the event of a cancellation, the show's producers were so confident in its continued success that they opted to conclude the season on a giant cliffhanger, enticing viewers to keep following the series at its new home — wherever that would be.
Particularly as the fans remained vocal about their desire to see Nashville back in the spotlight for an encore, it was finally revealed in June 2016 that CMT was partnering with Hulu to keep the show rocking. With that, the Country Music Television network produced Nashville's final two seasons, with the series finale aired on July 28th, 2018.
Supergirl (Aired On CBS, Saved By The CW)
Expectations were sky-high for Supergirl. Receiving a series commitment in 2014, CBS showed a lot of confidence in this DC series, bankrolling its blockbuster-esque, special effects-heavy 20 episode run with conviction. While the show was a critical darling with millions of viewers, Warner Bros. Television was in the midst of building its DC universe on The CW, which aired Arrow and The Flash, the latter premiering around the same time as Supergirl. Thus, it makes sense that Supergirl relocated to the other station, where it didn't secure as many viewers, admittedly, but earned the same enthusiastic praise. Plus, the comic book series had the flexibility to fuse its narrative into the expanding TV-based DC world. Through The CW, Supergirl received an additional five seasons, including an ongoing sixth and final season, which premiered in late March.
The Mindy Project (Aired On Fox, Saved By Hulu)
Following the star's tenure on NBC's ever-enduring The Office, it made perfect sense that Fox's expectations were high for The Mindy Project, Mindy Kaling's personalized sitcom that played into her brand of adorable awkwardness. Alas, while the reviews were very kind to the romantic comedy series, ratings were a struggle over the seasons and Fox pulled the plug, but that wasn't the end of The Mindy Project. In 2015, Hulu saw promise in continuing the series under their banner. Thus, The Mindy Project found life anew.
Through the streaming service, The Mindy Project lasted six seasons in total, with the final episode premiering in November 2017. That said, while Hulu initially followed suit with Fox's 20-something episode order, the last two seasons only contained 14 and 10 episodes apiece. For a show on the brink of cancellation, it's hard for fans to complain.
Community (Aired On NBC, Saved By Yahoo!)
Initially, #SixSeasonsAndAMovie started as a throwaway joke. But, in fitting Community fashion, this meta line became the hard-lucked show's rallying cry; it was their rousing plea to push forward — against the tide — to its predestined conclusion. Certainly, the self-aware/meta-narrative series faced several setbacks during its tenure, notably with cast members exiting the series before its conclusion, along with showrunner Dan Harmon being fired (then rehired) during his sitcom's rather unsteady mid-section.
Yet, Community kept moving forward; not even cancellation held the tongue-in-cheek sitcom back. When NBC pulled the plug after Season 5, Yahoo! lent their hand to the fledgling show to reach its long-promised sixth season. Admittedly, it wasn't a smooth transition (particularly with a wonky website), but Community ended movingly and, more importantly, on its own terms, providing a fond farewell to the struggling series. Currently, Community: The Movie remains a looming uncertainty, but don't cancel out the possibility.
Scrubs (Aired On NBC, Saved By ABC)
Throughout its uncertain run, Scrubs was the little medical dramedy series that could. Bill Lawrence's acclaimed show started out strong, earning warm reviews and healthy viewership during its first two seasons. But in the years that followed, Scrubs couldn't maintain that momentum. That said, the sitcom still retained its affectionate fanbase.
Because of that nimble loyalty from devoted viewers, Scrubs was kept on life support — often by a thread — throughout the uncertain seasons to come. By Season 7, however, NBC pulled the plug on the cult-favorite ensemble series. Thankfully, ABC was willing to keep it alive for another two seasons (even though Season 8's excellent conclusion was conceived as the series finale). In an effort to semi-reboot the show, Scrubs finally lost its loyal audience, resulting in the medical sitcom being canceled on March 17th, 2010.
Cougar Town (Aired On ABC, Saved By TBS)
Additionally, ABC's Cougar Town, Bill Lawrence's anticipated follow-up to his long-running (and similarly network-bouncing) Scrubs, had two homes during its tenure. Specifically, the Courteney Cox-starring series started with ABC and lasted for three seasons before its cancellation— due to decreasing viewership, though it didn't help that there was an extended delay between Seasons 2 and 3. Though the show started strong, it failed to keep a consistent audience, even though critics grew more receptive to the program as it found its footing in Season 2.
While there were several factors that resulted in Cougar Town's cancellation, including issues with its title, TBS was willing to pick up the middle-aged sitcom for an additional three seasons. Following suit with Season 3, which contained 15 episodes compared to Season 1's 24 and Season 2's 22, the Florida-based sitcom was never a smash, but it found more comfortable footing in its late-night cable slots, resulting in a looser, sillier second half. It concluded on March 31st, 2015 under a different name, Sunshine State.
Longmire (Aired On A&E, Saved By Netflix)
In 2012, on the eve of the show's celebrated second season, Longmire was hailed by A&E as the highest-rated original drama series on their network. It earned fond reviews and received a steady stream of viewers. Nevertheless, despite its consistent critical and commercial success, A&E opted to give their hit show the cold shoulder. In 2014, the station surprisingly cancelled the neo-western program after Season 3.
Of course, when your show draws in six million viewers on a regular basis — especially on a cable station — it doesn't die easily. Sure enough, Netflix swooped in and picked up the rejected show, continuing its run for three more seasons. Since it was now available on a streaming service, Longmire stopped airing in weekly installments. All 10 episodes would drop at once, with Longmire's sixth season premiering on November 17th, 2017.
The Killing (Aired On AMC, Saved By Netflix)
Based on the Danish series Forbrydelsen, The Killing premiered on AMC in April 2011, during the height of the station's golden era. Alas, while it was a critical favorite, the grizzled English-language adaptation never found the same commercial heights as its sister shows, including Breaking Bad, Mad Men, and The Walking Dead — though it premiered to strong ratings. Alas, after three seasons, AMC canceled the crime drama.
But that wasn't the end. Two months after AMC axed the series, Netflix announced that The Killing was, ironically, back from the dead. Specifically, the streamer renewed the once-lost show for a fourth — and ultimately final — season. These six episodes, which favored the TV-MA content that the AMC show originally couldn't get away with during its televised run, gave the once-dead series a proper conclusion on August 1st, 2014.
One Day At A Time (Started On Netflix, Saved By Pop TV)
Based on Norman Lear's 1975 series of the same name, Netflix's One Day at a Time was praised as an appealing throwback to a conversational style of television that has gone out of fashion, particularly in our streaming era. Reimagining the original show through a modern lens, with a Latino family at the forefront, the sitcom reboot became a critical favorite and quickly gained an affectionate following. Alas, despite a steady stream of praise throughout its three-season run, the streaming series failed to win over Netflix's lasting affections, resulting in the sitcom being canceled after 39 episodes.
Nevertheless, after searching for another streamer or station to renew the show, One Day at a Time was reborn at Pop TV, though this second life was ultimately short-lived. Only seven episodes were made when COVID-19 shut production down. Unfortunately, it didn't survive the pandemic. In November, Pop TV announced that the reboot was canceled again. The producers shopped it around, but they couldn't find a new home.
Designated Survivor (Aired On ABC, Saved By Netflix)
With its intriguing star-driven premise, notably with Kiefer Sutherland at the forefront, Designated Survivor was one of the buzziest freshman shows of the mid-'10s. Skipping the pilot stage and getting a straight to series order in 2015, it's easy to see why ABC was so confident in this political new program. Alas, despite strong reviews and a very popular premiere, Designated Survivor had trouble maintaining a consistent audience, resulting in the station canceling the show after Season 2. Nevertheless, Designated Survivor retained enough popularity that Netflix greenlit a shortened third season. While it's hard to know how Designated Survivor fared on this service, it wasn't meant to last. Due to complications with the actors' contracts, the show became re-canceled.
The Expanse (Aired On Syfy, Saved By Amazon Prime)
Based on the sci-fi novel series by James S. A. Corey, The Expanse is an acclaimed futuristic star vessel for Thomas Jane, along with an award-winning ensemble piece filled with well-rounded characters, impressive set pieces, and, yes, expansive narrative depths. The blockbuster series was celebrated from the jump, and it only continued to earn praise throughout its three-season run on Syfy. Alas, the station couldn't justify keeping the expensive series on their small network, resulting in its 2018 cancellation.
However, due to its online popularity, The Expanse was picked up for two more seasons through Amazon Prime. Season 5 finished in February, and the newest season is expected to premiere this year.
Tweet us your favorite revived shows! Also, check out the 2021 fall TV schedule.
Will is an entertainment writer based in Pittsburgh, PA. His writing can also be found in The Playlist, Cut Print Film, We Got This Covered, The Young Folks, Slate and other outlets. He also co-hosts the weekly film/TV podcast Cinemaholics with Jon Negroni and he likes to think he's a professional Garfield enthusiast.
Your Daily Blend of Entertainment News
Thank you for signing up to CinemaBlend. You will receive a verification email shortly.
There was a problem. Please refresh the page and try again.