11 Great Comedy Specials On Netflix From People Of Color, Including Russell Peters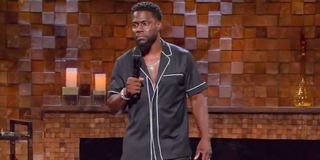 We all love our streaming services, and one that has been around since the dawn of the streaming service era is Netflix. While we can all spend our time watching some of the best shows on Netflix, or even streaming the best movies on Netflix, I think it's time we take a look at some of the other genres that the service has to offer – some awesome comedy specials.
Namely, we are going to be looking at some hilarious comedy specials from people of color on the platform, such as Kevin Hart, Russell Peters, and so many others. While there are some great stand-up comedy specials on Amazon Prime, we need to take a glance at what Netflix has to offer, so here we go.
Tiffany Haddish: Black Mitzvah
Tiffany Haddish is one of those actresses where you know her name and has seen several of her amazing and hilarious movies, such as Girls Trip. However, I, for some reason, always forget that while her projects are amazing, she's also a hysterical comedian.
In Tiffany Haddish: Black Mitzvah, Haddish goes all in on some great comedy, talking about how you can feel safe if you feel danger is around, her drinking habits, and so many others with a funny twist. You'll surely be laughing your butt off with this comedian's first Netflix special.
Stream Tiffany Haddish: Black Mitzvah on Netflix.
Dave Chappelle: Sticks & Stones
As far as I'm concerned, Dave Chappelle is a legend when it comes to comedy. We all know his name, from his time doing Chappelle's Show, or even his films from The Nutty Professor to having a part in A Star is Born. But Netflix and Chappelle have a special connection, considering he signed on for a deal with the streaming platform, so far releasing five comedy specials for Netflix.
One of his best, in my opinion, is Dave Chappelle: Sticks & Stones. There's just something so raunchy about his comedy that makes him one of the best comedians out there right now – and in my eyes, one of the best of all time. From talking about the current state of politics to raising a child, Chappelle covers all of his tracks in Sticks & Stones and will have you holding your side from laughing.
Stream Dave Chappelle: Sticks & Stones on Netflix.
Kevin Hart: Zero F**ks Given
If you don't know who Kevin Hart is, you must be living under a rock because he has become one of the most recognizable faces in Hollywood. The comedian, who started out with specials like Laugh At My Pain and Let Me Explain, became a worldwide household name when he starred in big-time films such as Jumanji, Ride Along, Get Hard, and so many others. Sometimes you almost forget that he's a comedian with how many films this Kevin Hart has done.
One of Kevin Hart's best stand-ups, in my opinion, is his latest, called Kevin Hart: Zero F**ks Given. In this special, he brought in a small group of people into a comedy-club-sized room, creating an intimate space instead of a giant arena after the COVID-19 pandemic began. I don't know, there's just something so nice about this compared to some of his other specials. There's still some great comedy like normal but it's nice to see him in a smaller space.
Stream Kevin Hart: Zero F--ks Given on Netflix.
Russell Peters: Almost Famous
Moving on, we take a look at Russell Peters. Fun fact – he was actually the first-ever stand-up comedian to receive a comedy special on Netflix (back in 2013), so that's how you know he's important. This Canadian stand-up comedian has done plenty outside of the comedy realm, such as roles in New Year's Eve and even a voice role in The Jungle Book. However, his comedy is where it's at.
For his pick, we're going with Russell Peters: Almost Famous, where he returns back home to Canada, talking about his life and his tour across the world, speaking about some of the things he has gotten to witness while doing so, and honestly, it's so funny. One of his best comedy specials to date, in my opinion. You won't regret carving out an hour to view this film.
Stream Russell Peters: Almost Famous on Netflix.
Gabriel Iglesias: One Show Fits All
Gabriel Iglesias has and will always be one of my favorite comedians. Otherwise known as "Fluffy," Gabriel Iglesias is known for his quick-wit stand-up comedy while also making some of the best sound effects you'll ever hear. While he's had some success in the movie and TV realm, with roles in films such as Magic Mike and Coco, as well as his own sitcom for a bit, his stand-up specials are some of the best out there.
For his pick, while there are so many to choose from, I'm going with Gabriel Iglesias: One Show Fits All. In this special, he talks about his family, meeting crazy celebrities, Hollywood shenanigans, and everything else in-between. If you haven't seen any of his specials, give this one a shot. I promise you, you'll be crying from laughter after listening to some of his stories.
Stream Gabriel Iglesias: One Show Fits All on Netflix.
Trevor Noah: Afraid Of The Dark
I'm sure that at some point in your life watching comedy specials, you have heard of Trevor Noah. Known as the host of The Daily Show on Comedy Central, Trevor Noah is known for his great commentary and jokes that he delivers on the satirical news show. But just because he does that doesn't mean that he hasn't done some awesome comedy as well.
In Trevor Noah: Afraid of the Dark, the popular satirical news anchor gets candid about his life with his audience in New York City, talking about how he's always dreamed of doing a show in the city, and how it has all led up to this moment, following his dream – along with some funny jokes mixed in there as well.
Stream Trevor Noah: Afraid of the Dark on Netflix.
Ali Wong: Hard Knock Wife
Ali Wong is freaking hilarious and she needs to get more notoriety for her specials. Wong has done plenty in the entertainment world. She's had roles in Always Be My Maybe as well as a current role in American Housewife, and even wrote for the first three seasons of Fresh Off The Boat. But her stand-up comedy is truly where she shines.
In Ali Wong: Hard Knock Wife, the comedian talks about her family and her husband, her sudden success in the industry, and everything else that has come into her life. To me, it's one of the best specials Netflix has to offer. Everyone should go and watch this, regardless of your comedic style. I assure you, Ali Wong will be able to make you laugh.
Stream Ali Wong: Hard Knock Wife on Netflix.
George Lopez: We'll Do It For Half
I, like many other people my age, grew up watching George Lopez, the ABC sitcom that became extremely popular. Besides that, George Lopez has done so much in the film and TV world, with roles in The Adventures of Sharkboy and Lavagirl, Valentine's Day, The Smurfs, Rio, and so many others. But like many comedians on this list, his stand-up comedy is second to none, especially his Netflix special.
In George Lopez: We'll Do It For Half, Lopez returns back to his stand-up roots, talking about his heritage as a Latino, his hilarious family, their own issues, and so many more. As someone who grew up watching George Lopez, he doesn't miss in his first Netflix special, with all of the jokes landing no matter what. I mean, it's George Lopez. He's hilarious. What more can you expect?
Stream George Lopez: We'll Do It For Half on Netflix.
Sam Jay: 3 In The Morning
While not as well known as some of the other comedians on this list, Sam Jay is still just as amazing as the others in terms of his comedic style. While she hasn't done anything acting-wise, Sam Jay is a current staff writer for Saturday Night Live and has performed on Comedy Central Stand-Up Presents, so you know she has some serious jokes that will make you snicker.
In her first Netflix special, 3 In The Morning, Sam Jay talks about her life with her girlfriend, navigating her sexuality, and the most important part – why it's always important to lock the door while showering. If you want to find out what that means, all you have to do is turn on Netflix right now and watch.
Stream Sam Jay: 3 In The Morning on Netflix.
Marlon Wayans: Woke-ish
Again, to me, Marlon Wayans is one of those comedians that I feel I have seen everywhere in Hollywood, from comedy specials to movies to TV. Some of his most notable roles were playing Shawn Wayans on The Wayans Bros, parts in Scary Movie and its sequel, White Chicks, Norbit, and a dramatic role in the film Requiem for a Dream. Talk about a man with some range. He even had his own TV series, titled Marlon, for two seasons.
Marlon Wayans has also done some comedy specials in his time, and one of his best on Netflix is Marlon Wayans: Woke-ish. In this stand-up comedy special, Marlon Wayans talks about how he feels he's "woke-ish," he's "young-ish," he's "dad-ish," and so many other ish's that it's hard to keep track. We all feel like we're a little "ish" sometimes, and that's how Marlon exactly feels right here, mixed in with some hilarious stories.
Stream Marlon Wayans: Woke-ish on Netflix.
Sometimes, we really just need to laugh after a long day of work or just life in general. These comedians are the best way to provide that to you. If you pick any one of these awesome specials, you'll have a smile from cheek to cheek, no matter what.
Your Daily Blend of Entertainment News
Big nerd and lover of Game of Thrones/A Song of Ice and Fire. Will forever hate season eight. Superhero and horror geek. And please don't debate me on The Last of Us 2, it was amazing!