Why Amazon's New Series Might Be Just The Show Fans Needed While They Wait On Bridgerton Season 2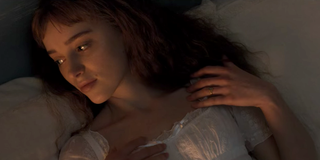 Bridgerton basically lived on Netflix's Top 10 List for months after it was released back in December, and fans have been chomping at the bit for more of Shondaland's scandalous period drama. While there's definitely more of the series in our future, fans may want to shift their eyes over to Amazon Prime as Lily James' new BBC mini series The Pursuit of Love dropped to the streaming service, and it is sounding like the show may be just what Bridgerton fans need while painfully awaiting Season 2.
Reviewers of the newly-dropped The Pursuit of Love are noticing some major similarities to Bridgerton, and it totally doesn't seem like a bad thing. Yohana Desta of Vanity Fair has noticed that the two series have a number of things in common at first glance, and suggests that The Pursuit of Love is exactly the kind of show Bridgerton fans "get swept up in" if they check it out:
While the modernization of a period drama is not a totally new thing, hearing a classical rendition of a Taylor Swift song on Bridgerton was certainly iconic for the show. Fans who have had the song on repeat awaiting more hybrid bops in Season 2 can expect some similar of the out-of-period touches in The Pursuit of Love. The Chicago Sun Times' Richard Roeper describes the new BBC series as a snack in preparation of the meal that is Bridgerton's Season 2 for fans, saying just this:
While both series take place in another time, Pursuit of Love gives us a look into the time before World War 2, over 100 years after the time that Bridgerton is set. For those who loved the Netflix series for the elaborate sets that elegantly transport the viewer through time, they'll love the same about Pursuit of Love - just with a different period. Zoomer's Nathalie Atkinson describes a different kind of elegant in her review of the new mini series:
It's clear there will be many reminders of Bridgerton for fans who catch Lily James in the new period piece, but there is also enough of a difference to keep fans plenty interested in the new story of The Pursuit of Love. If anything, Amazon's new miniseries will satiate the ravenous Bridgerton fans as they wait for more word from Lady Whistledown.
Besides, the Bridgerton world won't be back with new episodes any time soon, as the show only started production on Season 2 in the late spring, and recently ran into the same kind of delay that kept The Witcher off Netflix for far longer than anticipated. The Pursuit of Love could whet the appetite of fans dying for a similar kind of period drama, even if the Bridgerton characters won't be in the mix.
Constantly thinking about books, coffee, and the existential dread I feel from Bo Burnham's Inside. While writing I'm also raising a chaotic toddler, who may or may not have picked up personality traits from watching one too many episodes of Trailer Park Boys.
Your Daily Blend of Entertainment News
Thank you for signing up to CinemaBlend. You will receive a verification email shortly.
There was a problem. Please refresh the page and try again.