The Witcher Not The Only Netflix Series To Deal With A Season 2 Setback As Bridgerton Sees Same Issue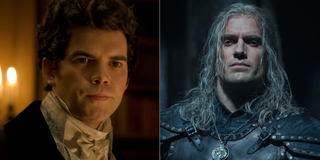 At this point, we're pretty used to seeing delays for TV and film projects due to the pandemic, as COVID had Hollywood, along with the rest of the world, at a standstill for the majority of the last year. While things have started getting back on track as restrictions are lightening up, we are still seeing setbacks on some of our favorite shows. Last year, filming for Season 2 of The Witcher hit a number of snags and, now, Shondaland's Bridgerton has seen a similar issue while filming its second season.
It would appear that COVID has temporarily shut down production on Netflix's Bridgerton Season 2. According to Deadline, the popular Netflix series had to shut down for the second time in a week due to positive COVID tests.
Production on Bridgerton was previously halted last Thursday for 24 hours after someone on set tested positive for COVID. And as you would expect, with two positive tests so close together, the powers that be are taking major precautions moving forward. In fact, according to the trade, filming is now delayed indefinitely until Netflix can figure out a better timeline for work to continue safely.
There's no word on who exactly tested positive for the virus, or whether it was a crew member or an actor on set. With production being delayed indefinitely, some may assume that at least one actor accounted for one of the positive COVID cases. That's not to say, of course, that crew members aren't as valuable as the actors, but it's just much harder to move forward with filming if an actor is out of commission for a while, especially if they see a lot of screen time.
It also could be harder to keep everyone safe if it were an actor who tested positive, as it could be more difficult to keep the stars socially distanced from each other. And as most fans know, characters tend to get up close and personal on Bridgerton.
While we may not know exactly when Season 2 of Bridgerton will start filming again, Season 2 of The Witcher finally finished production back in April, after a number of filming delays and even losing an actor due to the schedule changes. If The Witcher can push through challenges in production like that, then there's certainly plenty of hope for Season 2 of Bridgerton.
Netflix was quick to confirm a second season of Bridgerton, along with a third and fourth season, after the release of Season 1. However, a release date for Season 2 has not yet been announced and, honestly, that may be a good thing now that they are seeing more delays. As a fan, watching a release date constantly change can be disappointing. As for Season 2 of The Witcher, we can expect to see Henry Cavill back on our living room screens in all his cleft chinned glory on December 17th.
Constantly thinking about books, coffee, and the existential dread I feel from Bo Burnham's Inside. While writing I'm also raising a chaotic toddler, who may or may not have picked up personality traits from watching one too many episodes of Trailer Park Boys.
Your Daily Blend of Entertainment News
Thank you for signing up to CinemaBlend. You will receive a verification email shortly.
There was a problem. Please refresh the page and try again.