Lizzo Responds To Ridiculous Rumor She Killed Someone Stage Diving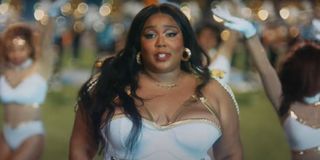 (Image credit: Lizzo YouTube)
Flute master extraordinaire and queen of owning her curves Lizzo has a bone to pick with somebody. Specifically, we're talking here of what gets said about celebrities, namely her, and why it's being said in the first place. The Grammy-winning singer clapped back against the latest insane rumors circulating about her that she killed someone while stage diving, and she used her signature in-your-face humor to do it.
In case anyone forgot, Lizzo is really "100% that bitch." And she isn't willing to let these rumors go any further. In a recent TikTok, the Hustlers star confronted the insane idea of her killing someone while stage diving, saying:
Lizzo captioned the video with "stop the [cap emoji]," meaning stop the slander. But that wasn't all, the singer even jokingly gave the people a visual (i.e. flopping on her bed) to show how her body isn't so big as to kill someone by stage diving. Wait until the end of the video to see her demonstration:
@lizzo

(opens in new tab)

(opens in new tab)
Clearly, Lizzo is fed up with the crazy insinuations people make up because of her body type. Prior to this killer stage diving TikTok video, Lizzo complained about the bothersome habit on social media in which spectators put judgements and diagnoses on large bodies. She urged her fans to remember that all bodies are "different" and that "your body is your body... so enjoy that bitch."
But the "Good As Hell" singer isn't all talk about accepting oneself and being happy, she also walks the walk. I'm particularly thinking of Lizzo sliding into Chris Evans DMs without a care in the world. In the latest update about the success of her endeavors, Evans followed her back on Instagram and Lizzo joked again on TikTok that Evans was "the father of our child," affectionately called "Little America."
All jokes aside, I would honestly die for the real possibility of Chris Evans and Lizzo together. That's the actual Bennifer-level romance America wants to see come to fruition. But what we don't want to see is Chet Hanks make any sort of gains after shooting his own shot for Lizzo and deeming it "White Boy Summer." We kindly refer Hanks to Lizzo's declaration that it is "Ass Crack Summer," if anything at all.
In this wild world of would-be rapper proclamations and what goes on in Chris Evans' DMs, let's all not forget that the truth sometimes hurts. So stage diving death rumors with Lizzo's name on them should find their way to the trash bin.
Movies and TV News Writer
Freelance writer. Favs: film history, reality TV, astronomy, French fries.
Your Daily Blend of Entertainment News
Thank you for signing up to CinemaBlend. You will receive a verification email shortly.
There was a problem. Please refresh the page and try again.