Love, Victor Season 3: 5 Quick Things We Know About The Hulu Show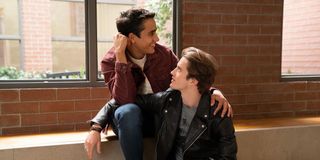 CinemaBlend participates in affiliate programs with various companies. We may earn a commission when you click on or make purchases via links.
Hulu has knocked it out of the park with some of their original TV shows, such as The Handmaid's Tale and Pen15, but another of their latest hits has been the romantic comedy/coming-of-age series, Love, Victor, which tells the story of Victor Salazar coming to accept his sexuality and who he is, spun off from the popular film, Love, Simon.
For two seasons so far, we've followed Victor's story, from being a very shy boy uncomfortable with who he is, to having to make a big decision at the end of Season 2. Luckily, however, we won't be left hanging, because Season 3 is on the way for this popular Hulu original series. Here are some quick things that we know about Love, Victor Season 3.
Love, Victor Has Been Renewed For Season 3
As said in the intro, Love, Victor has officially been renewed for a third season, continuing on the story of Victor, as well as his friends, for now.
Since the renewal was only just announced, there's no set release date for when Season 3 will come out on Hulu yet, but if it follows the same pattern the last two seasons (with a season releasing every year), we will most likely see Season 3 in 2022. It's a shame it won't be added to the 2021 fall TV schedule, but I think we can all wait a little longer for Victor's story to be perfect.
The Love, Victor Cast Will Return For Season 3
As announced with the renewal, it's confirmed that the whole Love, Victor cast will be returning for Season 3 of the show.
This includes Michael Cimino as Victor Salazar, Rachel Hilson as Mia Brooks, Anthony Turpel as Felix Westen, Bebe Wood as Lake Meriwether, Mason Gooding as Andrew, George Sear as Benji Campbell, Isabella Ferreira as Pilar Salazar, Mateo Fernandez as Adrien Salazar, James Martinez as Armando Salazar, and Ana Ortiz as Isabel Salazar.
What new guests or recurring characters may pop up is still unknown, but it's nice to see that the whole gang will be back together once more for even more teen romance, comedy, and drama.
Love, Victor Season 3 Will Be More Of A "Love-Triangle Story"
As we've seen with the last two seasons of Love, Victor, we followed Victor slowly begin to accept who he is, and growing confidence in the young man he was becoming. While these stories are heartwarming and loving all the same, it's time for a new storyline – one that will be very relatable for many teens.
Co-showrunner Brian Tanen confirmed with The Observer that the upcoming story for Season 3 of Love, Victor, will involve "a love triangle" between Victor, Benji and Rahim, and show how much Victor has grown.
Tanen would also go on to say that having this storyline is a huge step in Victor's character development.
Talk about a complete 180! But, with that juicy cliffhanger at the very end of Season 2, it makes me want Season 3 even more.
Lake Is Confirmed Bisexual For Season 3 Of Love, Victor
One of the major surprises of Season 2 of Love, Victor for the finale was Lake's ending with Lucy, leaving a lot more questions than answers about what exactly is going on there. But, thankfully, we do have an answer.
In an interview with Entertainment Weekly, co-showrunner Issac Aptaker confirmed that Lake is actually bisexual in Love, Victor.
With a series like this that is constantly exploring different themes and stories, it's not a surprise that they decided to go this route with Lake in Love, Victor. Regardless of where it leads, I'm eager to see this character development and what it might mean for her in the future.
Love, Victor Season 3 Plans To Tell More Than Just The 'Coming Out' Story
The first two seasons of Love, Victor were always about Victor's coming-out journey, about him starting to embrace who he is instead of running away from it. Now, where do we go from here when it seems he has two people he cares about deeply and he's trying to make a choice?
Apparently in different directions for Season 3, and beyond, according to Aptaker's interview with Entertainment Weekly, because there is so much more story to tell rather than the typical "coming-out" story.
They've already started to expand on that a little in Season 2, with episodes such as "The Sex Cabin," and more, where they explore topics such as sex, deeper connections, and growth all through the lens of the LGBTQ+ community.
If Season 3 is anything like Season 2 was, I'm all for it, and learning more about these stories. Victor's come a long way, but he has so much further to go.
What are you excited about in the upcoming third season of Love, Victor? Do you want Lake and Lucy to become an official item? Who's your pick for Victor between Benji and Rahim? Ugh, so many questions. Can Season 3 just come out already? In the meantime, I'm going to go re-watch Love, Victor.
Big nerd and lover of Game of Thrones/A Song of Ice and Fire. Will forever hate season eight. Superhero and horror geek. And please don't debate me on The Last of Us 2, it was amazing!
Your Daily Blend of Entertainment News
Thank you for signing up to CinemaBlend. You will receive a verification email shortly.
There was a problem. Please refresh the page and try again.