Jane The Virgin Cast: What The Actors Are Doing Now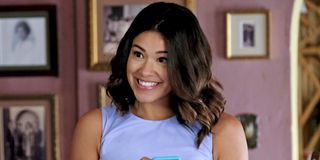 When Jane the Virgin premiered back in 2014 on The CW, it gained a dedicated following almost instantly. The story of a Latina virgin who was accidentally artificially inseminated by her gynecologist was so unique and different that it made for great TV, with loving romances, and plenty of hysterical moments. For five seasons, the show delighted viewers until its finale in 2019.
But, with a cast as diverse as the Jane the Virgin cast, what have they been up to since the show's ended? Are they going to a part of any of the 2021 fall TV premiere dates coming up? Do they have some awesome original Netflix films we could view? Well, look no further, because this is what the cast of Jane the Virgin, including Gina Rodriguez, has been up to and what they're doing now.
Gina Rodriguez (Jane Villanueva)
As the titular Jane, we all fell in love with Gina Rodriguez playing the character, from her sweet moments to her laugh-out-loud ones as well. Rodriguez has been keeping busy since Jane the Virgin ended, with plenty of projects that have come out in the last couple of years. She was in the romantic comedy, Someone Great, in 2019, and she had a role in the crime comedy-drama, Kajillionaire in 2020.
Gina Rodriguez also tried out voice work when she voiced the classic character, Velma Dinkley, in the film, Scoob!, where we got to follow the classic Scooby-Doo gang in another crazy adventure. She's also had a recurring role on the Netflix original TV show, Big Mouth, as Gina Alvarez, further expanding her voiceover talents.
In 2021, she's going to be up to a lot. Not only will she continue her lead role in the Disney+ original show, Diary of a Future President, as well as her recurring role on Big Mouth, but she also starred in the Netflix original science fiction film, Awake. Coming up, she will be in several new projects, such as the romantic comedy, I Want You Back, and a new TV series called Lost Ollie, as well as a film adaptation of Carmen Sandiego. Truly, this actress is just getting started in Hollywood, and I can't wait to see where she goes from here.
Andrea Navedo (Xiomara Villanueva)
Xiomara, otherwise known as "Xo" in Jane the Virgin, is the mother a lot of us wish that we had, honestly. Her outgoing personality plus the love that she has for her daughter makes her one of my favorite TV characters, hands-down. Andrea Navedo portrays Xo in Jane the Virgin, and she's done plenty after the conclusion of the show.
Prior to Jane the Virgin ending, Andrea Navedo had a part in the Netflix film, Bright, alongside Will Smith and Joel Edgerton. However, it seems that Navedo has been keeping her focus on television, as she's guest starred in several shows, such as The Good Fight, Mrs. America, and more. Coming up, she's going to be in a new film titled Smile or Hug, a comedy that is sure to be great with her signed on.
Justin Baldoni (Rafael Solano)
Rafael is honestly one of the best characters in Jane the Virgin and I'm happy that his story ended the way it did when the show concluded. Justin Baldoni, who portrayed Rafael all throughout the show, has been super active following Jane the Virgin's ending, but mainly behind the camera and not in acting as much.
Since the show's end, he's produced and directed both the romantic drama, Five Feet Apart, and the Disney+ original musical drama, Clouds. He will be continuing that trend in the next couple of years, including directing a film titled Hold Back the Stars and producing Smile or Hug, which, as mentioned before, Andrea Navedo will have a role in. While it's a shame we won't get to see him as an actor anytime soon, it's exciting to see him creating some awesome projects and moving into a new part of his career.
Yael Grobglas (Petra Solano)
Good God, I hated Petra. I don't think there was someone I hated more in Jane the Virgin. But, just because we hated Petra does not mean that we hated Yael Grobglas, the actress behind her. While playing Rafael's ex-wife in the show, she had a couple of great roles in both TV and film.
Grobglas had a recurring role in the medieval fantasy show, Reign, and a recurring role on Supergirl. She also had a guest spot on the popular reality cooking competition, Hell's Kitchen, and was in the TV film, An Interview with God. In the next year, Grobglas will be in another TV film, titled The Selection, which tells the story of a lottery of young women who are all competing for the Royal Prince's hand to become the next queen. It already sounds like a fun time and I can't wait to see it when it debuts.
Ivonne Coll (Alba Villanueva)
Another member of the Villanueva family, Alba is that grandmother that so many of us know: pious and loving, but strict. Even so, that didn't mean we didn't all love her. Ivonne Coll portrayed Alba Villanueva from the beginning of the show and continued to do so until the very end, and since Jane the Virgin concluded, she's had a couple of bigger roles and minor roles in both TV and film.
Coll had a guest role on the popular fantasy crime drama, Lucifer, as well as a lead role in a TV series of shorts, called Fancy Nancy. She was also in Counterpunch in 2019, a sports drama starring Alvaro Orlando and Danny Trejo. She will soon be producing Calle de la Resistencia, a historical musical drama that takes a look at the struggle of Puerto Rican people. When that will be released is unknown, but hopefully, we'll get some updates on that, and everything Ivonne Coll is working on, soon enough.
Brett Dier (Michael Cordero Jr.)
Michael's story in Jane the Virgin was a crazy one from beginning to end, but that's what makes for amazing television, am I right? Brett Dier played Michael from the very start, and continued through the end of the show, and Dier has gone on to work on some exciting projects.
After Jane the Virgin, he starred in another television series, Schooled, a spinoff of ABC's The Goldbergs. He also had a role in this year's A24 sci-fi drama, After Yang, alongside co-stars like Colin Farrell and Jodie Turner-Smith. He has a new film coming out soon titled Fresh, with not many plot details revealed, but it is described as a social thriller that addresses the fear women face every day.
Jaime Camil (Rogelio de la Vega)
Since Jane the Virgin is sort of a parody of telenovelas, it makes sense that Rogelio de la Vega would appear here as a famous telenovela star, who is Jane's biological father. Jaime Camil played Rogelio for the entirety of the show and has been extremely busy since Jane the Virgin ended.
Like some of his other castmates, Camil dove into voice-acting roles, with recurring parts on The Lion Guard, the Netflix original BoJack Horseman, the Disney series Elena of Avalor, and the Disney reboot of Ducktales. But, even if his voice has been active, that doesn't mean his live-action skills have taken a dip. He portrayed Javier in the TV series Broke, and went on to have a leading role in the Apple TV+ original series, Schmigadoon!
Coming up, he will be in the crime film, Kimi, and a new TV series, titled Guerrillas.
There's no doubt that Jaime Camil has been working hard in the industry, and I can't wait to see where he goes next – but for now, I'll just keep watching Schmigadoon! and listening to his wonderful singing talents.
Elias Janssen (Mateo Villanueva)
Mateo Villanueva was an adorable little kid throughout the time he was on the show, and while I do wish he had more screen time, I'm thankful for what we did see of him on Jane the Virgin.
Since the series ended, Elias Janssen, who played Mateo, hasn't been in anything, but it's only a matter of time before this young actor will start to do more. He's currently working on a short called Mimetic, so hopefully, we'll get to see him in more roles soon.
Yara Martinez (Dr. Luisa Alver)
Dr. Luisa Alver was just a mess the whole nine yards – plus, she was also the person who inseminated Jane, so there's that. Regardless, she was still an interesting character, and that's thanks to Yara Martinez. Since her role on Jane the Virgin, Martinez has stayed active in television, with a guest spot on the NBC drama This Is Us, and a main role on the Amazon original series, The Tick.
She also had a recurring role on the crime drama, True Detective, and was a series regular on the procedural drama, Deputy. Coming up, she will be in a new comedy film called Good Egg, debuting in October of 2021.
Jane the Virgin was a great show, and I'm sure we're all happy to see the cast succeeding post-finale. I can't wait to see what else they'll be doing next! Now, if you don't mind me, I'm going to go watch the Schmigadoon! cast sing their butts off, including Jaime Camil.
If you want to check out Jane the Virgin again, it's currently streaming on Netflix.
Big nerd and lover of Game of Thrones/A Song of Ice and Fire. Will forever hate season eight. Superhero and horror geek. And please don't debate me on The Last of Us 2, it was amazing!
Your Daily Blend of Entertainment News
Thank you for signing up to CinemaBlend. You will receive a verification email shortly.
There was a problem. Please refresh the page and try again.