Bikini-Clad Britney Spears Talks Turning 40 And Why She Still Dresses Youthfully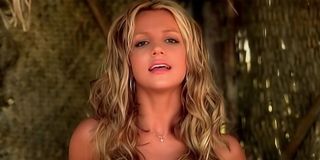 It may be hard to believe, but Britney Spears, a singer who propelled to fame in her teens with the single "...Baby One More Time" is rapidly approaching 40. Ms. Spears herself pointed that out this week in a new post where she threw on some fun and free-spirited bikinis and also talked about why she's still shopping for more youthful-looking clothing.
Modeling a pair of bikinis she bought at Target--or what fancy moms like to call Tarjay--Britney Spears mentioned on a new Instagram post that she will be turning 40. Perhaps my favorite part of this quote is that she details a notable scene from the Judd Apatow film This is 40, in which Leslie Mann's character Debbie opines (while wearing a very cute maxi dress if I'm remembering correctly), "I don't want to shop at old lady stores. I don't want to go to J. Jill and Chico's and Ann Taylor." Here's Spears' take:
To note, Britney Spears will not actually hit the big 4-0 until December, but she did take a note from Kim Kardashian's book this week when she talked about her upcoming birthday milestone while also showing off the fitness she's managed to maintain over the years. That's how Kim Kardashian celebrated her birthday too, with a viral bikini photo showing age is just a number.
What is expected from fashion has changed over time as celebrities have worked to maintain peak physical shape well into their forties -- or in the case of Jennifer Lopez and Liz Hurley, into their fifties. It's pretty cool though that Spears, unlike a lot of celebrities, is rocking affordable looks her fans could easily copy and own themselves, here.
Britney Spears has never shied away from wearing what makes her happy. This week that also include an orange dress and heels.
It's still a little hard to compute that "...Baby One More Time" actually first became a hit more than 20 years ago, exploding Britney Spears onto the music scene. She'd continue to roll out hits for more than 10 years after this debut song and in recent years has produced new music and put on popular shows as part of a Las Vegas residency. More recently, though, she's seemed more comfortable with the idea of retiring. She hasn't toured since her residency ended and she told her manager -- who has now resigned -- that she was on indefinite hiatus about 2 1/2 years ago. In the time since, the "Free Britney" movement has exploded online, leading to change regarding how Ms. Spears' conservatorship works as well.
The "Lucky" singer has had a big last several weeks related to the "Free Britney" movement and her conservatorship. She was granted the ability to hire her own lawyer and that lawyer has already made moves to get Britney Spears more freedom in her life, including the ability to drive again. The driving in particular has reportedly been a big deal for the singer, who has been reported to be "very happy" about that update. Here's hoping as the months wear on and she approaches the big birthday milestone that she'll have plenty more to celebrate.
Reality TV fan with a pinch of Disney fairy dust thrown in. Theme park junkie. If you've created a rom-com I've probably watched it.
Your Daily Blend of Entertainment News
Thank you for signing up to CinemaBlend. You will receive a verification email shortly.
There was a problem. Please refresh the page and try again.