Schmigadoon!: 7 Reasons To Watch The New Apple TV+ Musical Series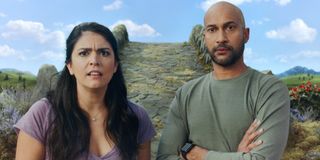 You may have heard the name of the new AppleTV+ series Schmigadoon! However, it is very likely that you have no clue about the show's premise. Well, theater geeks and musical fans, our time has come! Schmigadoon on AppleTV+ is a musical series that's both a parody of classic musicals and a love letter to them.
The show stars Cecily Strong and Keegan-Michael Key as Melissa and Josh, a couple trying to reignite the spark in their romance. They soon finds themselves in a town called Schmigadoon, which just happens to be a musical town. Everyone bursts into song at any given moment and sings their feelings. Schmiadoon on AppleTV+ is only about halfway done with season 1, but it's already got us completely hooked. Here are some reasons why you need to add Schmigadoon! to your weekly summer streaming schedule.
Melissa And Josh's Quest To Find "True Love" on Schmigadoon
Schmigadoon! opens with Melissa and Josh's first meeting. Viewers then watch a few key moments in their relationship. Flash forward to the present, and Melissa and Josh's initial romantic spark seems to have faded out. This sets up the premise of Schmigadoon! The pair stumble upon the titular town, and they later learn from a leprechaun (Martin Short) that they can only leave once they find true love. They try with each other and fail.
Josh decides to look for true love with others, which catches Melissa off guard. So far, Schmigadoon! has presented the question of whether Melissa and Josh are truly in love or if their true mates exist within the town. We aren't sure yet whether the series is setting up the couple to go on a journey to find their way back to each other, or if it's really over and we are meant to watch them find new loves. We believe it's the first option. Either way, it's a compelling start to the show.
Schmigadoon's Brilliant Parodying Of Classic Musicals
Schmigadoon! expertly walks the line between parodying musicals and showing appreciation for them. The team behind the series clearly loves musicals, but they also know that there are some problems within them, especially when it comes to outdated views. If you've watched a lot of musicals, then you know what Schmigadoon! parodies from so many classic musicals.
At some points, Melissa and Josh even discuss the musicals being parodied, like The Sound of Music, Oklahoma!, Carousel, and The Music Man. It adds an extra layer of fun to the show trying to spot what musical is being parodied in this episode or in that moment. It's also great when you can pull a Steve Rogers and say "I understood that reference."
The Catchy Originals Songs On Schmigadoon
Schmigadoon! may have songs about being a bad boy, corn, and other silly things, but the songs are extremely catchy. They all sound really good and have memorable lyrics. They're made even more enticing when you have great Broadway voices singing them. Each episode of Schmigadoon! introduces a few new songs, and you'll definitely want to add some of them to your playlist.
The songs are available during each episode to purchase on Apple Music. Unlike shows like Glee that rely heavily on covers, so far, all the songs here have been original music. This makes Schmigadoon! even more impressive because the show's writers not only have to write interesting and witty weekly episodes, but they also have to find ways to seamlessly and naturally incorporate original music into the show.
Schmigadoon's Cast Of Broadway Stars Like Aaron Tveit And Kristin Chenoweth
The Schmigadoon! cast of Broadway stars may be one of the most appealing things about the series. They have the legendary Kristin Chenoweth in this super quirky role as the preacher's wife. Then we have Tony-nominated Aaron Tveit making everyone swoon as the guy who refuses to be tamed. Hamilton and The Prom cast member Ariana DeBose completely shines in her role as Emma Tate.
Alan Cumming plays the mayor, and is one of the most likable characters in Schmigadoon!. We also have Dove Cameron, who has appeared in many musical TV shows and movie musicals, like the Descendants film series. She's also appeared in many Broadway and Off-Broadway shows like Mamma Mia!, Les Miserables, and Clueless: The Musical.
Schmigadoon's Cast of Comedians like Cecily Strong, Martin Short, And Keegan-Michael Key
Schmigadoon! teams the Broadway portion of the cast with well-known comedians/comedic actors, like leads Keegan-Michael Key and Cecily Strong. It creates a balance of really impressive singing with these really funny moments. Besides the main comedic cast, we often have guest appearances by comedic legends like Martin Short and Jane Krakowski. Rounding out that main comedic cast are Fred Armisen and Jaime Camil.
We're sure that Schmigadoon! will continue to delight and surprise us with comedic talent as the show continues to progress.
Schmigadoon Being Produced By Saturday Night Live's Lorne Michaels
One of the reasons why Schmigadoon! has such a talented cast may be due to Lorne Michaels being a producer on the show. Michaels has built trust over the last several decades as someone you can rely on for comedy. He built the Saturday Night Live empire, so that has earned him some respect among comedy fans and television viewers.
Lorne Michaels has been a producer on many comedy TV shows, everything from A.P Bio to The Other Two. Many of his shows are critically acclaimed, even if they may lack viewers. Michaels being a producer on Schmigadoon! also means that the show probably has the budget and potential to really go big with theatrics, which feels right for a musical series.
Schmigadoon Charms With Silliness And Sincerity
Schmigadoon! is such a likable show because it's very silly but also has a sincerity that quickly draws you into this world. While it has not quite reached this charm factor yet, I would put it up there with The Good Place. Both shows have unique concepts, an extremely talented and entertaining cast of characters, and a mysterious otherworldly place.
This show works because of the characters who are flawed but really enjoyable to watch. Having so many catchy songs really adds to the show's charm. It's a silly concept, but one that works so well. This may be one of AppleTV+'s best series.
AppleTV+ releases new episodes of Schmigadoon! every Friday. It's not too late to get hooked on this musical series.
Your Daily Blend of Entertainment News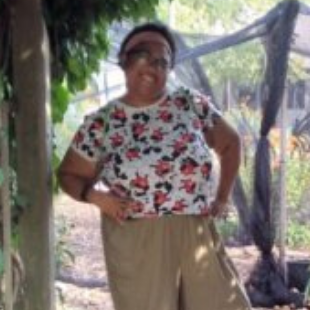 Spent most of my life in various parts of Illinois, including attending college in Evanston. I have been a life long lover of pop culture, especially television, turned that passion into writing about all things entertainment related. When I'm not writing about pop culture, I can be found channeling Gordon Ramsay by kicking people out the kitchen.