Schmigadoon! Cast: Where You've Seen The Apple TV+ Actors Before, Including Dove Cameron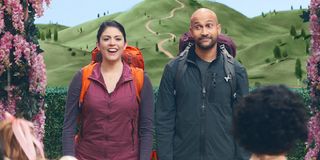 Apple TV+ has been coming out strong with some awesome series the last couple of years, from the hilarious Central Park to the heartwarming Ted Lasso. However, a newcomer is coming to the stage soon, added onto the 2021 TV shows that are debuting – Schmigadoon!
Yes, you read that right. The new musical comedy has come to our laptops and TVs through Apple TV+, joining the 2021 Summer TV schedule, giving us glorious skits and catchy tunes for several weeks. With so many stars in this one, there's no doubt in my mind that you have seen this cast before. From Cecily Strong to Keegan-Michael Key and Dove Cameron, here is where you have seen the Schmigadoon! cast before.
Cecily Strong (Melissa Gimble)
As the first half of the couple who stumbles into the world of Schmigadoon!, Cecily Strong portrays Melissa Gimble. If that name sounds familiar, it's probably because you might have seen her as a current cast member on the legendary primetime sketch show, Saturday Night Live, showing off her comedy skills.
If not, you've most likely seen her in the 2016 remake of the classic film, Ghostbusters, the sports-comedy film, The Bronze, or heard her voice on the animated comedy, The Awesomes. Cecily Strong has also had plenty of guest spots on TV shows as well, such as Superstore and Scream Queens. This, however, will be her first leading role in a live-action, non-sketch TV show, so it's super exciting for her to be showing off her comedy skills in a leading lady way.
Keegan-Michael Key (Josh Skinner)
If you haven't heard of Keegan-Michael Key, you've definitely been living under a rock. Portraying Josh Skinner, Key takes the second lead in Schmigadoon! He has been in plenty of TV shows that you might have seen him in before, namely the popular sketch show, Key and Peele, which he did with Jordan Peele. Key has also been in a couple of other television series, including the comedy series Playing House and the Netflix original series, Friends from College.
Keegan-Michael Key has also been in several films – almost too many to put down here. Some of his highlights are portraying Sammy in Pitch Perfect 2, voicing Murray the Mummy in the Hotel Transylvania series, playing Clarence in Keanu alongside Jordan Peele, voicing Ducky in Toy Story 4, playing Jerry Jones in Dolemite Is My Name, Gustafson in Jingle Jangle: A Christmas Journey, and Tom Hawkins in the Netflix musical, The Prom. Now that's an actor with plenty of range.
Alan Cumming (Mayor Aloysius Menlove)
Portraying Mayor Aloysius Menlove in Schmigadoon!, Alan Cumming has been in the film and TV industry for a long time. However, another part of the entertainment world he has been a part of is theater, where he has performed in many productions, including Hamlet, The Accidental Death of an Anarchist, and Cabaret, for which he won a Tony Award.
Even so, Alan Cumming has been in plenty of television shows and films as well. For television, one of his bigger roles that you might have seen him in was The Good Wife, where he played Eli Gold. For film, some of his more popular roles were portraying Gutsy Smurf in The Smurfs film series, and performing in Battle of the Sexes, Goldeneye, and Son of the Mask. He's definitely shown off some amazing talents over his years of acting, so it's great to have him in Schmigadoon!.
Fred Armisen (Reverend Howard Layton)
In Schmigadoon!, Fred Armisen portrays Reverend Howard Layton, adding to the long list of many films and TV shows this famous actor/comedian has been in. Fred Armisen really came into the public eye when he signed on to become a cast member of Saturday Night Live, a role he would hold for several years, from 2002-2013.
However, after his time on SNL, Armisen went on to do many more projects, especially in comedy. He co-starred in the IFC sketch comedy, Portlandia, and the mockumentary IFC series, Documentary Now! with Bill Hader and Seth Meyers, two other SNL legends. Currently, he's in the Showtime series, Moonbase 8, and has a recurring role on the Netflix animated comedy, Big Mouth. Fred Armisen has also done many film roles, with some of his big hits being Easy A, Anchorman, Battle of the Sexes, and plenty more.
Fred Armisen is also known for having some hilarious guest and recurring spots on famous sitcoms, such as Brooklyn Nine-Nine, 30 Rock, Parks and Recreation, and so many others. He's really been all over the place – it wouldn't be a surprise if you've seen him elsewhere prior to Schmigadoon!.
Kristin Chenoweth (Margaret/Mildred Layton)
As Margert/Mildred Layton in Schmigadoon!, Kristin Chenoweth is the perfect fit for the musical role. Prior to her success in the film/TV realm, Kristin Chenoweth was (and still is) a very popular Broadway performer, with two major hits behind her – playing Sally in You're A Good Man, Charlie Brown, and Glinda in Wicked, the first of which she won a Tony Award for.
However, Kristin Chenoweth has done a lot in TV and film, as well. She had a recurring guest role on the popular Fox show, Glee, and the classic children's show, Sesame Street. Chenoweth also had a recurring (later main) role on The West Wing as Annabeth Schott, showing off her drama skills as well. Recently, Chenoweth has portrayed Maleficent in the Disney Channel film series, Descendants, and had a role in the Netflix Christmas film, Holidate.
It's great to have her on a show like Schmigadoon! where we get to hear her singing talents once again.
Aaron Tevit (Danny Bailey)
Portraying Danny Bailey, Aaron Tevit is a great choice for a show like Schmigadoon!, because he has been many musicals prior to this. For example, he was in Next to Normal, originating the role of Gabe, and as Frank Abagnale Jr. in the musical version of Catch Me If You Can, as well as playing Christian in the stage version of Moulin Rouge!, which he received a Tony nomination for.
Tevit has also taken his talents to film and TV before, portraying Enjolras in the 2013 film, Les Miserables, and Danny Zuko in Grease: Live. Other than musical talents, Tevit has also had a recurring role on the popular CW show, Gossip Girl, portrayed Mike Warren on Graceland, and Gareth Ritter on BrainDead. Tevit is also going to be in the upcoming American Horror Stories series on Hulu.
Dove Cameron (Betsey McDonough)
Dove Cameron, who portrays Betsey McDonough in Schmigadoon!, has a lot of TV credits. From a young age, she started with a dual role in Liv and Maddie, the popular Disney Channel series that won her a Daytime Emmy Award. While working at Disney, she also starred as Mal in the Descendants series, as the daughter of Maleficent (Kristin Chenoweth).
Cameron has also had a recurring role on the Marvel show, Agents of S.H.I.E.L.D., and is going to be in the upcoming CW show, Powerpuff, a live-action version of The Powerpuff Girls, playing Bubbles.
In terms of film, Cameron hasn't done as much as some of her co-stars, with one of her major roles being in the Netflix film, Dumplin'. However, after her role in Schmigadoon!, we might get to see her in more films soon. Her musical talents are second to none.
Ariana DeBose (Emma Tate)
In Schmigadoon!, you've already seen we have plenty of musical talent, and Ariana DeBose only adds onto that list, playing Emma Tate. Ariana DeBose has done a lot in theater, including her role as The Bullet in Hamilton: An American Musical, and main roles in both A Bronx Tale and Summer: The Donna Summer Musical.
In terms of film/TV, Ariana DeBose hasn't done much yet, with her only major role recently being in The Prom on Netflix, starring as Alyssa Greene, but you better watch out for her. In 2021, she's going to be portraying Anita in the Steven Spielberg remake of West Side Story, so you'll for sure see this talented actress popping up on your newsfeed after Schmigadoon!.
Jaime Camil (Doc Lopez)
Portraying Doc Lopez in Schmigadoon!, Jaime Camil has been all over the place – namely on Spanish language TV. While he's done Spanish dubs for Open Season and Bee Movie, he's also had voice roles in films such as Coco, The Secret Life of Pets, and Hotel Transylvania 3.
If you're thinking you've seen him in American television, he did have a main role in the popular series, Jane the Virgin, where he played Rogelio de la Vega, and in Legend of the Three Caballeros.
However, Jaime Camil is more known for his roles in telenovelas – and he's been in several. His big one was portraying Fernando Mendiola in La Fea Mas Bella, where he played the role for 300 episodes, but he's been in many others, including Mujer De Madera, Los Exitosos Perez, Por Ella Soy Eva, and so many others.
Ann Harada (Florence Menlove)
In Schmigadoon!, Ann Harada portrays Florence Menlove. Prior to her appearance on the show, she was in the off-Broadway show, Avenue Q, originating the role of Christmas Eve. She also had roles in Broadway productions of Les Miserables, 9 to 5, Cinderella, along with several others.
However, Schmigadoon! is actually her first major role in film/TV, and it's a welcome entry into the entertainment world for this talented singer.
Also in Schmigadoon, Jane Krakowski and Martin Short both guest-starred, as the Countess Gabriele Von Bierkom and the Leprechaun, respectively, adding onto the already long list of stars.
Jeez, with a talented cast like that, Schmigadoon! seems sure to succeed – maybe even become one of the best Apple TV+ shows that the streaming site has to offer. I can already feel myself singing along with the songs. Next thing you know, I'm going to be in a musical, too.
Big nerd and lover of Game of Thrones/A Song of Ice and Fire. Will forever hate season eight. Superhero and horror geek. And please don't debate me on The Last of Us 2, it was amazing!
Your Daily Blend of Entertainment News
Thank you for signing up to CinemaBlend. You will receive a verification email shortly.
There was a problem. Please refresh the page and try again.