Upcoming New And Returning HGTV Shows, Including Home Town And Windy City Rehab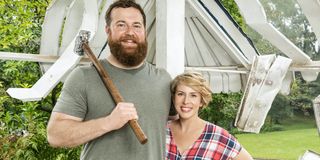 If you've come to this article of your own accord, there's no need to beat around the bush: You. Love. Real. Estate! Looking at new homes, watching grand old homes get a redesign, and seeing just how houses that have been torn down to the studs can be rebuilt so that new owners get to enjoy them is a favorite pastime of yours. And, you will probably know that you are far from alone in that regard. The many design stars and home renovation experts on HGTV are some of the biggest names in television, with series like Home Town, Windy City Rehab, Celebrity IOU, and Good Bones drawing in millions upon millions of viewers with each new episode.
There are brand new series and new seasons of beloved favorites debuting on the ever popular network regularly, so if you simply can't get enough of home renovation and scouting for real estate, here are the upcoming new and returning HGTV shows you need to know about!
Help! I Wrecked My House Season 2 (September 6, 2021)
Renovation expert Jasmine Roth returns for the second season of Help! I Wrecked My House on September 6, 2021. Roth will tackle even bigger home renovation disasters this time around as she continues to help home owners fix their rehab missteps.
Fixer To Fabulous Season 3 (Fall 2021)
Jenny and Dave Marrs are back for another round of sprucing up some of the oldest homes in Northwest Arkansas on the third season of Fixer To Fabulous, all while running their own farm and raising their five children.
The Nate & Jeremiah Home Project (Fall 2021)
New series The Nate & Jeremiah Home Project will follow married parents of two Nate Berkus and Jeremiah Brent as they assist families who are moving into a new home to let go of the things they don't need anymore, so they can have a brand new start, before renovating the new property to meet the family's needs.
Table Wars (November 2021)
The new competition, Table Wars, will show eight expert event designers as they face off to create the perfect "ultimate themed party environment," which will be judged by famed entertaining guru Martha Stewart, actress and Emmy winner Tamera Mowry-Housley, and luxury event planner / designer, Chris Hessney.
Windy City Rehab Season 2 (Late 2021)
Even with all of the drama surrounding the show (and former co-host Donovan Eckhardt) in the past two years, designer Alison Victoria will return later this year with more episodes for Windy City Rehab Season 2. And, Season 3 might also be on the way, but HGTV has yet to confirm that.
Selling The Big Easy Season 2 (Late 2021)
Real estate expert and New Orleans native Brittany Picolo-Ramos will be back on HGTV with Season 2 of Selling the Big Easy, where she and her team help families find the perfect, high-end homes with the right amount history, charm, and the perfect space.
Cash In The Attic (Late 2021)
After a little over a decade off the air, Cash in the Attic will be back with new host, Courtney Tezeno, as she helps people appraise their collectables and sell them to fund their dreams.
Fix My Flip (Late 2021)
House flipper and real estate broker extraordinaire Page Turner from Flip or Flop Nashville is back, this time in her own new show, Fix My Flip, where Turner will return to her hometown of Los Angeles to take over the flips of stressed out flippers and make things right.
Flip Or Flop Season 10 (Late 2021)
Despite some drama, divorced couple Christina Haack and Tarek El Moussa will return to flipping properties in Orange County, California.
Tough Love With Hilary Farr (Late 2021)
Love It or List It star Hilary Farr has started to pull double duty, as she now has her own new show, Tough Love with Hilary Farr, set to debut later in 2021. The designer will use her expertise to help families figure out challenges that "strain their homes and their relationships."
100 Day Dream Home (Early 2022)
Married couple Mika and Brian Kleinschmidt, who just won Season 2 of Rock the Block, are back to design and build clients' dream homes in 100 days or less in Tampa, Florida.
Ugliest House In America (Early 2022)
Comedian and actress Retta will host brand new series Ugliest House in America, which will see the star show us homes that have been nominated for the title by the homeowners. The winning design disaster will then be given a full renovation worth $150,000.
Home Town Season 6 (2022)
Home Town remains one of the most popular shows on HGTV, so it's no surprise that Erin and Ben Napier will be back for Season 6 of renovating homes in their small town of Laurel, Mississippi.
Buy It Or Build It (Spring 2022)
Another new series, Buy It or Build It, will feature the duo of brothers / licensed contractors Chris and Calvin LaMont as they create perfect homes for families in Dallas, Texas, once the homeowners in question have decided whether they want to purchase a new property or build from scratch.
Good Bones Season 7 (Summer 2022)
The daughter / mother renovation team of Mina Starsiak and Karen E. Laine return for Season 7 of their hit series, Good Bones, as they continue to revitalize areas of their hometown of Indianapolis, Indiana, one house at a time.
New HGTV Shows Without A Confirmed Premiere Date
HGTV has a lot of new shows in the works, and several of them have no confirmed premiere date or even a release window just yet, beyond being set to air at some point during the 2021-2022 television season. Currently, these are:
Holmes Family Rescue: Contractor Mike Holmes returns for a new series, which will see him and his kids, Michael Holmes Jr. and Sherry Holmes, come in for a save when clients have been living with botched construction jobs.
Flipping Showdown: Flip or Flop Atlanta stars Anita and Ken Corsini will lead this competition, where they buy one home each for three teams of flippers, then provide the cash for those teams to fully renovate each house in six months. After judging the teams on three criteria (budget management, design talent, and successfully overseeing the planned renovation), the winning team gets $100,000 and the chance to join the Corsinis in their business.
First Home Fix: Design duo and couple, Raisa Kuddus and Austin Coleman, will spearhead custom renovation projects for millennial and young newlywed clients as they work from their vintage VW van.
Moving for Love: From the producers of 90 Day Fiancé, this series will follow long distance couples as they attempt to find and buy their first home together, forcing at least one of them to completely uproot their lives.
Why the Heck Did I Buy This House?: Renovator / designer Kim Wolfe will use her expertise to save homeowners in San Antonio, Texas from buyer's remorse and give them a house they truly love, free of uninspired design.
Renovation Remix: Married design team Kele Dobrinski and Christina Valencia will help couples with massively different design preferences create their perfect home by combining their styles into "an ideal mashup design" to suit each of them.
Call the Closer: Real estate maven Lauren Risley will help extremely picky clients find the right home, and then lead them through a renovation to make it their dream come true.
Home Inspector Joe: The titular expert home inspector, Joe Mazza, will help house hunters buy the safest home, making sure their budget will cover any necessary repairs, while his partner, designer Noel Gatts, makes sure their design priorities are made a reality.
Building Roots: Marrieds Ben and Cristi Dozier will tackle one of a kind projects by building, designing and / or renovating spaces large and small for their clients to create "boundary-pushing" and "highly personalized" homes.
Renovation Goldmine: Husband and wife team Joe and Meg Piercy will update Chicago houses by bringing new life to items already in the homeowners possession. The saved cash will then be used to help overhaul the home so that their clients have a space they're completely happy with.
My Flippin Fortune: Two couples who are house flipping pros in their own markets will be dropped into an unknown city with a starting budget of $1,000 and work the local market to buy and sell homes, with the goal of building to a $1 million sale in just six months.
While this list doesn't include new seasons of shows like $50K Three Ways, Farmhouse Fixer, Unsellable Houses, Bargain Block, or anything from the Property Brothers, Drew and Jonathan Scott, right now that just means that some of your favorites haven't officially been renewed or cancelled yet.
But, keep in mind that many established HGTV stars also have spinoff shows that you can watch exclusively on Discovery+, along with being able to watch previous episodes of their established series there. We will be keeping track of new info on all the shows you love, so be sure to bookmark this guide for updates. Until then, see what else you can watch with our 2021 fall TV schedule!
Bachelor Nation, Gilmore Girl; will Vulcan nerve pinch pretty much anyone if prompted with cheese...Yes, even Jamie Fraser.
Your Daily Blend of Entertainment News
Thank you for signing up to CinemaBlend. You will receive a verification email shortly.
There was a problem. Please refresh the page and try again.