Five Bedrooms: 7 Reasons To Watch The Peacock Dramedy Series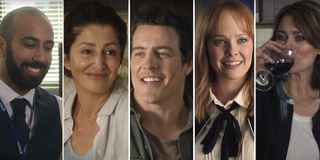 CinemaBlend participates in affiliate programs with various companies. We may earn a commission when you click on or make purchases via links.
I don't know about you, but I've spent much of the last 16 and a half months doing two things: covering the most gorgeous lip gloss looks with a very necessary mask, and watching anything I can find on TV that feels like a warm hug on a cold day. Luckily, my trusty television has not let me down yet, and I've found a number of shows that have made me laugh, cry tears of joy and just generally feel like there's actually some hope in this world. If you, like me, enjoy a good comfort watch and are always looking for more of them to indulge in, let me introduce you to a recent favorite from Peacock, Five Bedrooms.
The Australian series follows five singles, Harry (Roy Joseph), Heather (Doris Younane), Ben (Stephen Peacocke), Ainsley (Katie Robertson), and Liz (Kat Stewart), who can't afford homes on their own, so they decide to pitch in on a five bedroom house together for them to live in, after coming up with the idea after a few drinks when they're sitting at the singles table for a wedding reception.
And, while that might sound like a terrible idea... Well, OK, it is nearly a truly terrible idea. But, that's one of the things that makes Five Bedrooms so much fun and so comforting. Five Bedrooms Season 2 has already arrived, so here are seven reasons why you should watch the Peacock dramedy as soon as possible!
Wonderful Friendships Between The Characters
With the exception of Liz and Harry, and Heather and Ainsley, who were friendship duos before that fateful night at the wedding, this group of people weren't buddies, and they certainly had very little in common, for the most part. They have pretty different jobs, backgrounds and lives overall when they decide to live with one another, but they still manage to, pretty quickly, form bonds because of the closeness of their living situation, and how they tend to randomly find out each others' secrets, which are plentiful.
The one thing that all of the Five Bedrooms characters do have in common, is that they're really all at a crossroads in their lives for one reason or another. Despite some major differences among them, they come to really respect each other and stand up for their housemates when needed. And, that's a very good thing, because it's needed a lot.
Heather's Complete Dismissal Of Anyone Who Brings B.S. Her Way
Speaking of standing up for people, there are few characters who stick up for others with more intense vigor on Five Bedrooms than Heather. Once she considers you a friend, she has your back through thick and thin, and she is the ultimate bullshit detector, meaning that very little gets by her.
There's a secondary character in Five Bedrooms (whom I'll get to later) who is very important to Heather's best bud Ainsley. But, Ainsley is blinded by her feelings for this person and can't really see what they're about. Heather, meanwhile, can read this person like a book, and does so whenever she feels it's necessary, mostly when attempting to save Ainsley from herself. While Heather sometimes doesn't stick up for her own interests quite as well (we've all been there), she's the most likely to say exactly what the audience is thinking. Every show needs a good truth-teller who won't mince words, and that's the hilarious Heather to a T.
Five Bedrooms Shows Very Relatable Problems
I think most of us would agree that there are several different types of the comfort watch, and Five Bedrooms, while also a very warm, funny, and inviting show, is definitely going to be one of the "watching people deal with worse things than me" variety. But! Remember that this is a dramedy, so there are very few soap opera-level shenanigans for Ainsley, Ben, Harry, Liz, and Heather to deal with.
Instead, their life problems are very much things that many viewers will have been through, or seen friends and family go through. On Five Bedrooms, we've got divorces, layabout adult children, severe financial troubles, job loss, a coming out story, cancer, unrequited love, the difficulties of dealing with roommates and so much more. Even though I certainly hope that no one who tunes in to the series is going through all of these things at once, the characters' problems do make it easy for audiences to relate to them and root for them to succeed every time.
Five Bedrooms Has A Lot Of Juicy Emotional Moments
I just laid out some of the big, fat life troubles that our lead characters are dealing with on this show, and let me tell you, they do lend themselves to quite a few juicy emotional moments. Five Bedrooms does a really good job of making these reveals fit the overall tone of the show, as it never gets too sad or too slapsticky. We're still blessed with lots of events that range from the awkwardly funny to the heart-tuggingly tender, though, and don't be surprised if you cry a bit from both laughter and because a moment has warmed your previously cold soul.
The Sweet Surprise That Is Ben
OK, friends, I need you to listen very carefully. Ben might be the character that surprised me most on Five Bedrooms, because when we first meet him it seems that we've seen this character plenty of times before. In the early minutes of Episode 1, Ben appears to be the quintessential semi-irresponsible man-whore. But, by the half way through the episode, we see that the tradesman transcends that potential definition to a terrific degree.
Ben is most able to see what people need and offer just the right words of encouragement, does it without a trace of manipulation (unlike someone we'll get to later), and simply because he wants people to feel good about themselves. When Ben has to let down someone who's revealed their romantic feelings for him, he's direct but gentle, and when he sees that they're embarrassed, he doesn't hesitate to comfort them while still being careful not to give them false hope.
In short, Ben is a dreamboat; a hot cinnamon roll hero. He's just a goddamn delight, and you'll love him.
Five Bedrooms Is Filled With Perfectly Complicated Romances
Ben has more than his fair share of romantic entanglements on this show, but he's far from the only one. As you might imagine, on a series where five single people share a house that sometimes has lots of available empty rooms (and, ahem, empty beds), things go down on occasion. These complicated romantic situations lead to more comedy, more drama and some intriguing developments. So, if you're a fan of series with strong romantic plots or subplots, you can't go wrong with Five Bedrooms.
The Villainy Of Lachlan
Listen, folks. These are difficult times, and it is often good to be able to watch a character who you love to hate, so that you can get out at least some of your pent up aggression and not do / say things you really shouldn't in real life. On Five Bedrooms, that person is Lachlan Best (Hugh Sheridan), whose last name must be an inside joke, because. He. Is. The WORST.
If you're older than, I'd say, 10, you know a Lachlan. And, certainly, if you are a lady who dates dudes you know this man as someone who seems like a good guy on paper, but is definitely not that in practice. Lachlan is the anti-Ben, and I can't imagine him being redeemed in Season 2. If you don't want to punch Lachlan by the end of Episode 1, you are not paying attention, and I recommend that you rewind and watch it again.
I think that these are some magnificent reasons to check out Five Bedrooms on Peacock, and with two full seasons to watch now, you'll have many hours of laughter, tears, surprises, and lovey dovey moments to keep you happy!
For more to watch, check out our guide to upcoming romantic TV shows, and see what'll be on in the next few weeks with our 2021 fall TV schedule!
Bachelor Nation, Gilmore Girl; will Vulcan nerve pinch pretty much anyone if prompted with cheese...Yes, even Jamie Fraser.