Cooking With Paris: What To Watch If You Like The Paris Hilton Cooking Show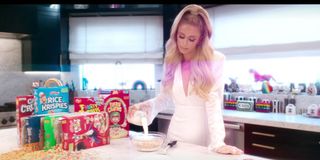 CinemaBlend participates in affiliate programs with various companies. We may earn a commission when you click on or make purchases via links.
Paris Hilton and cooking aren't two things that seem like a natural fit. However, the Netflix series Cooking with Paris is changing that perspective. The cooking show follows Paris Hilton as she cooks different dishes -- often inspired by her unique persona -- with friends. It is one of the only cooking shows where you can see anyone from Kim Kardashian-West to Lele Pons. Paris Hilton brings her fun and quirky personality to the cooking show as well as inspiring many to experiment and play with their food.
Cooking with Paris Season 1 only has six episodes, so it's easy to quickly binge this cooking show, which means that you likely already watched all the episodes and are looking for more cooking shows with the same spirit, or you want to learn more about Paris Hilton. Well, we have a few suggestions of Paris Hilton and cooking shows to watch next.
The Simple Life (Tubi)
The Simple Life is the reality TV show that started it all for Paris Hilton. It lasted for five seasons and followed Paris Hilton and Nicole Richie as they traveled across the country taking on different jobs and living with different families. The show was a fish out of water story where these two socialites are put in situations unfamiliar to them.
The Simple Life thrived because viewers found it hilarious watching Nicole and Paris's cluelessness about common daily practices. It also got its humor from how the locals responded to the two women. The show was a sensation at the time and helped make Paris Hilton and Nicole Richie household names.
Stream The Simple Life on Tubi.
Buy The Simple Life on Amazon.
Selena + Chef (HBO Max)
Filmed during the pandemic, Selena + Chef is an HBO Max original reality show that already aired two seasons. Each episode follows pop star Selena Gomez as she's guided by a professional chef (via video chat) on how to cook different dishes. Selena + Chef follows Selena, her family, and friends as they cook in her very own kitchen while the chef does the same.
The series features many well-known and world-renowned chefs including Ludo Lefebvre, Curtis Stone, Graham Elliot, and Marcus Samuelsson. Cooking with Paris and Selena + Chef share in their learning spirit. Paris is guided on how to cook certain dishes by her friends, whereas, Selena learns from professionals. What's great about both series is that neither of the women gets all their dishes perfect all the time and that makes both shows more relatable and authentic. Selena + Chef has been renewed for a third season, so it could end up appearing on the 2021 fall TV schedule.
Stream Selena + Chef on HBO Max.
Luda Can't Cook (Discovery+)
Luda Can't Cook started as a Discovery+ original special but has now been greenlit to become a full series. The original special began streaming on Discovery+ on February 25, 2021. The one-hour episode followed rapper turned actor Chris "Ludacris" Bridges as he learned to cook from award-winning chef Meherwan Irani.
Ludacris discovered how to cook some authentic Indian dishes, and then put his spin on them for a special dinner for his friends, family, Irani, and some other professional chefs. Cooking with Paris and Luda Can't Cook showcases two famous people who really love food and are open and willing to learn how to cook.
Stream Luda Can't Cook on Discovery+.
Nailed It (Netflix)
Nailed It may be one of the most well-known Netflix cooking shows as of 2021. On each episode, host Nicole Byer challenges three home cooks to replicate intricately designed cakes from scratch. Obviously, these untrained cake makers usually fail spectacularly and that's most of the fun of Nailed It.
Cooking with Paris has a similar you don't know if this will turn out great or be a disaster vibe as Nailed It. To Paris's credit, many of her dishes turn out pretty good, at least according to her friends and guests.
Worst Cooks in America (Discovery+)
Worst Cooks in America began airing on Food Network in 2010 and is still going strong in 2021. Each season features chef Anne Burrell and another mentor and judge working to improve really bad home cooks. Some of the Worst Cooks in America's mentors include Bobby Flay, Tyler Florence, Robert Irvine, and Rachel Ray.
Each season Anne and one of the other mentors take a group of home cooks who have been deemed the worst cook by their friends and family, and try to transform them into good, or at least competent, cooks through a series of challenges. Cooking with Paris and Worst Cooks in America both have individuals who have limited knowledge of the kitchen and cooking world, but gradually become better as the series continues.
Stream Worst Cooks in America on Discovery+.
Buy Worst Cooks in America on Amazon.
Martha & Snoop's Potluck Dinner Party (FuboTV)
Martha & Snoop's Potluck Dinner Party aired on VH1 for two seasons, but in Season 3, the show changed its name to Martha & Snoop's Potluck Party Challenge. The original premise had Martha Stewart and Snoop Dog host a variety show that included musical performances, cooking demonstrations, celebrity guests, and an eating and question-and-answers portion.
Martha & Snoop's Potluck Dinner Party is a hilarious show that works because Snoop and Martha both heavily play up their over-the-top personas, while giving viewers a slight look at their real selves. Cooking with Paris does the same thing. Paris Hilton knows her brand but gives glimpses of her true personality on her cooking show.
Martha & Snoop's Potluck Dinner Party is only available to stream through a VH1 cable subscription or on a live TV subscription service, like Sling or FuboTV.
Stream Martha & Snoop's Potluck Dinner on FuboTV.
Ayesha's Home Kitchen (Discovery+)
Ayesha's Home Kitchen follows Ayesha Curry as she hosts dinner parties with friends and family, and shows the audience how to cook some of her favorite dishes and meals at home. The show also showcases Ayesha learning to cook meals with others and visiting some local establishments to get their cooking insight. The show was originally called Ayesha's Homemade but changed the name to Ayesha's Home Kitchen in Season 2.
Ayesha's Home Kitchen and Cooking with Paris both feature celebrity guests. Both cooking shows also invite the viewers into their homes to learn to cook different dishes or to cook along with them.
Steam Ayesha's Home Kitchen on Discovery+.
Buy Ayesha's Homemade on Amazon.
Amy Schumer Learns To Cook (Discovery+)
Actress and comedian Amy Schumer takes viewers into her home as she and her husband Chris Fischer attempt to cook together. Chris is a professional chef, so he at least has knowledge of techniques and methods to cooking. However, Schumer doesn't make it easy for Chris in Amy Schumer Learns to Cook.
If you want a show that takes cooking seriously, this isn't it. Amy Schumer Learns to Cook relies heavily on Schumer's comedy, and less on showing viewers how to make food. Though Cooking with Paris provides a better instructional guide than Amy Schumer Learns to Cook, neither show is really great for those trying to pick up cooking tips and tricks.
Stream Amy Schumer Learns To Cook on Discovery+.
Buy Amy Schumer Learns to Cook on Amazon.
Celebrity Food Fight (Discovery+)
Andy Richter hosts Celebrity Food Fight, a food-related game show. In each episode, Richter hosts a dinner party with two sets of celebrities. The celebrities then face off in a series of food-related challenges, like guessing the real cookbook and taste tests. Celebrity Food Fight aired for two seasons on Food Network from 2015 to 2016.
Celebrity Food Fight and Cooking with Paris both have the element of surprise. If you don't read the episode descriptions before watching, then you'll be surprised by each week's guest. Also, both cooking shows have some entertaining pairings, Paris and her guests/friends and the two teammates on Celebrity Food Fight.
Stream Celebrity Food Fight on Discovery+.
Buy Celebrity Food Fight on Amazon
Cutthroat Kitchen (Discovery+)
Cutthroat Kitchen began in 2013 and ended in 2017. Alton Brown hosted Cutthroat Kitchen, a series that put professional chefs through the wringer. In each episode, chefs were given a series of challenges where they could sabotage each other by bidding on punishments and barriers that made it difficult for their opponents to complete a challenge.
Cutthroat Kitchen combined ruthless gameplay with silliness, which usually resulted in some innovative ways to make sandwiches or many deconstructed dishes. Cooking with Paris doesn't have the same insane, but highly enjoyable premise, but some of the dishes Paris creates with her friends are quite interesting, unique, and some may say innovative.
Stream Cutthroat Kitchen on Discovery+.
Buy Cutthroat Kitchen on Amazon.
This Is Paris (Youtube)
This is Paris is a Youtube Original documentary that digs deeper into the life of Paris Hilton. It gives an all-access look at Paris's life, relationships, and past. The documentary makes an attempt at allowing Paris to separate her real self from the persona that she has created with the Simple Life and beyond.
It takes Paris fans through her ups and downs and the moments that defined her career. This is Paris is a must-see documentary if you're a Paris Hilton fan or just curious to know more about the reality TV star that goes beyond what's been written in tabloids.
Steam This is Paris on Youtube.
Cooking with Paris is a cooking show that not only gives fans of Paris Hilton more content, but it's also just a really fun show that's lighthearted viewing.Stream Cooking with Paris on Netflix.
Spent most of my life in various parts of Illinois, including attending college in Evanston. I have been a life long lover of pop culture, especially television, turned that passion into writing about all things entertainment related. When I'm not writing about pop culture, I can be found channeling Gordon Ramsay by kicking people out the kitchen.
Your Daily Blend of Entertainment News
Thank you for signing up to CinemaBlend. You will receive a verification email shortly.
There was a problem. Please refresh the page and try again.