Real Housewives Of Beverly Hills' Erika Jayne's Alleged Spending Habits Broken Down In New Documents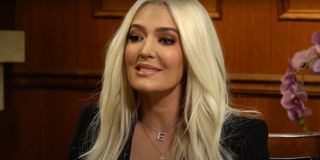 (Image credit: Bravo)
High profile L.A. lawyer Tom Girardi has been accused in recent months of embezzling upwards of $56 million worth of funds from his creditors and clients, and his wife and Real Housewives of Beverly Hills star Erika Jayne has also been under investigation as to her participation. The legal situation, including class action lawsuits and a Chapter 7 bankruptcy case, is still ongoing. Lately, new documents have come to light regarding Jayne's alleged spending habits and how they pertain to the legal case.
Page Six obtained a legal demand letter from the bankruptcy trustee's lawyers sent to Erika Jayne's attorneys that stipulated her supposed spending at the time of Tom Girardi's alleged crimes. In it, they state that the Real Housewives of Beverly Hills star spent more than $25 million in funds transferred from the Girardi Keese law firm to her personal company, EJ Global LLC. According to the documents, since 2008, Erika Jayne allegedly spent $14,259,012.84 with her American Express card, $1,532,774.88 on the McDonald Selznick Associates Agency and unknown expenses totaling $1,417,587.50. Smaller figures were supposedly sent to assistants, glam teams and publicity.
Erika Jayne has denied involvement in her soon-to-be ex-husband Tom Girardi's alleged crimes. However, the trustee's lawyers in the bankruptcy case have continued to claim otherwise. In the past, they alluded to Erika Jayne receiving over $25 million in loans and luxury items from Girardi Keese as a means to hide assets. The new document seems to be stating exactly what those reported funds were spent on. As to whether it would have been intentional or not on Erika Jayne's part, bankruptcy trustee attorney Ronald Richards told Page Six:
Ronald Richards is seemingly referring to the August 18 episode of the Real Housewives of Beverly Hills. Erika Jayne was, in fact, questioned by her castmates about her prior knowledge of Tom Girardi's actions. She responded that she was "kept away from the books" and that "no one knows the answers but him." She also said,
Erika Jayne's revelations about her marriage started on the Bravo show after the news broke of Tom Girardi's legal troubles at the end of last year. From her perspective, Girardi was an unfaithful, controlling husband, who started mentally deteriorating around 2017.
The upcoming last episodes of the Real Housewives of Beverly Hills supposedly shift from gently questioning Erika Jayne about her involvement to outright accusing her of lying. Watch out, Sutton Stracke. Tune in to the Bravo show on Wednesday, Aug. 25 at 8 p.m. EST.
I am a vegan feminist. I'm fascinated by all things space/stars. I love film history, reality television, and my cat Bubbe.
Your Daily Blend of Entertainment News
Thank you for signing up to CinemaBlend. You will receive a verification email shortly.
There was a problem. Please refresh the page and try again.