Watch S.W.A.T.'s Shemar Moore Hilariously Interrupt A Tense Standoff And More In Season 4 Gag Reel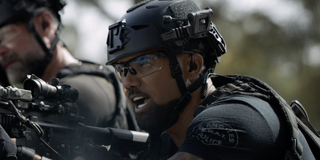 CBS' S.W.A.T. may not be the silliest hit show on television, but that doesn't mean Shemar Moore and the rest of the cast can't have fun on set bringing the action and drama to life. Season 4 in fact delivered some of the most dramatic twists of the series to date, and a clip from the gag reel (seen above) reveals that there were plenty of laughs happening behind the scenes, including Moore himself having to interrupt filming what was supposed to be a tense standoff.
Even a seasoned TV veteran like Shemar Moore can't keep going through anything and everything on set when something unexpected happens, like when a saw started running during a standoff scene that totally messed up the audio. It certainly led to a fun exchange between Moore in his Hondo gear bantering back and forth with the bad guy! Moore with his many years of crime drama experience thanks to first Criminal Minds and now S.W.A.T. managed to keep a mostly straight face while on camera throughout the gag reel clip, which comes as a part of a bonus feature in the S.W.A.T. Season 4 DVD set.
Of course, it had to have been all but impossible to keep a straight face through some of the bloopers as they happened, and probably for plenty of fans while watching! Lina Esco and Alex Russell cracking up in scenes together puts a lighthearted spin on the Chris/Street relationship that went through some serious ups and downs by the end of the fourth season, and I for one could watch Jay Harrington burst into surprised laughter at Russell flubbing some lines all day long.
All things considered, seeing the actors in costume and in the zone suddenly break character to laugh or just go with the flow of something unexpected happening is fun, especially when the show can be so intense. That intensity is part of what has made S.W.A.T. such a hit over the years so far, and why fans may be ready to do a rewatch of Season 4 ahead of Season 5. The good news is that Season 4 of S.W.A.T. is now available on DVD, with bonus features including the blooper reel.
S.W.A.T. chose to incorporate a number of real-life events into the fourth season, ranging from the pandemic to racial tension and police brutality, including a special episode that contrasted what Hondo went through during the 1992 Los Angeles riots with what was happening in the present. His job was complicated further by his torn loyalty between the Black community in L.A. and his fellow officers. Throw in plenty of loss, some love, and the S.W.A.T. team busting some dangerous crime rings to stop things going from bad to worse to catastrophic, and Season 4 packed in a lot for fans.
Plus, with Season 5 of S.W.A.T. set to premiere on October 1, the time is right to revisit the fourth season while waiting to see how the fifth picks up. Season 4 of S.W.A.T. is available on DVD now, and Season 5 is currently in production despite some complications. The next batch of episodes premieres a little later than some of the other biggest shows on network television in the fall lineup, but the looks behind the scenes indicate that the fifth season could definitely be well worth the wait when it hits CBS in October.
Resident of One Chicago, Bachelor Nation, and Cleveland. Has opinions about crossovers, Star Wars, and superheroes. Will not time travel.
Your Daily Blend of Entertainment News
Thank you for signing up to CinemaBlend. You will receive a verification email shortly.
There was a problem. Please refresh the page and try again.