Why The Walking Dead's Big Reveal For Eugene Is Almost Definitely Not Real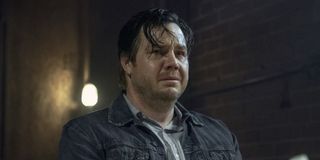 Spoilers below for the latest episode of The Walking Dead Season 11, so be warned!
With its first episode ending on the not-quite-a-cliffhanger where Jeffrey Dean Morgan's Negan left Lauren Cohan's Maggie to die via walker massacre, The Walking Dead's "Acheron, Part II" capped off with what appeared to be a pretty major character introduction straight out of Robert Kirkman's comic book series. And no, I'm not talking about the toilet paper that Paola Lázaro's Princess was so happy to see. (Okay, I can see how that was probably obvious.) I'm talking about Eugene's radio buddy Stephanie, or at least the person wearing those comic-friendly red glasses who identified herself as Stephanie.
As the second installment of The Walking Dead Season 11 came to a close, the Commonwealth's newest visitors were reunited, meaning Josh McDermitt's Eugene was saved from a lethal panic attack while wondering about everyone else's whereabouts. Prior to that, Eleanor Matsuura's Yumiko showed off her whip-smart lawyering skills, as Princess' attention to detail also came into play, while less celebration was had for Khary Payton's Ezekiel, whose cough continues to bone his attempt to look healthy. But before Eugene could truly appreciate seeing his friends again, a new face popped up and introduced herself as Stephanie, the entire reason behind Eugene & Co. making the trek to The Commonwealth. But was that ACTUALLY Stephanie? Probably not.
Reason 1: The Walking Dead's "Stephanie" Isn't The Right Actress
As much as it sucks to theoretically doom Eugene with temporary heartbreak, there are at least two very solid reasons to believe that The Walking Dead is pulling a fast one on both viewers and Josh McDermitt's fib-telling character. To start with the more obvious piece of evidence, let's look back to over a year ago, when New Amsterdam and She's Gotta Have It actress Margot Bingham was first cast specifically in the role of Stephanie.
Next, I'll refer the metaphorical courtroom to The Walking Dead's announcements from Comic-Con@Home 2021, in which Margot Bingham's casting was re-confirmed more than a year after it was first revealed. So for all intents and purposes, there's zero reason to think that another actress would step into the role of Stephanie for Season 11 without any recasting news having gone public. And, if it wasn't already clear, that certainly wasn't Bingham that appeared in "Acheron, Part II."
The woman who claimed to be The Walking Dead's Stephanie is played by Chelle Ramos, better known for her recent roles in Netflix's Outer Banks and USA's The Purge TV series. It's certainly possible, if highly unlikely, that Margot Bingham could exit the AMC drama so late in the game, with Ramos stepping in as a replacement, and neither adjustment being noted by press outlets. To note, Ramos is noted as being "Woman 2."
Reason 2: The Commonwealth Hasn't Been Honest Or Straightforward Yet
The second reason why Stephanie's last-minute unveiling is highly sus has everything to do with what we've been shown from The Commonwealth so far by way of how they treat potential new citizens. While there may very well be civilized gold at the end of this rainbow, there were immediately various forms of duplicitous tactics on display from everyone who held an authoritative or militant position.
So while Yumiko certainly made a name for herself as an instant asset to the community's cause, Eugene was on the opposite end of that spectrum, basically proving himself to be an easily rattled simpleton. By all means, The Commonwealth likely didn't get to where it's at by letting people inside after only a single stage of probationary pre-checks, since a ton of dangerous lunatics could have made it this far without showing any signs of breaking. So there's only the smallest chance that Stephanie's keenly timed arrival isn't an additional test.
Stephanie is Eugene's only real link to The Commonwealth, and he's the only one that the community would have any prior information on. So what better way to put his legitimacy to the test than by having someone else posing as Stephanie? They could quiz him further about other personal details he shared, and without having the real Stephanie there to skew things with her reactions. Not that there are likely lots of dudes out there posing as Eugene with his exact story, right when the community would have been expecting some new recruits.
Maybe the whole point of the fake Stephanie is to make Eugene look like a liar and to make it seem like she led him there for more nefarious purposes. Because maybe the real Stephanie has been punished for defying the rules by giving away their location. Or maybe The Walking Dead's producers pulled a fast one on audiences as well with fake casting announcements for Margot Bingham, and there is no "real" Stephanie! Maybe the entire Commonwealth plotline is a big scam! They're all in on it! Run for the hills! But probably find Yumiko's long-lost brother first, and Heath if possible. And Rick Grimes, while we're tossing money into the swollen well-walker's gaping maw.
Whether or not this Stephanie is the one Eugene was talking to originally — assuming it was even just ONE woman to begin with — it stands to reason this group's near-future situation is going to be a tad more pleasant than everyone coming face-to-mask with the show's next big threat, the Reapers. I know The Walking Dead's showrunner Angela Kang is too smart to completely upend Eugene and Stephanie's relationship, considering it was one of the sweetest and most relatively innocent pairings in the comic book's long run. I'm hoping the creative team is just making the eventual connection all the more worth it by giving him more stress to deal with first.
The Walking Dead airs Sunday nights on AMC at 9:00 p.m. ET, with new episodes streaming a week early for AMC+ subscribers. Keep track of all the other big dramas and comedies coming soon to the 2021 Fall TV schedule.
Nick is a Cajun Country native, and is often asked why he doesn't sound like that's the case. His love for his wife and daughters is almost equaled by his love of gasp-for-breath laughter and gasp-for-breath horror. A lifetime spent in the vicinity of a television screen led to his current dream job, as well as his knowledge of too many TV themes and ad jingles.
Your Daily Blend of Entertainment News
Thank you for signing up to CinemaBlend. You will receive a verification email shortly.
There was a problem. Please refresh the page and try again.