How Long 9-1-1's Athena Will Be Dealing With The Very Personal Case Of Her Attacker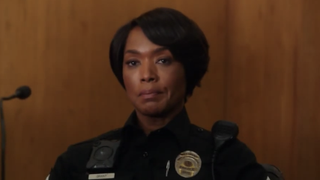 Spoilers ahead for the Season 5 premiere of 9-1-1 on Fox, called "Panic."
9-1-1 returned to Fox with a fifth season premiere that hit Los Angeles with its latest apocalyptic attack, and the ransomware assault presents different kinds of threats than what the heroes faced with the tsunami and mudslide. The most intense storyline of the episode wasn't directly tied to the ransomware, however, as Angela Bassett's Athena had to face down her attacker when Hudson's case was going to trial, and the series of crises that followed means that she's facing a very personal case. And she's not going to be done with it too soon, according to showrunner Tim Minear.
But how did the case manage to go from bad to worse for Athena? The ransomware is what enabled serial rapist Jeffrey Hudson, who brutally attacked Athena back in Season 3, to escape custody. Athena and Lou had every reason to assume that Hudson would go to one of the groupies who had been visiting him behind bars, but realized that instead of seeking protection with one of them, he would target the lawyer he fired for giving him bad advice.
Lou seemingly got to her in time to save her from Hudson, but then a betrayal happened when the lawyer attacked Lou and revealed that she's one of Hudson's fans, and the preview for next week indicates that Hudson is going to target Athena. As if the case wasn't already personal enough for Athena! 9-1-1 showrunner Tim Minear previewed what's on the way for Athena vs. Hudson, telling TV Insider:
Well, if you were hoping that poor Athena was going to be able to wrap up the case with Hudson and move on in the next episode, then Tim Minear's mention of Episode 3 comes as bad news! She stood firm in the full Season 5 premiere in her efforts to put Hudson behind bars and in defending her methods for tracking him down back in Season 3, and the premiere almost came to a happy ending when Lou called with the news about capturing Hudson, and Athena had good news to spread to Hudson's terrified victims.
Tim Minear didn't confirm whether or not Lou is dead after what the lawyer did to him at the end of the premiere, but did promise that fans will "find out very quickly in the next episode." He did reveal that the Season 5 approach to Hudson was based on Ted Bundy, who also represented himself in court and won a following of women. Of course, Ted Bundy never escaped custody because a ransomware attack turned society upside down! So, what does this very personal case mean for Athena and Bobby, after what they went through recently? Minear previewed:
Bobby has his hands full as a firefighter with the ransomware attack, so it's good to know that he has realized that she can handle things on her own and can root for her without trying to protect her from everything. Whatever happens, hopefully Athena doesn't go through anything like what she went through in Season 3, and is able to prevent any other women from suffering the same fate.
Find out with the next episode of 9-1-1 on Monday, September 27 at 8 p.m. ET on Fox. There are a lot of loose ends that will need to be tied off after the Season 5 premiere, not the least of which is the health issue that Eddie is struggling with and trying to hide from his fellow firefighters at the 118, although Buck has already realized that something is up and is trying to get to the bottom of it.
Fingers crossed that fans won't have to wait until Episode 3 for resolution on that front! Throw in Maddie's postpartum depression and all the escaped zoo animals, and I think it's safe to say that Season 5 won't be boring.
Resident of One Chicago, Bachelor Nation, and Cleveland. Has opinions about crossovers, Star Wars, and superheroes. Will not time travel.
Your Daily Blend of Entertainment News
Thank you for signing up to CinemaBlend. You will receive a verification email shortly.
There was a problem. Please refresh the page and try again.