5 WTF Moments We're Going To See On The Flash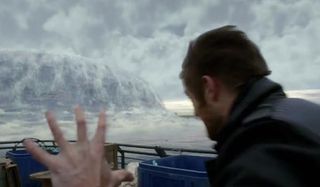 If you were lucky enough to attend this year's The Flash PaleyFest panel, you may have already caught the sizzle reel that Warner Bros. TV introduced looking at the latter portion of the CW drama's first season. If you didn't, however, we can certainly confirm that the rest of the season will actually sizzle. Spoilers ahead.
The trailer features moments fans have been expecting and moments fans who have been scouring interviews for information may not even know about. At the end of the day, whether you have been keeping tabs on where the series is going or aren't currently caught up on the most recent episodes, there are plenty of spoilers in the following list, complete with pictures. Everyone still here? Awesome, let's talk about what the fuck just happened in that Flash trailer.
Eddie Thawne Switches Sides
Probably the most horrifying moment in this trailer, Thawne reveals himself to be suspicious of Barry Allen and his relationship with Ivy. After acting erratically, the sizzle reel cuts to a shot of Eddie Thawne approaching two police officers and shooting them with a gleeful look on his face. We have our theories about Eddie, but needless to say, it looks like he is rapidly heading off the rails.
Laurel And Cisco Meet-Cute?
Ray Palmer has been busy becoming the Atom this season and at some point his newfound skill set will take him to Central City, where he and Felicity will team up with Barry, Wells, Cisco and Caitlyn. What's most crazy, however, is Laurel's appearance on the series and her big reveal to Cisco that she knows who Barry is and what the team is about, also telling Cisco she is the Black Canary while she's at it. Throw in some amusing banter between Cisco and Laurel and the upcoming appearances from the Arrow characters have us pumped. Especially since we know Atom has a spinoff in the works.
The Trickster Pulls A Fast One On The Flash
Not only do we get a good look at Mark Hamill as the Trickster in this trailer, he gives Barry an ultimatum, telling him if he goes below 600 miles per hour, some device the Trickster has connected to his wrist will explode. Barry and the team have faced some pretty terrific villains in the past, but Hamill's portrayal of this one is truly insane, especially when he hollers "run, run, run, run, run" at Barry. It probably helps that he has practice playing the character and the episode will reference his work on The Flash 1990 series.
Harrison Wells Looks Into The Future
The last few episodes of The Flash have been extremely compelling. Not only has Dr. Harrison Wells revealed himself to be the Reverse-Flash, but he's also from the future and the future and past are beginning to collide even more. The ramifications of this timeline hopping will be explored on the series, and Barry, Caitlyn and Cisco will come to the realization about Wells as the Reverse-Flash much sooner rather than later. As Wells even notes as he's pointing a gun, "I promise you Barry Allen, you will die." Of course, everyone dies at some point, but seriously WTF? It's going to be interesting to see how this situation develops.
WTF Is Up With That Tsunami?
Seriously, the special effects budget on The Flash has always looked pretty decent, but it looks like the team is really amping up their efforts for the last few episodes in Season 1. Liam McIntyre is on this week, and while we've known he would manipulate the weather, the tsunami he creates looks pretty sick. No wonder they call him the Weather Wizard. Central City is going to have a mess on its hands.
Catch new episodes of The Flash on Tuesday nights at 8 p.m. ET, only on the CW.
Reality TV fan with a pinch of Disney fairy dust thrown in. Theme park junkie. If you've created a rom-com I've probably watched it.
Your Daily Blend of Entertainment News
Thank you for signing up to CinemaBlend. You will receive a verification email shortly.
There was a problem. Please refresh the page and try again.