90 Day Fiancé Needs To Stop With Its Weird Bedroom Sex Scenes
It's time to stop this trend.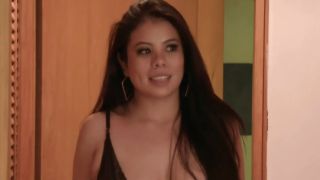 (Image credit: TLC)
90 Day Fiancé has consistently delivered some of the most shocking and entertaining storylines I've ever seen on reality television. I've witnessed everything from the wild reception speech Charlie Potthast gave at Andrei and Libby Castravet's wedding to Angela Deem flying to Nigeria to damage a car. This show has given me a lot of memorable moments, but lately, I've been plagued with an increasing amount of sex scenes I can't forget, even if I want to.
It seems like 90 Day Fiancé has made a greater effort in the past year or so to detail the bedroom exploits of its couples. This includes intimate details about their love lives or some of the most uncomfortable bedroom scenes I've ever witnessed. After the latest one with Kris Foster and Jeymi Noguera in The Other Way Season 4, I'm finally putting my foot down and putting the message out there that maybe it's time to stop showing these scenes for the good of all parties involved.
I Watch 90 Day Shows For Drama, Not Sex
Drama is what got me into 90 Day Fiancé, and it's what will keep me coming back time and time again. Of course, the show can't all be about drama, and I know that romance is also a part of any relationship. I'm not saying I don't want to see proof that the couples are in love. I'm just saying the show has gone about showing intimacy in weird ways as of late.
For example, when Debbie Johnson was out to find love on The Single Life, I was happy to see her find someone. I also didn't necessarily mind her talking about being sexually frustrated, and I think, on some level, part of me was curious if the older generation still got that spark from time to time. What I wasn't so curious about is what it looked like seeing Debbie get all hot and heavy with her now-boyfriend Tony in a hotel room, but I was shown that all the same.
I just want to add that this has nothing to do with age because I was just as shaken up by seeing that as I have been in every bedroom scene that 90 Day Fiancé has done to date. In fact, I wrote about it when Caleb Greenwood and Alina Kozhevnikova had their scene, and again when Emily and Kobe Blaise did as well. These scenes feel out of tune with what the show was in previous years, and I don't know why this trend of showing sex scenes has crept up and continued.
These Sex Scenes Are More Awkward Than Anything
I think one of the strangest things about 90 Day Fiancé's sex scenes is that they come off as heavily scripted and super awkward. Let's remember that all of these participants aren't professionally trained actors, with the exception of Natalie Mordovtseva. Beyond that though, these are people who decided to play out their international romance in front of a camera crew, and if that weren't awkward enough, they're now occasionally asked to disrobe and get sensual in front of a lot of people.
The end result shown in an episode is always awkward, but I can't blame the cast members for that. After all, I doubt I'd be able to get through a similar scene with a producer and a few cameramen just on the other side of my bedroom. Just envisioning all of the people in the room for these make-out and lingerie sessions is weird, and I can't help but think it's also weird for the people actually involved in it.
I'm just confused about what the overall purpose of these sex scenes are. If the intent is to give the audience a bit of risqué content, I feel like they can get that elsewhere. 90 Day Fiancé is on cable television, and not even after 10:00 p.m. ET! Personally, I don't believe these scenes will ever be anything but awkward, and it's a little weird the cast has to do them.
I'm Not Against Sex In 90 Day Fiancé, Just The Bedroom Scenes
I think that if 90 Day Fiancé were to remove all talk of sex from the show, that would be as equally problematic to me as these odd bedroom scenes. Sex is a normal part of relationships and, occasionally, a meaningful part of understanding a storyline in the show. For example, when Kim Menzies was upset that Usman Umar wasn't having sex with her when she visited him, I understood how knowing it was the source of her frustration was vital to the audience understanding her story.
I could see a situation where, for example, Kobe and Emily Blaise's sex scene was used as an on-camera way of showing what led to their second unexpected pregnancy. Maybe there's a 90 Day Fiancé viewer who needed to see that scene for it to make sense when she wound up pregnant later. I should say, however, that I understood how Kalani Faagata got pregnant a second time with Asuelu Pulaa without a love-making scene, and I imagine others would have too with Emily and Kobe had she just told them.
Sex is a normal and naturally-occurring thing in relationships. I'm not here to shame any 90 Day Fiancé couple who has participated in these sex scenes or any future ones that choose to do so. My ultimate hope, however, is that other viewers agree that these scenes don't really add much to the story or drama of the TLC series, and that they're just a bit awkward to get through. If there are enough people who feel that way, can we just maybe stop doing at least one every season? I don't think they'd be missed, but then again, this is just my opinion.
And at the end of the day, there are only a few things that will stop me from tuning into 90 Day Fiancé: The Other Way on TLC Sundays at 8:00 p.m. ET. Once the 90 Day fun is done, however, and viewers are looking for something else to binge, they should check out our 2023 TV schedule to see what all is coming to television in the coming months.
Your Daily Blend of Entertainment News
Mick likes good television, but also reality television. He grew up on Star Wars, DC, Marvel, and pro wrestling and loves to discuss and dissect most of it. He's been writing online for over a decade and never dreamed he'd be in the position he is today.