American Horror Story Freak Show: Let's Take A Closer Look At This Poster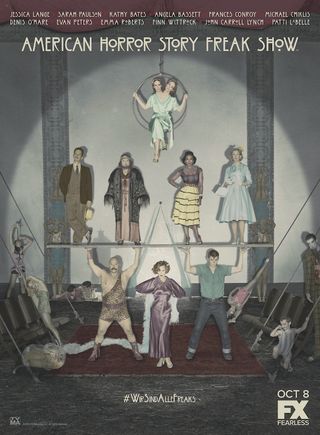 American Horror Story's anthology format offers its own kind of anticipation each fall, as it isn't necessary to think back to the last season and try to remember where things left off. Each season introduces a new set of characters and a twisted new story. So the hype is all about who's playing who and what the next installment in Ryan Murphy and Brad Falchuks' FX series has to offer. This year, it's a Freak Show. And the new poster gives us a proper peek at main characters and the stellar cast.
AHS: Freak Show is set in the 1950s and centers on one of the few remaining "freak shows" in Florida. The poster shows off some of the cast featured in costume, and lays out the big names at the top.: Jessica Lange, Sarah Paulson, Kathy Bates, Angela Bassett Frances Conroy, Michael Chiklis, Denis O'Hare, Evan Peters, Emma Roberts, Finn Wittrock, John Carroll Lynch and Patti LaBelle.
Let's take a closer look at the poster, because there's a lot going on here. Up top we have Sarah Paulson's previously teased conjoined twins characters...
We also have Michael Chiklis as the strong man, along with Jessica Lange, at the center and Evan Peters, looking the most 1950s of everyone...
Where are Jessica Lange's arms? Are they not there or are they just hidden by the boa?
(Recently Emmy Award Winning) Kathy Bates has a beard and is it me or is there something totally Total Recall going on with Angela Bassett?
We also have this very tall man and a very short one...
And two extremely flexible women, and one who's about to have a sore throat...
Finally, there's the hashtag at the bottom, which is #WirSindAlleFreaks, which -- if my Googling is correct -- means "We are all Freaks," the "Wir Sind Alle" being German, which would likely be a nod to Jessica Lange's character.
Suffice to say, the poster gives us some clues to work with about the characters, and a look at some of the central roles in American Horror Story: Freak Show. AHS: Freak Show premieres Wednesday, October 8 on FX. Check out one of the recent teasers for the new season here.
Your Daily Blend of Entertainment News
Thank you for signing up to CinemaBlend. You will receive a verification email shortly.
There was a problem. Please refresh the page and try again.