Big Brother Season 17 Premiere Part 2 Watch: Aliens, A Takeover And More Houseguests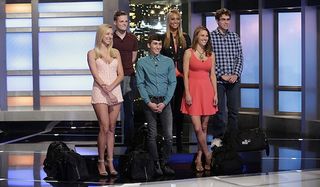 The second part of the two-night Big Brother Season 17 premiere aired tonight, introducing the remaining houseguests and the first official BB Takeover... assuming the Entertainment Tonight Kevin Frazier appearance last night doesn't count. Spoilers from Thursday night's Big Brother episode ahead!
Only fourteen houseguests were announced ahead of the season premiere of Big Brother this month. Not only does that seem like a low number for the length of the season, but anyone who saw the keyholes in the memory wall in the house photos knew there was a good chance there were two more houseguests joining the group.
The question was, would we have to wait to meet them? That was answered tonight The Amazing Race host Phil Keoghan "took over" the house and unleashed two former TAR players into the house.
Rumors and reports have been circulating that The Amazing Race's Jackie and Jeff were headed into the Big Brother house, so this isn't a huge surprise. And it's probably for the best that they were brought in on Day 1, as that may be their best shot at blending in with the rest of the house.
This duo claims not to be romantically involved, and they're playing themselves off as though they're playing separate games, but it seems like they're planning to try to work together.
The target on their backs is likely to be a bit bigger than everyone else's. They've already had their moment in the reality TV spotlight, after all, and the fact that they were teamed up on TAR will make them look like an alliance, even if they try to claim otherwise. It doesn't help that Jackie was the runner-up to tonight's Head of Household competition. The only benefit to finishing second in an endurance competition is the deal you make with the person who's going to win. And with the Battle of the Block twist in play, this deal could be useless to Jackie if James decides to target her.
We've gotten ahead of ourselves. Jackie and Jeff aren't the only people to enter the house during tonight's episode. The six announced houseguests who weren't in Part 1 showed up first. That includes:
Becky, the (Colo)rado retail manager.
John, the dentist (who really is a dentist, despite Da'Vonne's doubts about him).
Liz, the beauty from Miami who might be one half of the big Twin Twist.
Vanessa, the poker player who's playing her DJ card to hide her true profession.
Jason, the grocery clerk with a lot of personality and the stamina to clutch a post longer than some of his fellow houseguests.
Steve, the potential Ian of the season, complete with social awkwardness and mega-BB-game smarts.
Another round of introductions happened, with Audrey re-revealing that she's transgender. Once again, the houseguests seemed to receive that news well. And as mentioned, John says he's a dentist and Da'Vonne, whose eyes are wide open in this game, doesn't believe him.
HoH Part 2 had the Houseguests clutching farm posts, hooked up to harnesses and trying not to get beamed up into the hovering spacecraft. It's the fitting followup to the bizarro UFOh-No movie premiere we saw last night.
Points to Steve for knowing not to go out first, even if that proved unavoidable for him. Never go out first in the first Head of Household competition. It's an easy reason for someone to nominate you. Steve understood that his best bet was to fall off (or get sucked up) sometime in the middle of the competition. Of course, when push came to pull, he was off his post first. That might not be good. On the bright side, it makes him look weak, which is less threatening.
Vanessa was this episode's volunteer not to play in the competition, which is weirdly fitting since she's a poker player, and it was poker dealer Da'Vonne who bowed out last night. And now we know why one Houseguest was left out each night. Well, at the very least, we know there's a reason, as Phil returned to take-over and tease some kind of reward to go with Da'Vonne and Vanessa's risk. Will these two women be facing off against one another for a prize of some sort?
Coming off of Amazing Race, Jackie may think coming in second is a good thing. And the deal she secured with Jason before she fell out of the competition may work in her favor. But James could just as easily see Jackie as a threat, having performed so well in the competition. Between that and her ties to The Amazing Race, she may be in trouble. Regardless of whether or not Jackie and Jeff are popular among TAR fans, they're likely to have at least some advantage, having appeared on TV before. The other players my be concerned about how that could affect them, especially if America's Choice comes into play, in which case, Jackie and Jeff are the obvious targets.
And then there's the Twin Twist, which was acknowledged tonight, but not revealed. Word continues to circulate that it's Liz, but it looks like we'll have to wait for the show to confirm that. In the meantime, feed-watchers will likely have their eyes peeled for diary room switch-outs. The live feeds will come on tonight at 9:00 p.m. PST.
And with that, the game has begun. James and Jason are Heads of Household. For those who are new to the series or rusty on how this all works. Both James and Jason will nominate two houseguests for eviction. The four nominees will then face off in the Battle of the Block competition. Whichever nominee-duo wins is taken off the block and they're safe for the week. The Head of Household who nominated them is dethroned and vulnerable to nomination if one of the remaining two nominees comes down during the Veto. It's an added, and somewhat complicated layer to the game that was introduced last season. I'm not sure I'm with Julie in thinking it's a genuine fan-favorite, but it does have the potential to make the game interesting.
The feeds come on tonight, at which point we might have an idea of how far along the game has progressed since the pre-taped Head of Household competitions. We might assume nominations have taken place, and it's also possible Battle of the Block has happened. What's more, the houseguests will have settled in a bit, and we should get some indication of how things are going in the house. Alliances have likely formed, and who knows, maybe a showmance or two has developed. Summer has begun, and after Part 2 of the premiere, I'm feeling really optimistic about this cast and this season.
Kelly joined CinemaBlend as a freelance TV news writer in 2006 and went on to serve as the site's TV Editor before moving over to other roles on the site. At present, she's an Assistant Managing Editor who spends much of her time brainstorming and editing feature content on the site.
Your Daily Blend of Entertainment News
Thank you for signing up to CinemaBlend. You will receive a verification email shortly.
There was a problem. Please refresh the page and try again.