Clark Gregg Really Wants An Agent Carter Crossover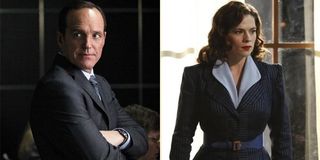 Agents of S.H.I.E.L.D. and Agent Carter remain two dramatically different Marvel Cinematic Universe-set series' that are separated by a time period of some 70 years. Yet, this hasn't prevented S.H.I.E.L.D. star Clark Gregg from expressing his intent desire to see the shows cross over at some point.
During the ABCStudiosTour, the headliners of the network's monstrous Marvel shows, Gregg and Agent Carter star Hayley Atwell, sat next to each other. During the press panel, a question from a Bleeding Cool reporter pressed them about the crossover potential for their shared-universe shows. Answering emphatically and unambiguously, Gregg stated the he would "kill" for such a crossover, later adding:
Possibly in concert with the "kill" comment, the idea of death would actually serve to supplement Gregg's argument. While the Marvel Cinematic Universe has depicted several mind-bendingly magnificent miracles that push the boundaries of belief, the kind of time travel that such a crossover episode might require would be new territory for the wider continuity. Yet, Gregg reminds folks that the very idea that his Agent Phil Coulson still walks and breathes after getting kabobbed by Loki's scepter in The Avengers isn't exactly something one would think could lead to the character's resurrection as a proper television protagonist.
Could Gregg get his homicide-threatening wish of a crossover? While we have seen Atwell's Agent Peggy Carter on Agents of S.H.I.E.L.D. in two separate episodes in Season 2 by way plot-relevant flashbacks, the idea of a genuine crossover that sees the characters substantively interact remains up in the air. Of course, a rather bittersweet scene in 2014's Captain America: The Winter Soldier reveals that Peggy Carter was still alive as recently as the events in which HYDRA unveiled their infiltration of S.H.I.E.L.D. Yet, having Coulson and the crew team up with an elderly, fading, bedridden former badass probably wouldn't make for exciting action.
Unfortunately, Clark's excited comment was the extent of what could be extracted from the onstage pair of Marvel television agents. However, Gregg went on to further praise Agent Carter, identifying it as a standout series that, on a network platform, challenges the conventions of the contemporary golden age of cable television shows by smartly showcasing itself as a period piece/action-adventure hybrid with a female lead that's rare for such a genre. While Carter, which aired its abbreviated eight episode run earlier this year, found itself struggling ratings-wise, it was critically well-received and ABC eventually renewed the series.
While no plans for such a team-up are known to be in the works, one would think that with the way Marvel's "street level" heroes on Netflix actually planning to showcase canonical connectivity with Daredevil Season 2 and the upcoming Jessica Jones leading into other series' like Luke Cage, Iron Fist, all eventually coming together for The Defenders that ABC might be inclined to get its "agents" together at some point by some fantastical means.
Regardless of the outcome, Agents of S.H.I.E.L.D. returns with Season 3 on September 29. Agent Carter premieres its second season in January of 2016.
Your Daily Blend of Entertainment News