Diane Neal Rests Her Case On SVU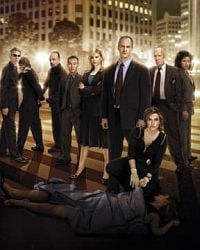 Is it just me, or has the return of our favorite shows seemed to bring news of a rash of people leaving said shows? First we had Jesse L. Martin leaving Law & Order, then Gary Dourdan exiting CSI, now TV Guide is reporting that Diane Neal is leaving Law & Order: SVU. On second thought, maybe procedurals are just having a bad few months.
Neal, who has played A.D.A Casey Novak since 2003, will be making her final appearance on the show during its season finale next month. Novack made her first appearance on SVU in a guest role as a murder suspect and autoerotic axphyxiation-loving, male stripper gang-rapist (seriously), but went on to step into the role of A.D.A. after the position was vacated by Stephanie March's character, who appeared to be gunned down in a drive-by shooting by some Columbian drug lords, but was actually just put in Witness Protection and shuttled off to Wisconsin (no, seriously).
A spokesperson for SVU confirmed Neal's departure, saying, "Diane spent five years on SVU and was a tremendous addition to the SVU team. She is looking forward to new opportunities and she will be missed." Even though as Alexandra Cabot, Stephanie March left Wisconsin and the Witness Protection Program to reprise her role on another Dick Wolf courtroom drama, Conviction, it does not look like she'll be returning to SVU. Instead, Wolf is said to be looking to cast an up-and-comer. The Law & Order franchise has a pretty revolving cast, but SVU has remained more consistent over the years than the others. Hopefully Neal's departure won't open the door for other castmembers to follow.
Your Daily Blend of Entertainment News
Your Daily Blend of Entertainment News
Thank you for signing up to CinemaBlend. You will receive a verification email shortly.
There was a problem. Please refresh the page and try again.