Doris Roberts Signs On For ABC Pilot Counter Culture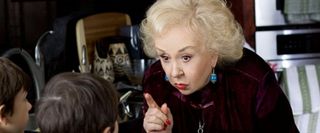 ABC has cast one of TV's funniest and best known mother-in-laws in the pilot for their new comedy Counter Culture. Doris Roberts, best remembered for making Debra Heaton's life miserable on a daily basis on Everybody Loves Raymond is on board for the new project.
Dry, cutting remarks and sarcasm were Roberts' trademark as Marie, Ray's mom on Everybody Loves Raymond, and it sounds like she'll be a good fit for this new role. According to The Hollywood Reporter Roberts will play Aunt Lee in the pilot, which centers on three aging sisters in West Texas who run a diner together. I'm making what I think is a fairly safe guess here that Roberts is an Aunt to all three ladies, and will hopefully bring her wit along for the ride. The West Texas accent should be fun on her.
Counter Culture (Isn't that a clever play on words in the title? I'm not sure whether to roll my eyes or laugh.) is being directed by Ted Wass of Two and a Half Men and has Stephanie Weir from MadTV writing for the pilot. No casting news yet on the three sisters who are central to the plot. Roberts has been keeping busy with TV guest appearances on shows like The Middle and Hot in Cleveland as well as a few movie roles, but it would be nice to see her back on television in a regular role. She was one of the few things that made Raymond worth watching in my opinion.
Your Daily Blend of Entertainment News
Thank you for signing up to CinemaBlend. You will receive a verification email shortly.
There was a problem. Please refresh the page and try again.