Fred Willard Improv Series Pulled By ABC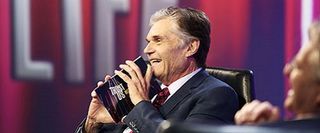 Poor Fred Willard. A little lewd conduct and nobody wants you on their network anymore. Willard's improv show Trust Us With Your Life on ABC has gotten the boot today. Although it seems likely that the low ratings may have been more of a catalyst than lowered pants, it's not unlikely that the bad publicity from the incident contributed to the decision.
Less than 24 hours after Willard was arrested at a Los Angeles adult theater, PBS fired him from the series Market Warriors where he was the narrator, and re-taped all of his episodes. Today the word comes from THR that ABC has pulled Trust Us With Your Life with only a few episodes to go in the season. They're replacing the show with re-runs of the odd competition show Wipeout, which has to be a pretty tough pill for Willard to swallow.
Last week's episode of the show was the lowest rated of the summer for ABC, and the ratings dive may have been associated with Willard's arrest. ABC isn't saying that the decision has anything to do with that incident, but it's pretty hard to separate the two. Still, the show wasn't exactly stellar in the ratings even before the arrest, so it's likely this decision would have been made either way. Willard has spoken out about his arrest saying that is was a misunderstanding and that he didn't do anything wrong. Still, his punishment for being involved in the whole debacle has been pretty harsh. Perhaps a lesson to other stars to enjoy their adult entertainment in the privacy of their homes.
Your Daily Blend of Entertainment News
Thank you for signing up to CinemaBlend. You will receive a verification email shortly.
There was a problem. Please refresh the page and try again.